Thanksgiving. You made it through. You cooked all the things. And that 18 lb turkey seemed like a really great idea ... until it's three days later and if you eat another reheated plate of heavy Thanksgiving leftovers with dry leftover turkey you're going to lose your mind. So why not shake it up with a leftover recipe for Turkey Tetrazzini that you'll actually want to eat, but isn't quite so heavy as the classic tetrazzini with pasta.
I absolutely love cooking ( and eating! ) all of those wonderful classic Thanksgiving dishes, but after a day of nonstop eating followed by a few days of leftovers, I'm ready for something that doesn't taste like Thanksgiving anymore.
I think for a lot of people, that means some sort of Turkey casserole or Turkey Tetrazzini.
And I like that idea. I like the idea of a tetrazzini. I don't like that it still feels like another heavy meal, in a week already full of heavy meals.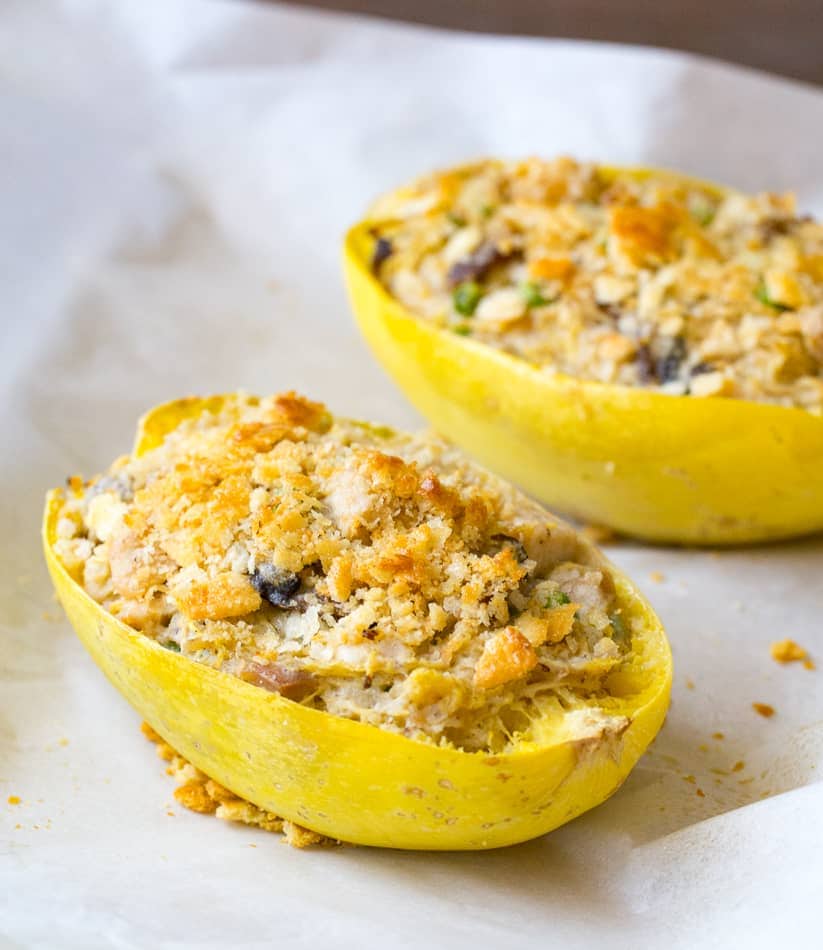 So I lightened it up just a little bit by making a lower carb version with spaghetti squash instead of regular pasta. It still has lots of rich flavor, but doesn't quite weigh you down the same way the old time-y turkey tetrazzini does.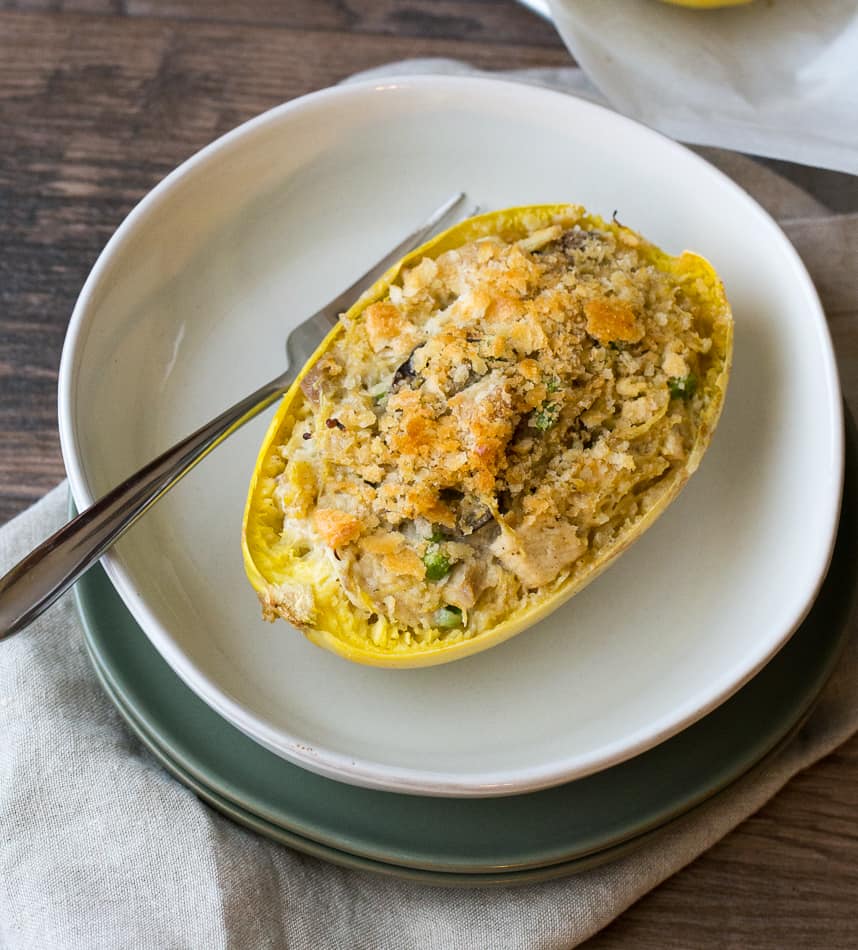 If you aren't familiar with spaghetti squash, this recipe is a great place to start! The directions look intense, but you'll find they are pretty intuitive once you get into the groove of scraping out the squash.
If you like leftover turkey recipes, you might also like these:
Love this recipe?
Sign up to receive a FREE eBook of deliciously easy boneless, skinless chicken breast recipes.
Enter your email address below and we'll send you the eBook, plus one email a week with the latest recipes from Basil & Bubbly.
Turkey Tetrazzini Spaghetti Squash Boats
A lightened up leftover turkey recipe that's also great with leftover rotisserie chicken
Print
Pin
Rate
Ingredients
2

cups

leftover

cooked turkey or chicken, roughly chopped

1

medium spaghetti squash

1 1/2

Tablespoon

butter

1 1/2

Tablespoon

flour

1 1/2

cups

2% milk

1/4

cup

dry

unoaked white wine ( Sauvignon Blanc, Pinot Grigio, or similar )

1/3

cup

grated parmesan cheese

1

Tablespoon

olive oil

1/2

cup

sliced mushrooms

1/2

cup

frozen peas

1

clove

garlic

minced

3/4

teaspoon

black pepper

1/2

teaspoon

salt

4

buttery-style crackers

crumbled ( optional, but adds a nice texture to the final product )
Instructions
Preheat the oven to 400 degrees F.

Carefully stab the spaghetti squash several times with a fork. Place in the microwave and microwave on full power for 5 minutes.

In a medium sauce pan over medium heat, add the olive oil. Once the oil is hot, add the mushrooms and cook for 4 minutes, stirring occasionally. Add the peas and garlic, stir to combine, and cook for another minute, then remove the contents of the pan and set them side. Wipe out the pan and put it back on the medium heat.

Melt the butter in the pan you just wiped out. Once the butter has melted, add the flour and whisk until they are combined.

Slowly stir in the milk, whisking constantly to avoid lumps. Stir in the parmesan cheese. Lower the heat to medium, and stir in the wine, chopped turkey, and the mushroom/pea/garlic mixture from earlier.

Remove the spaghetti squash from the microwave, cut it in half, and scrape out the seeds. Be careful, the squash will still be hot from microwaving! Also, the squash will NOT be fully cooked at this point, this just softens it enough to work with easily.

Using a fork, scrape the strands of the spaghetti squash out of the squash and directly into the pan with the other ingredients in it. Stir to combine. If you are having a hard time getting all the strands, throw the halves of squash back into the microwave for 3 minutes and then try again.

Fill the hollowed out shells with the mixture. Place any that won't fit in the squash boats into an oven-safe dish. Top each boat and the dish with crumbled crackers, and spray with olive oil.

Bake at 400 F for 20 minutes.