Pineapple vodka is dangerously easy to make. Simply let cut pineapple infuse into good vodka for a few weeks, and BOOM, you've got a smooth, crisp, citrusy-sweet pineapple martini cocktail in a container ready at a moments notice.
Why a Pineapple vodka recipe?
Because it's simple, delicious, wonderful on its own, and equally as good mixed in other cocktails. Any fruity cocktail you'd usually use vodka in, try it with the pineapple vodka! In particular, cosmos, lemon drops, and other retro 90's cocktails are delicious.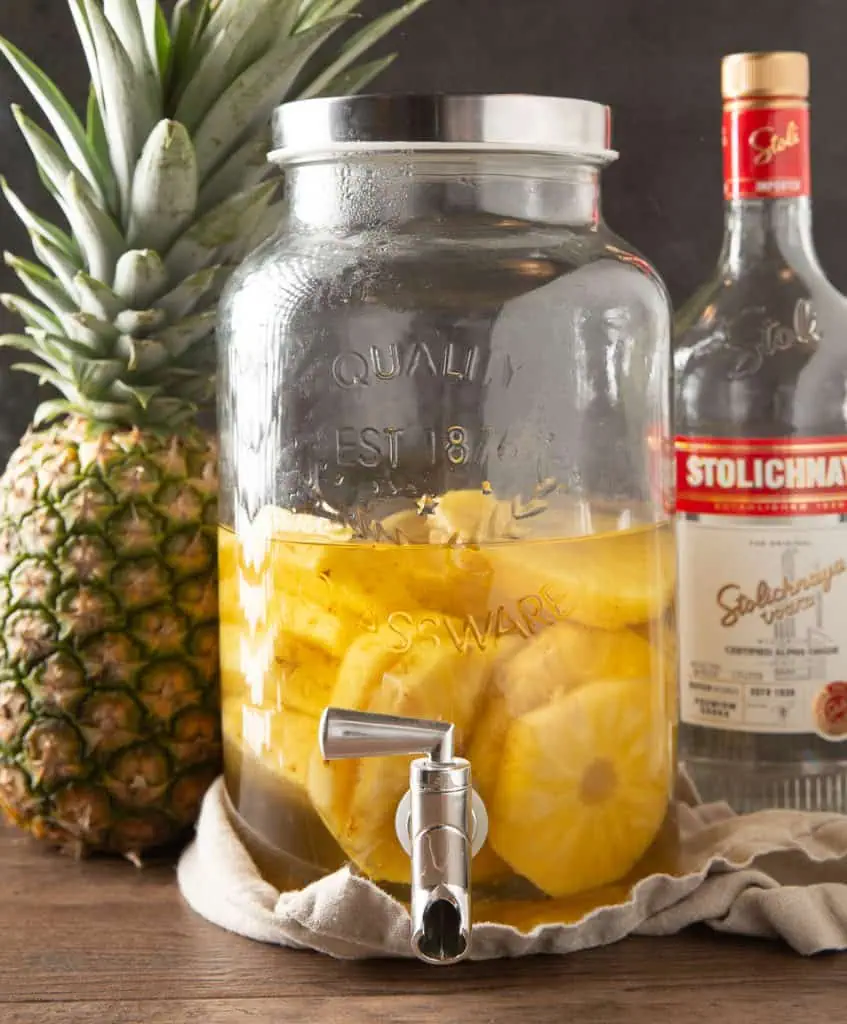 Variations on Pineapple Vodka:
Vanilla Pineapple Vodka: Split 4 vanilla beans lengthwise and add them with the pineapple to infused for at least 2 weeks. Remove when you remove the pineapple.
Jalapeno Pineapple Vodka: Infuse the vodka with pineapple per directions below. 1 hour before serving, add 1 sliced jalapeno per 1 cup of vodka that you want to infuse. Jalapenos infused quickly and impart a lot of heat, so make sure to either strain them out after an hour, or consume the vodka after that amount of time.
If you like cocktails with pineapple juice and vodka, you might also like:
Pineapple Infused Vodka (Stoli Doli)
Just like the famous drink from The Capital Grille! This drink is way too easy to drink - so be careful to imbibe responsibly.
Recipe from Basil & Bubbly ( https://basilandbubbly.com )
Print
Pin
Rate
Ingredients
2

whole pineapples

or 2 pre-cored and peeled pineapples

1.5

Liter

bottle of Stoli Vodka

16

ounces

pineapple juice
Instructions
Prepare the pineapples:
Cut off the exterior prickly peel of the pineapple and remove both the leafy top and base. Cut the pineapple into large chunks or ½" slices. Feel free to use prepared pineapple that has already been broken down in the produce department!
How to make Stoli Doli:
Place the pineapple chunks/slices in a large glass container with a lid. Pour the vodka on top of the pineapple and stir. The pineapple should be completely submerged in vodka. Place the lid securely on the container.

Place the sealed container in a dark, cool spot and leave it there for at least two weeks but no more than three weeks. After that time has passed, remove the pineapple pieces - all of their flavor is now in the vodka! Pour the infused vodka back into the original Stoli bottle for storage. Store the bottle in the freezer.

When ready to serve, shake the vodka vigorously with ice, until it becomes frothy. Optional: add 1 ounce pineapple juice for extra froth and sweetness.
Notes
It's fine to split the pineapple and vodka evenly between several different jars like mason jars if you don't have a single container that will fit everything.