You'll be shocked by how easy it is to roast poblano peppers to add to almost any dish for a little extra punch.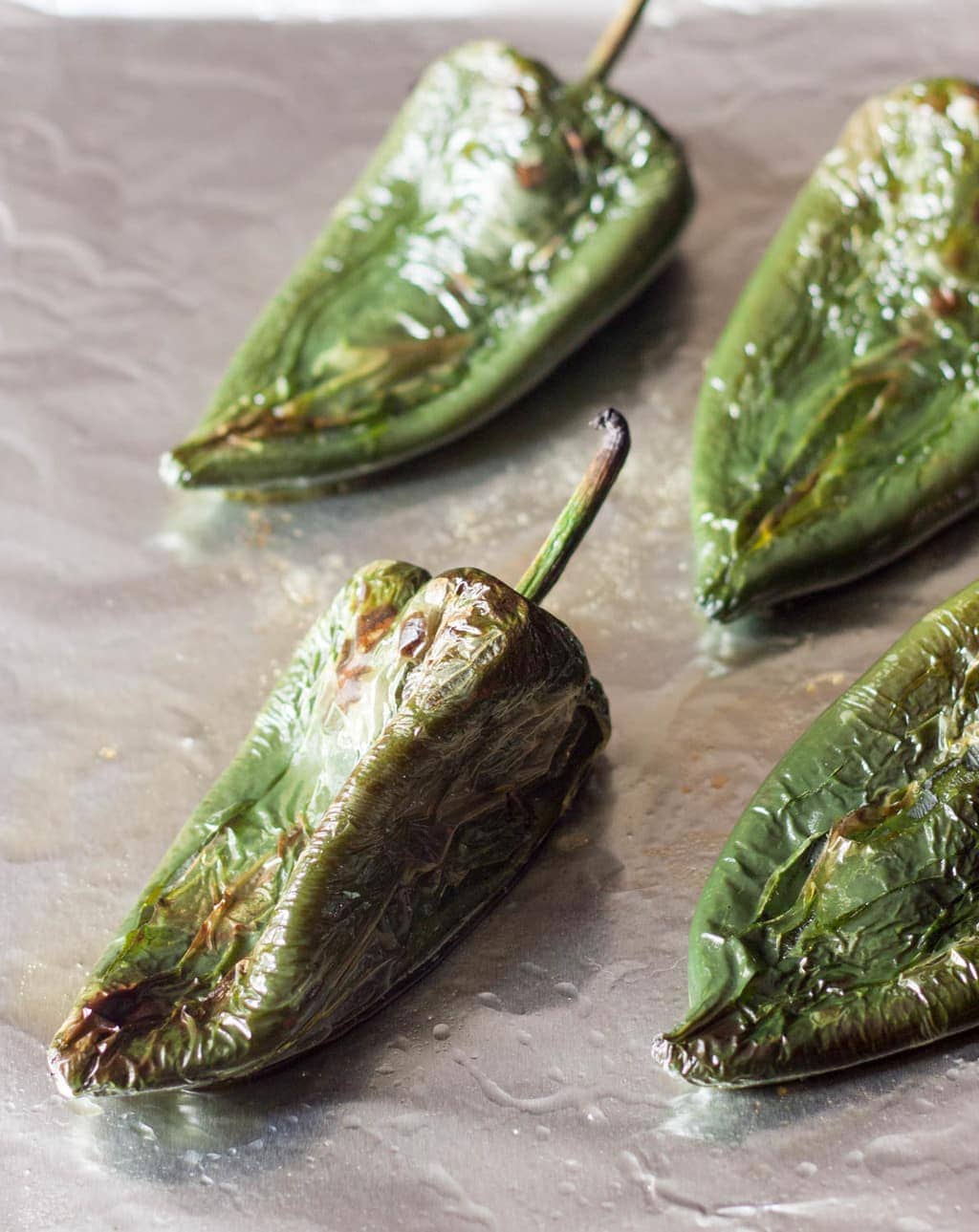 You probably already know that I have had a life-long hatred of green bell peppers. The are THE WORST.
So before you go any further, I'm not advocating you use this method as a replacement for bell peppers ( although you probably COULD ), because green bell peppers are horrible and they make everything taste like a frozen dinner.
Bell Peppers are not welcomed here.
We're talking only about how to roast poblano peppers and other non-green bell pepper peppers.
What Are Poblano Peppers?
They are something else entirely from a green bell pepper - a version of a mild green chili, and when you roast and peel them, they add a delightful flavor and mild spiciness to jazz up your every day meals.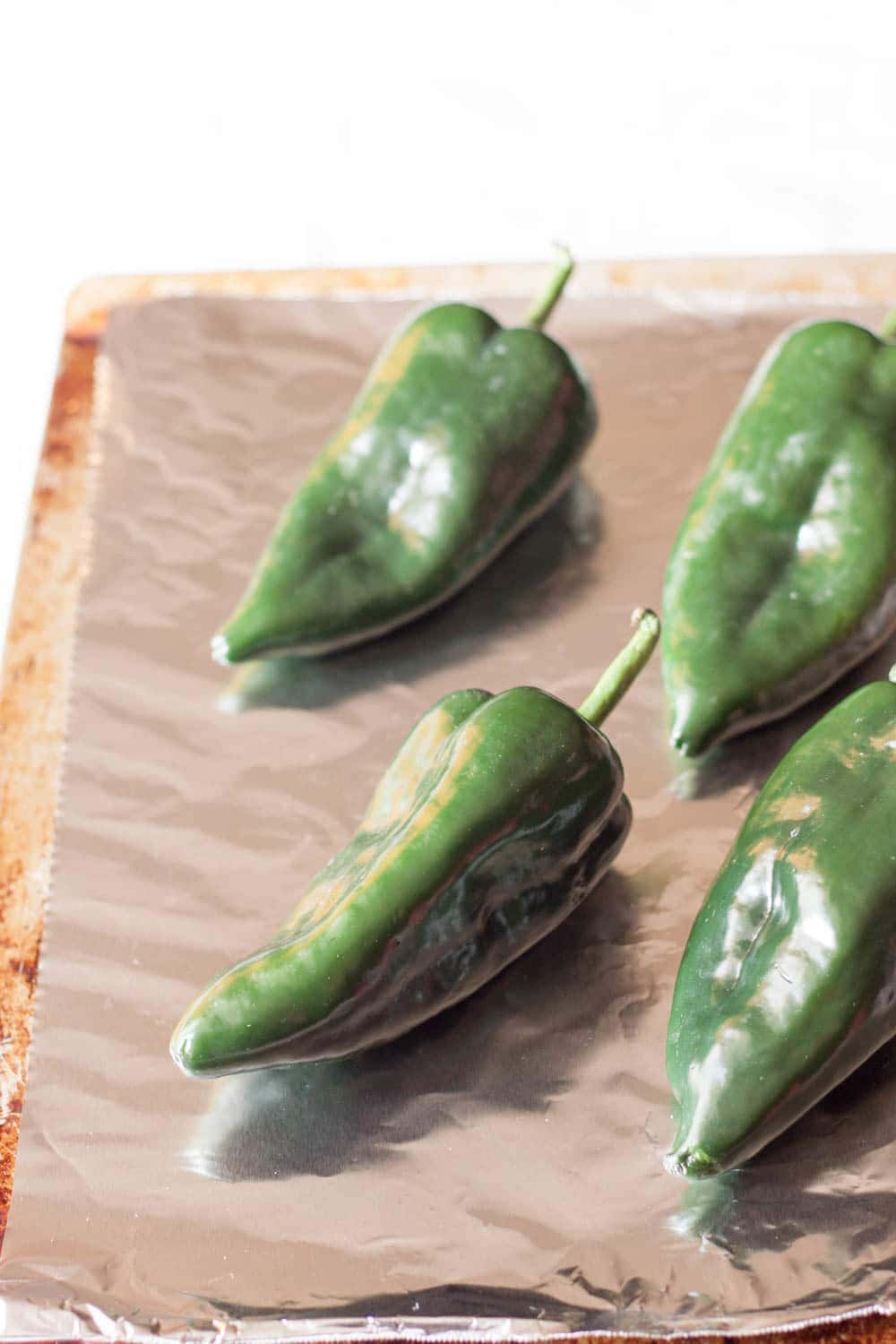 What can I do with roasted poblano peppers?
I put them in tacos and fajitas, but they are also a great addition to change up your every day casseroles, rice, veggies, and even my favorite: Corn Pudding. 
Do they need to be peeled?
I prefer them that way.  I am not meticulous about it though - I do enjoy some of the smoky flavor from leaving just a little bit of the peel on.  I find myself usually leaving about 10% of the peel on.
Are poblano peppers spicy?
Usually, not very spicy. You can remove the seeds and white insides of the pepper to make it as mild as possible.
Where do you buy poblano peppers?
I can find them at my regular grocery store, usually right next to the bell peppers and jalapeños. If you've no luck there, try a farmers market!
How to roast poblano peppers
This method for roasting poblano peppers is so so so simple. It's really not even a "recipe", just like, a thing I do in the kitchen a lot that I thought I should share with you.
Place the peppers on a sheet pan
Rub or spray the peppers in a light coat of oil
Broil until they char, flip, and repeat
Loosely wrap them in foil to trap in the moisture and let them sit until they are cool enough to handle. This helps make the skins easier to peel.
Peel and remove the stem and seeds, if desired.
You might also like these recipes:
I'd love to hear about some of your favorite ways to use roasted poblanos in the comments!   Do you have any tricks and tips for how to roast peppers?
Roasted Poblano Peppers
An easy method for how to roast poblano peppers
Print
Pin
Rate
Servings:
4
roasted poblano peppers
Ingredients
4

poblano peppers

rinsed and patted dry

cooking spray

aluminum foil
Instructions
Set the broiler to high. Line a baking sheet with aluminum foil.

Place the peppers on the foil lined sheet, and spray with cooking spray.

Broil for 6 minutes. Flip the peppers, spray again, and broil for another 6 minutes.

Remove the peppers from the heat, and ( carefully! ) wrap them together in the foil that lined the pan, making a little steam packet. Leave the peppers to steam for at least 10 minutes.

Open the packet, spray your fingers and hands with cooking spray to protect them from the hot oils of the peppers, and remove the skin from the peppers. Also, remove the stem and the seeds. Discard the skin, stem, and seeds.

Your peppers are now ready to be used in any dish you'd like.