Corn Pudding, Corn Casserole, Corn Bake. Call it what you will - this easy corn side dish is impressive at holiday meals but easy enough to toss together as a weeknight side dish.  It's almost like a corn pudding soufflé!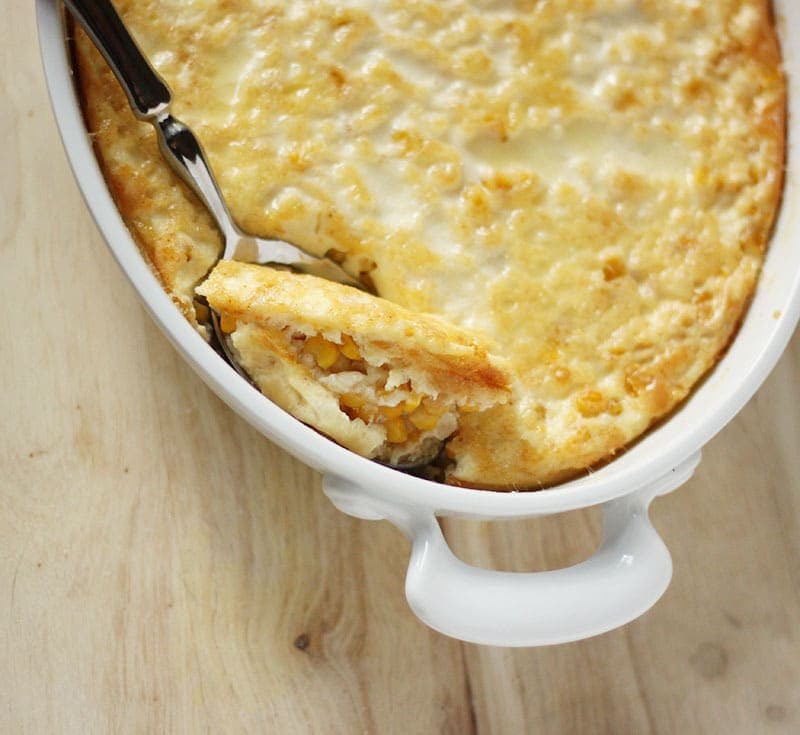 I'm not even going to be subtle or polite about it: this casserole-style corn pudding recipe is by far the best way to prepare corn, other than leaving it on the cob.  Something about it feels extraordinarily special, even though it's simple.  Almost soufflé-like in texture, kernels of corn never knew they could be this fancy until they landed smack-dab in the middle of your Christmas dinner table .
Corn Pudding makes Corn taste special
It's a holiday standard in my house.  We make corn pudding every year.
Oh, and when I go to the Farmer's Market in the dead of summer and the fresh corn is calling my name?  I make this southern corn pudding then, too.
Once, on a night we both had to work particularly late and came home to a house with only pantry and refrigerator "staples" but no real dinner, I broke out two cans of corn from our Hurricane Preparedness Kit, and we had it for dinner along with some steamed frozen green beans in garlic.
It's the best kind of "secret weapon" dish.  Delicious and requiring practically zero effort if you use canned corn, but absolutely sublime when you have the time to go through the trouble of using fresh cobs, this corn pudding / corn casserole will make you friends, clean your house, and increase your worldwide influence.
Or it's just an awesome dish. Whatever. Either way.
Corn Pudding
An old fashioned Southern Corn Pudding, fancy enough for holiday dinners and easy enough for weeknight meals!
Print
Pin
Rate
Servings:
4
to 6 servings
Ingredients
2

cups

shucked

raw corn, save cobs ( or 2 cups canned corn )

4

tbsp

all-purpose flour

1

tsp

salt

1

tbsp

sugar

2

eggs

1

cup

milk

2

tbsp

melted butter

¼

tsp

cayenne pepper
Instructions
Preheat the oven to 350 degrees.

Toss corn kernels, flour, salt, sugar, and cayenne in one bowl until corn is coated in other ingredients.

Over a measuring cup, run the back side of your knife along each side of the shucked corn cobs to "milk" the corn into the cup. Fill the cup the rest of the way to the 1 cup mark with cow milk.

In a separate bowl, beat the eggs, then add the milk and butter and beat until combined.

Stir the two mixtures together and pour into a greased 1.5 qt baking dish, pie pan, or tart dish.

Bake at 350 degrees for 30 minutes, or until a knife inserted in the center comes out clean.
Notes
You can substitute 2 cups of canned corn, and use all cow milk instead of the corn milk.
The recipe, as pictured, has been DOUBLED.