If there is one recipe of mine that I hope you make, it is this one. It is, hands down, the best bolognese sauce recipe I've ever encountered.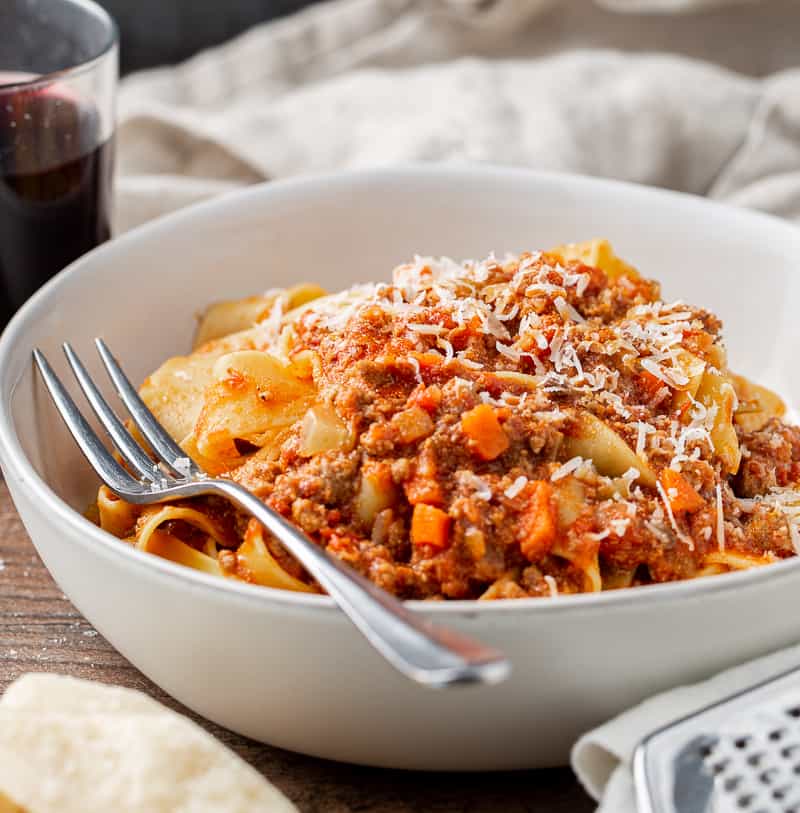 Everything about this recipe is just right.  It is sinfully delicious with shockingly complex and deep flavors,  delightfully inexpensive, and despite the cook-all-day simmer time,  easy to make.  Y'all, this dish is my gem.  I almost considered keeping it to myself. Almost.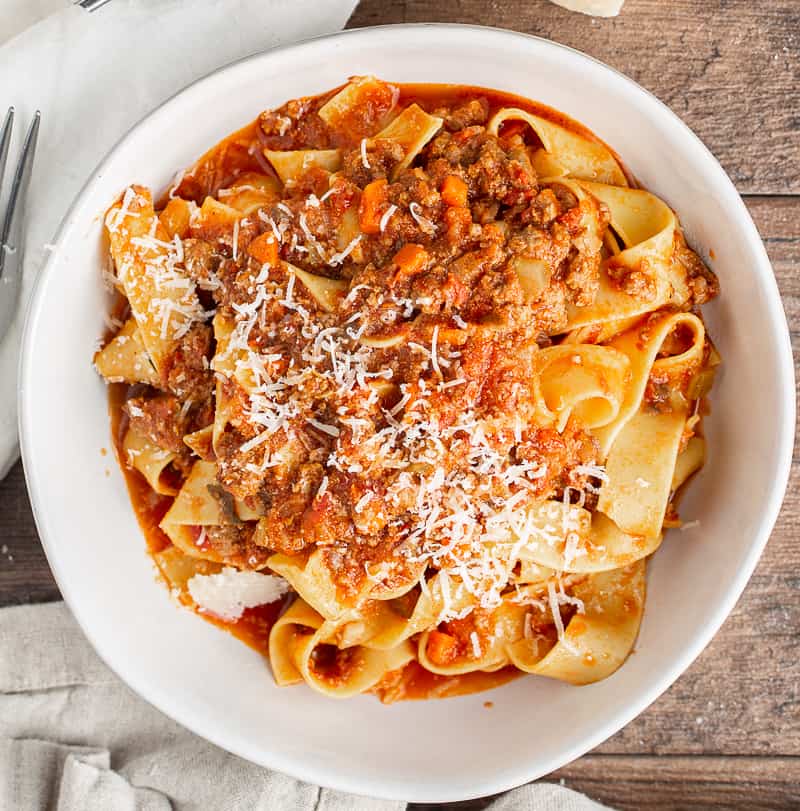 What is bolognese sauce?
Also known as "ragu bolognese", bolognese sauce is a ground meat based sauce that is cooked down with tomatoes, milk, and wine.  Served over wide, flat noodles, this sauce may appear simple but has deep, developed flavors that make it the ultimate comfort food.
This particular bolognese sauce recipe is loosely based on Marcella Hazan's bolognese, without which I might have made several mistakes that would have given me a very, very different dish.  I would have used red wine.  I would have smothered it in garlic.  I might have even dropped the celery.  I am so glad I did none of those things.
So, a few words of wisdom:
How to make bolognese sauce
Even though you think that red sauce should only have red wine in it, you will use the white wine.
I don't care if you only drink almond milk ( okay, so maybe I only drink almond milk) , but you will buy a small carton of the real stuff and add it anyway.
Don't even think about adding garlic.  You're thinking about it anyway, but stop it! No garlic in this one!  I am a garlic-holic and I tell you, people, do not add garlic!
If you hate nutmeg, you will still put it in this sauce.  But really, if you hate nutmeg I don't know if we can be friends anyway, so maybe you should just hit the back button on your browser and go from whence you came. Nutmeg:  it's what's for dinner.
Follow the directions.  This is a process.  You will build flavors slowly, and the payoff is a complexity I never knew could come from ground beef and some canned tomatoes.
Which reminds me -- one last note ... get the "good" canned tomatoes:  San Marzano. Totally worth the extra $0.80.
Other Pasta Sauce Recipes
[oih_opt_in id="3"]
Ragu Bolognese
The best bolognese sauce recipe you'll ever find! Recipe from Basil & Bubbly https://basilandbubbly.com
Print
Pin
Rate
Ingredients
2

tablespoons

butter

1

tablespoon

olive oil

1

cup

diced onion

½

cup

diced celery

½

cup

diced carrot

½

cup

chopped mushrooms

¼

teaspoon

salt

1

teaspoon

black pepper

1 ⅓

lbs

ground beef

¼

teaspoon

cayenne pepper

⅛

teaspoon

ground nutmeg

1 ½

cups

milk

2 ½

cups

white wine

1

can

28 ounces crushed tomatoes

2

cups

water
Instructions
Melt the butter and olive oil in a large stockpot over medium heat. Add the onion and cook until translucent ( around 5 minutes ).

Add the celery, carrot, and mushrooms and cook for 3 more minutes.

Stir the ground beef into the vegetables and cook until the meat crumbles and is cooked through. This should take around 6 minutes.

Add ¼ teaspoon salt, black pepper, cayenne pepper, and the nutmeg to the meat mixture.

Pour the milk into the pan, and stir to combine. Bring to a simmer, stirring often, until the milk has reduced down to a saucy coating for the meat ( there will still be a small amount of liquid in the bottom of the pan ). This will take anywhere from 10 to 15 minutes.

Crank the heat up to medium high, and stir in the white wine. Keep stirring until the wine reduces down like the milk did ( this will take about 20 minutes ). There should just be a thickened sauce at the bottom of the pan/meat mixture now.

Stir in the crushed tomatoes and the water, reduce the heat to low, making sure the sauce stays at a simmer. Simmer the sauce for at least 4 hours, stirring occasionally. Feel free to add more water if the sauce starts to cake to the pan. I usually have to add around a half cup of water for each hour of simmering.

Serve over wide-cut ribbons of fresh homemade pasta, and top with a sprinkle of pecorino romano cheese.
Nutrition Facts
Ragu Bolognese
Amount Per Serving
Calories 396
* Percent Daily Values are based on a 2000 calorie diet.