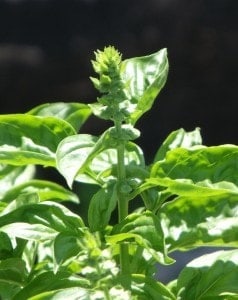 I have a basil plant at home that can get downright surly if I don't routinely harvest leaves from it, so I make rather large batches of pesto at a time and freeze it.  Just look at that picture, that thing gets Mean!
This has so many advantages:
It saves me a good bit of money. Pine nuts and cheese are getting expensive these days, so I buy them at my local big-box warehouse store and save about $10/lb on both items (yeah, did you catch that? TEN DOLLARS A POUND. Sheesh!).
I can have pesto whenever I want it. Which is often. Very often.
I can also make all kinds of delicious pesto byproducts without having to buy the horrible stuff they sell in jars at the store (who do these people think they are fooling?), or go through the process of making it myself.  This is very appealing to the way I love to cook.  Cooking benders are often followed by days of culinary inactivity in my house.  I like to cook from sun up to sun down (or sun up again), and then feed off the spoils of my kitchen plundering for the meals thereafter, lazily adding a salad or some sauteed veggies to make meals I don't feel guilty about.
BASIL PESTO
2 cups packed fresh basil leaves
½ cup grated pecorino romano cheese (locatelli or fulvi brand if possible)
½ cup extra virgin olive oil
2 medium garlic cloves
½ cup pine nuts
Some recipes want you to chop the nuts, basil, garlic, etc before putting into the food processor, but really people, what good is the thing if it can't cut it all up for you? Toss the garlic in there first and give it a few pulses until you get a nice chop. Add in the pine nuts and pulse a few more times to get a chop on them as well. Now you can add all of your basil and cheese, followed by the olive oil, ⅛ cup at a time (or a steady drizzle while running the food processor if your machine has one of those fancy tops that allows such a thing).
That's it, folks. Basil Pesto!
To Freeze:
Fill an ice-cube tray with your freshly-made pesto, throw the tray in the freezer. Once frozen, pop the buggers out and throw them in a freezer bag for future use.