Cool weather comfort food in a bowl: Sausage Spinach Pumpkin Gnocchi.  It's pumpkin-sauced sausage-filled technically-containing-a-vegetable ( spinach! ) creamy gnocchi goodness in a bowl.
I got it into my head recently that I really wanted to try using pureed pumpkin as the base for a pasta sauce.
Let me tell you, it did not disappoint.
Creamy, rich, decadent ... and that's just the pumpkin!  With a hit of cream and a hefty shake of my favorite grated cheese, Pecorino Romano, this sauce goes from pumpkin-y goodness to "Everyone step away while I eat this in private, binge watching Netflix".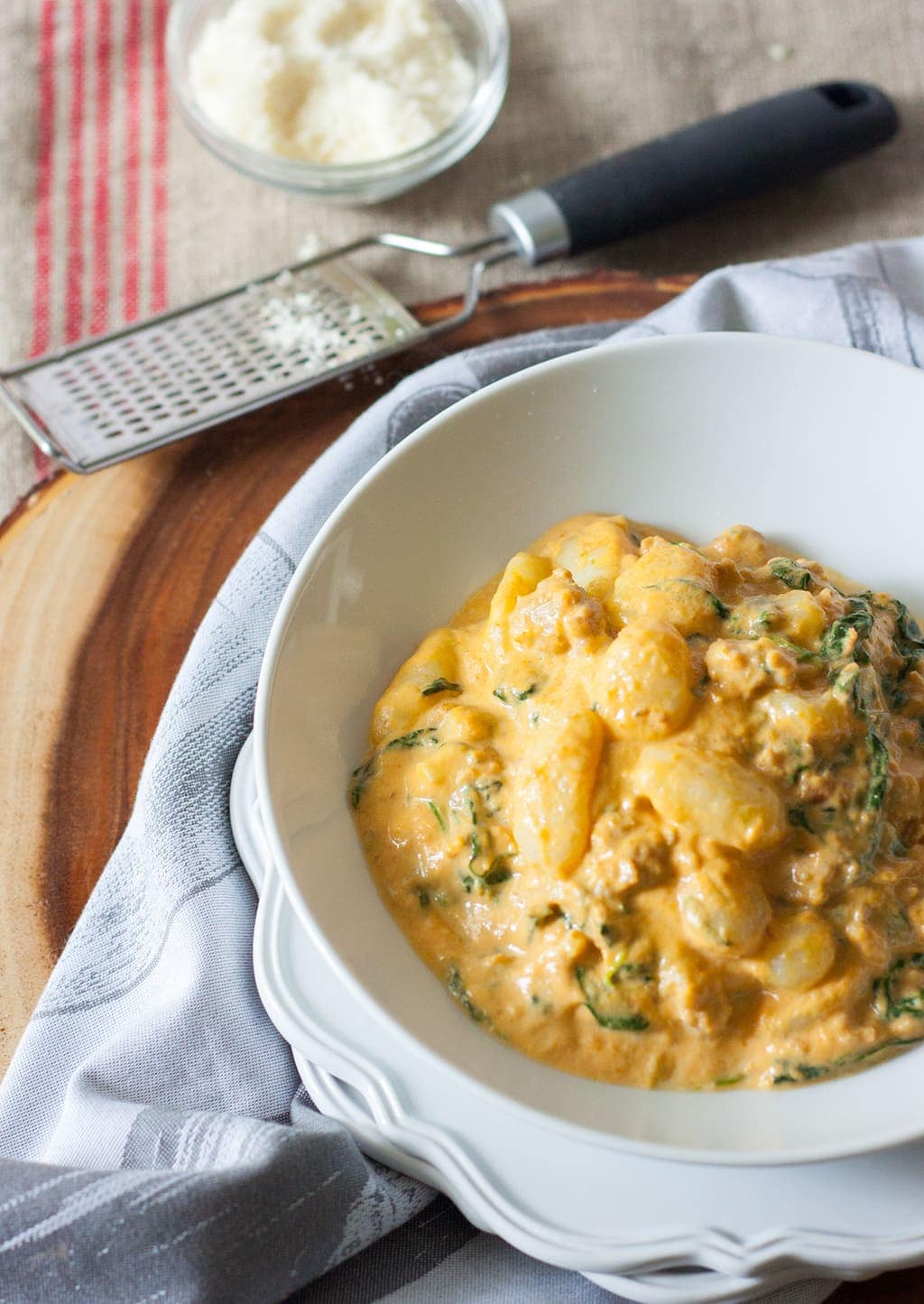 I added some spinach so that I could technically check off the vegetable box.  I do that I lot.  I don't think I've ever added spinach to something and then regretted it, now that I think about it.  I think a lot of people feel the same way, if the popularity of my spinach recipes indicates anything.
That's probably why spinach is in so many of my recipes ( like my all-time-most-popular recipe: Spinach Stuffed Chicken Breasts )
The sauce looks lumpy, but it's not "bad" lumpy -- that's sausage.
SAUSAGE, people.  So live with the slightly lumpy look -- because those lumps are delicious, delicious flavor.
Sausage Spinach Pumpkin Gnocchi
Sausage Spinach Pumpkin Gnocchi is a decadent, creamy, saucy comfort food in a bowl.
Print
Pin
Rate
Ingredients
½

lb

Sweet Italian Sausage

loose ( or casing removed if you have links )

1

lb

Gnocchi

6

ounces

1 bag Spinach

1

cup

Pureed Pumpkin

½

tsp

freshly grated Nutmeg

3

cloves

Garlic

minced

1

cup

Heavy Cream

½

cup

Chicken Broth

¼

cup

Pecorino Romano
Instructions
Bring a large pot of water to a boil for the gnocchi.

In a medium pan set over medium heat, cook the sausage until brown, breaking up the large pieces so that the sausage cooks as crumbled.

Add minced garlic, nutmeg, and spinach to the pan with the sausage, stirring occasionally, and cooking until the spinach has wilted.

Add the pumpkin and cream to the pan. Stir to combine. Cook for two minutes.

Stir in the Pecorino Romano cheese.

Turn off the heat for the sauce pan and let the sauce sit while you make the gnocchi. Add the gnocchi to the boiling water, and cook according to package directions ( most likely 2 - 3 minutes ).

Drain the gnocchi and add directly to the pan with the sausage spinach pumpkin sauce.
Notes
I used Sweet Italian chicken sausage, but pork sausage would be great, too.
Serve with extra Pecorino Romano cheese on top.