Let's just go ahead and file this creamy Grape Salad recipe under "Recipes that sound absurd but end up being shockingly delightful", because let me tell ya, I was a grape salad SKEPTIC until I was served some at Chicken Salad Chick about a year ago.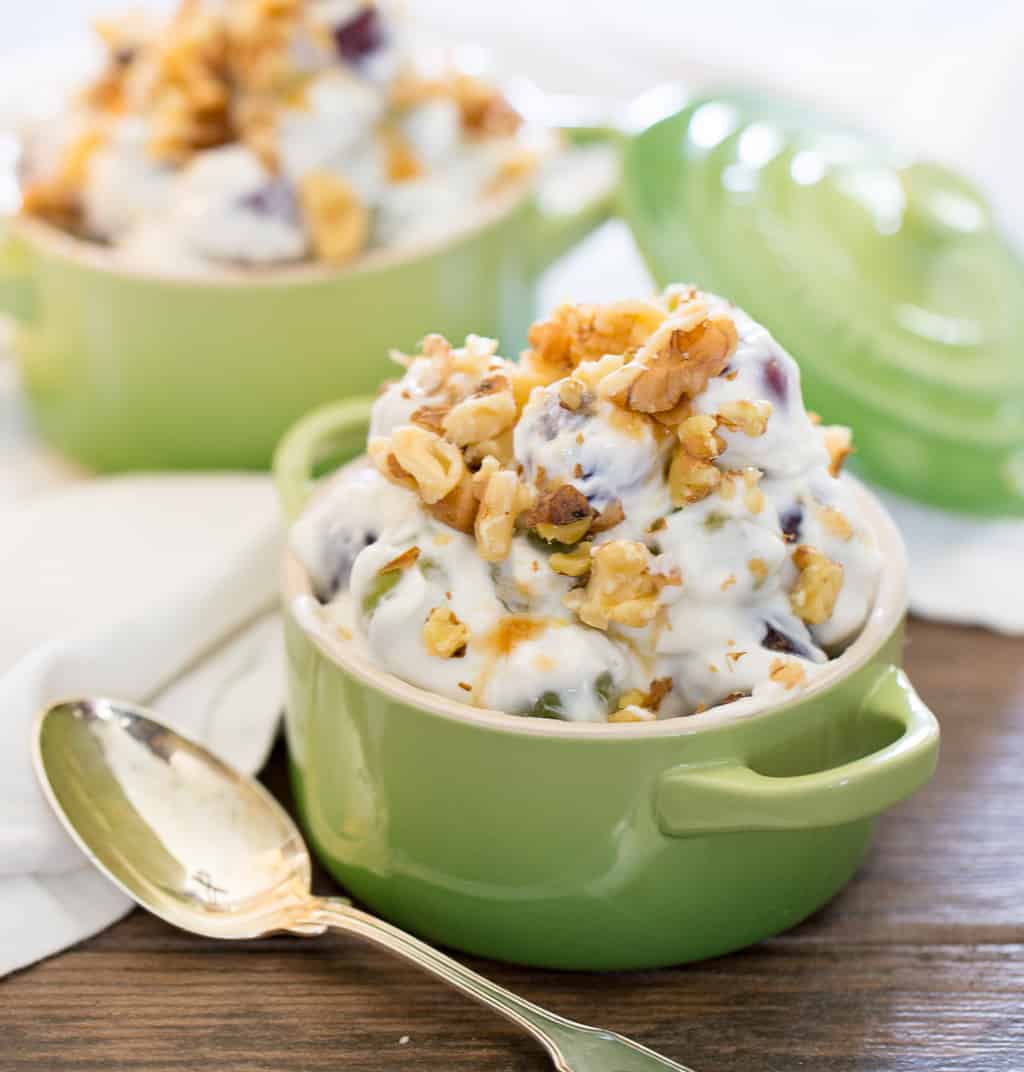 In general, I'm not a huge fan of super creamy things ( other than cheesecake which is THA BOMB ), particularly when those things are creamy with cream cheese or yogurt ( Look, the rules don't apply all the time - cheesecake is its own special flower that I realize does not fit in but I let it be, because ... DELICIOUS. )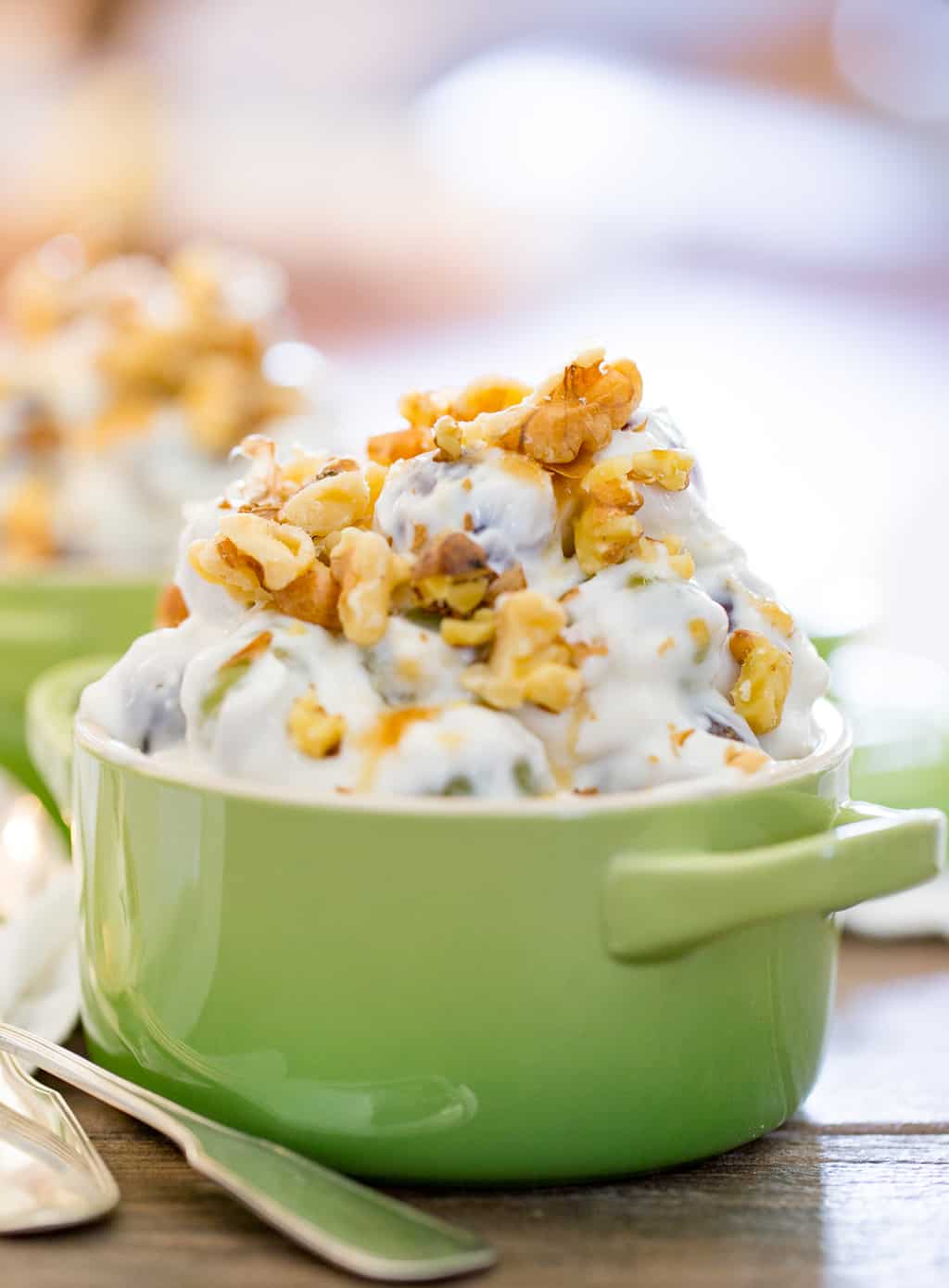 This grape salad has both offenders: cream cheese AND yogurt. Actually, Neufchatel and NOT cream cheese is in my grape salad. Neufchatel is cream cheese's classier, "healthier" French cousin.
And yes, I realize I'm throwing the term "healthier" around pretty loosely here.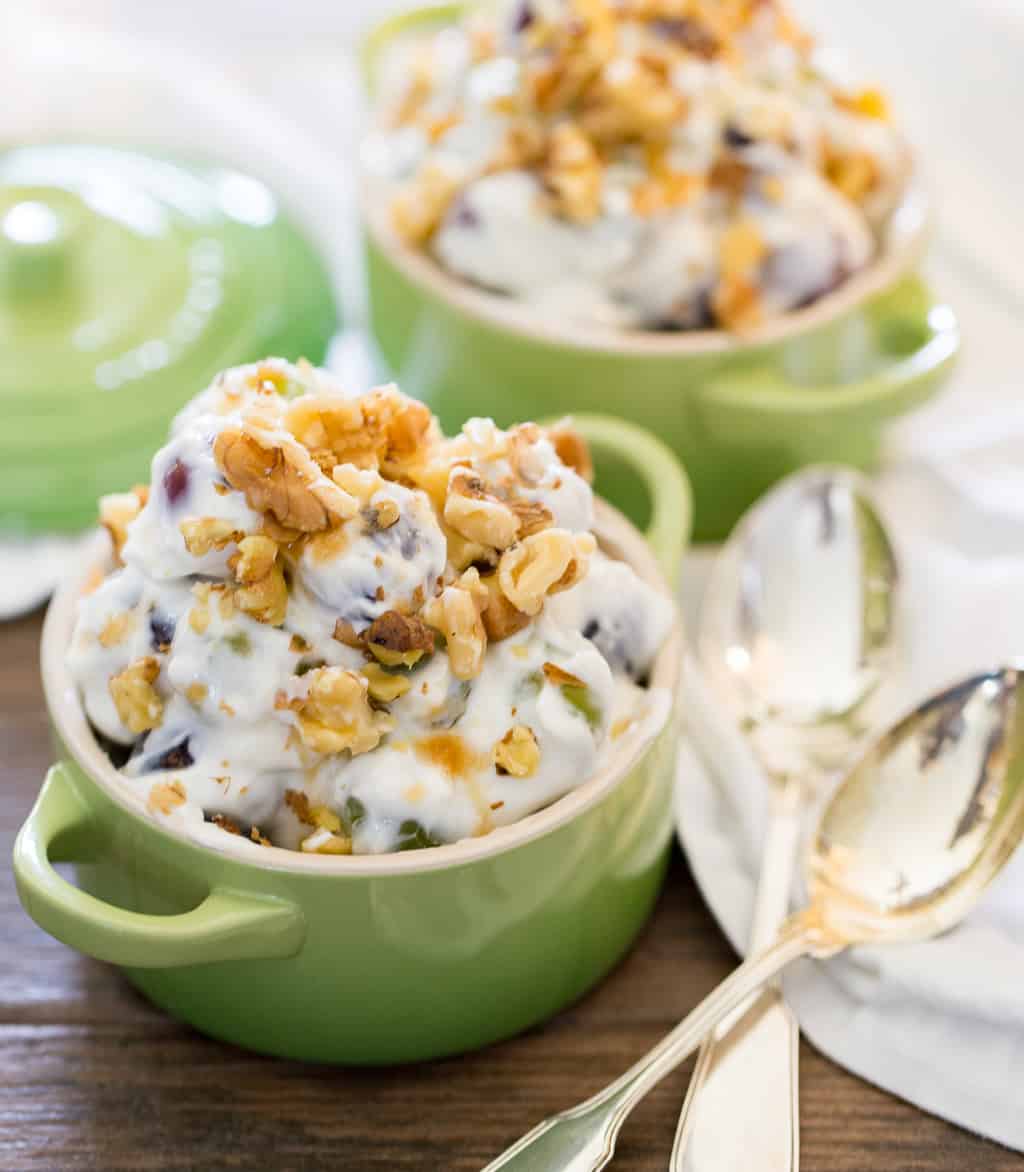 Is this Grape Salad Recipe Healthy?
I'm pretty sure the classic Chicken Salad Chick recipe for Grape Salad uses Sour Cream and real Cream Cheese, but I generally don't have Sour Cream in my house, and can never quite tell the difference between Sour Cream and Greek Yogurt anyway, so I figured I might as well save the calories and go with the yogurt when making this copycat recipe.
Honestly, I can't tell a bit of different between this recipe and the stuff from the Chicken Salad Chick, so overall I'd say the substitution was a raving success. Once again ... heathy..er. Afterall, this side dish or dessert still has sugar in it!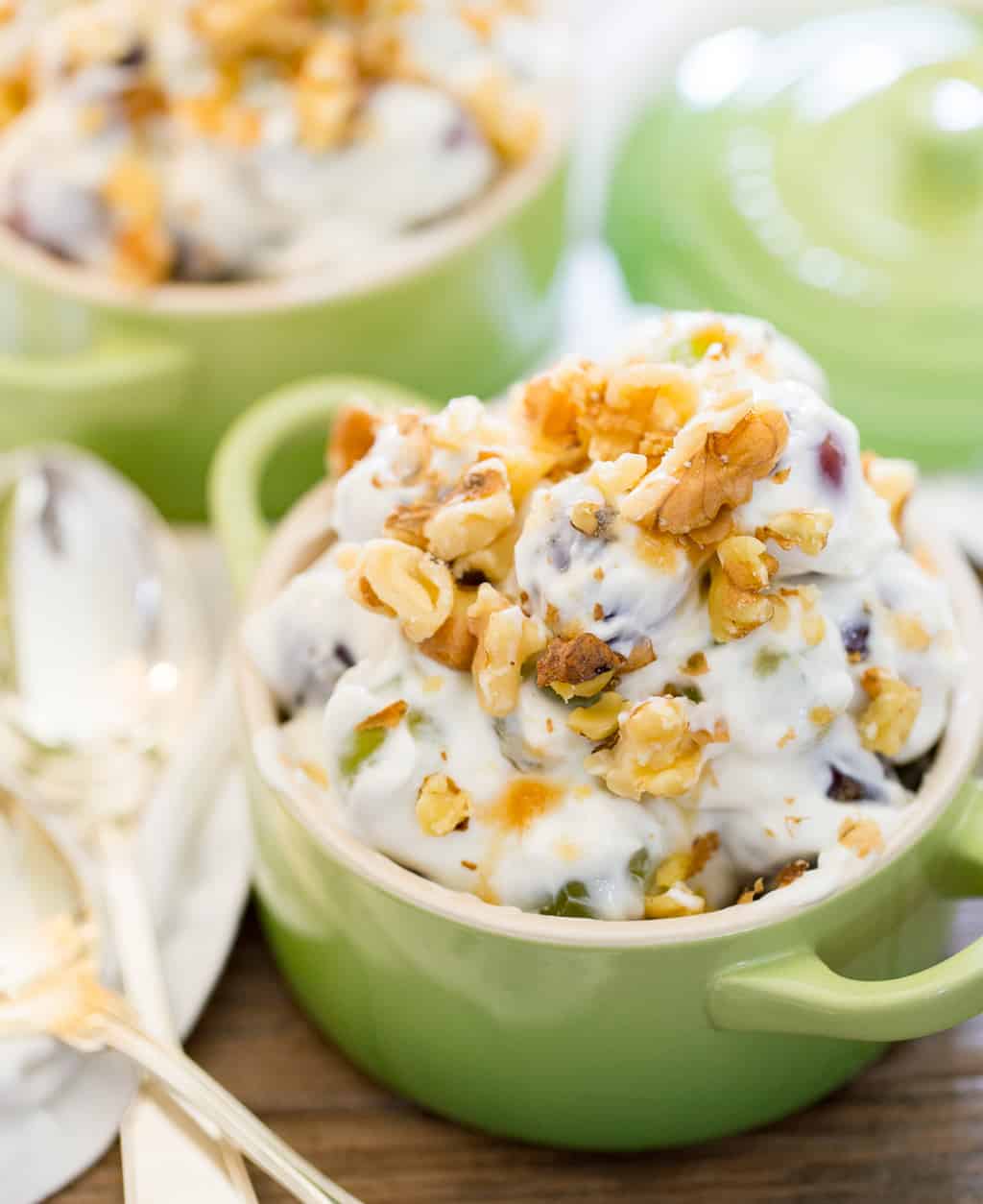 Grape salad can made an easy side dish with a savory main course, but it has been really popular in my house over the last few weeks as a dessert, particularly as the nights get hotter and hotter, there's been something really nice about it chilled, with its creamy, fruity, crispness to end the evening.
Don't forget to add the walnut topping right before you serve it! That crunch really sends it over the top!
Can you cut up the grapes?
Yes! This is a great change from the main recipe in order to make it safer for children. I'd recommend serving it as soon as possible though, as the moisture from cut grapes will soften the salad quicker than whole grapes.
How long is grape salad good for in the fridge?
It's best to make this the day you are going to serve it, or at most the night before. Part of the magic of creamy grape salad is the contrast of the quick bite of the grapes with the creamy dressing. Sitting in the fridge too long makes the salad soft, although it won't poison you.
Tips for shaking things up with this Grape Salad Recipe:
Substitute Almond Extract for the Vanilla
Add extra pecans, or substitute with Walnuts
Turn it into a sweet Chicken salad, by adding four cups of chopped, cooked chicken and doubling the yogurt and cream cheese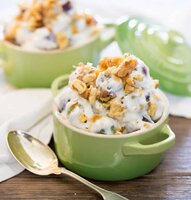 Creamy Grape Salad Recipe
This creamy grape salad recipe is a delicious copycat of the one from Chicken Salad Chick.
From basilandbubbly.com
Print
Pin
Rate
Ingredients
1 ½

lbs

Green Grapes

washed, de-stemmed, and dried

1 ½

lb

Red Grapes

washed, de-stemmed, and dried

12

ounces

Neufchatel or Cream Cheese

room temperature

8

ounces

Greek Yogurt

⅓

cup

White Sugar

½

Tablespoon

Vanilla

½

cup

chopped Pecans

¼

cup

packed light Brown Sugar
Instructions
Beat the Neufchatel ( or Cream Cheese ) until it has a smooth consistency.

Add the greek yogurt and white sugar and cream together until smooth.

Fold in the vanilla until combined.

Add the mixture to the grapes and stir to coat all of the grapes.

Mix the brown sugar with the pecans, and sprinkle on top of the coated grapes.

Serve immediately or chill for up to 4 days before serving.