Smooth, creamy, and QUICK to make: this easy homemade lemon curd recipe is made in the microwave and wayyyy cheaper than buying the stuff in the jar.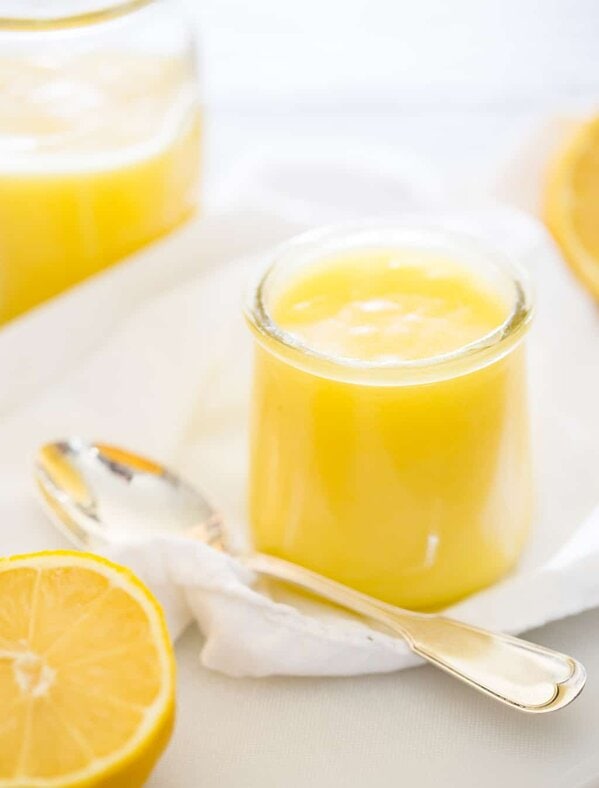 When life gives you lemons, I hope life also gives you dry white wine so you can make one of my favorite summer cocktails: the Lemon Syllabub. But if lemons are all ya got, then an easy lemon curd made in the microwave is definitely in order.
What is lemon curd?
It is is a type of fruit preserve that is creamy ( but doesn't contain cream). It does, however, contain the following ingredients:
Lemon Curd Ingredients
There are a few different styles out there, and I prefer a very particular type: first of all, NO little bits of weird texture from lemon zest. NONE. Sorry zest lovers! This recipe may not be for you. Instead, it cooks with peels from a lemon that can be picked out before storing in the fridge.
All the flavor, with none of the "what the heck is this gritty thing in my curd?"
Secondly, I love a creamy lemon curd. Right when you make this recipe, it will have a bright yellow look to it, but as it chills in the fridge, it becomes a paler, creamier looking yellow. There's no cream in this recipe, but it sure tastes like there might be.
How to make lemon curd
There are all kinds of methods, but my favorite way is to make lemon curd in the microwave! It's SO much easier. The basic process is to slowly combine a mixture of eggs, sugar, and lemon with warm butter, gradually bringing it all up to temperature for that perfect consistency.
Scroll down to read all about it in the recipe card.
Now that I've perfected this microwave lemon curd recipe, I've been using in SO many different ways. It's been a fabulous addition to my kitchen over the last week, in everything from yogurt parfaits to gin cocktails to tiny bite sized tarts.
I may or may not have dipped a spoon in the jar for just one sweet, tart lemony taste after dinner a few nights as well.
My favorite lemon curd uses:
Lemon Syllabub ( a lemony, low-alcohol cocktail - simply substitute the curd for the lemon and sugar)
Easy Lemon Curd in the Microwave
Easy, smooth lemon curd made in the microwave with egg yolks. No straining necessary!
Print
Pin
Rate
Ingredients
1

cup

lemon juice

1

cup

white sugar

1

egg yolks

3

eggs

½

cup

1 stick butter

peels from 1 lemon

use a vegetable peeler to get big slices that you can remove easily later
Instructions
Melt the butter in a small microwave save bowl by microwaving for 30 seconds, stirring, and repeating until all of the butter is melted. In a separate large microwave safe bowl, mix the lemon juice, sugar, eggs, and egg yolks until combined.

Once the butter is melted, let it sit to cool for 3 - 5 minutes, then remove two tablespoons of it and add it to the sugar/eggs/egg yolk mixture and stir to combine. This step is NECESSARY in order to prevent the eggs from cooking prematurely and prevent the eggs from leaving white bits in your curd!

Once the two tablespoons of butter is combined. Add the rest of the butter and the lemon peels to the sugar/eggs/egg yolk mixture and stir to combine again.

Microwave for 1 minute. Stir. Repeat FOUR times, so that the curd has been cooked for a total of four minutes and stirred a total of four times. Let the curd cool for about 20 minutes and then pick out the lemon peels. It will continue to thicken as it cools. Store in the refrigerator for up to one week. It will become more opaque and thick as it cools.