Heirloom tomatoes, rich alpine cheese, and fresh basil: this traditional Southern Tomato Pie recipe is an unexpected exercise in simple ingredients coming together to make a recipe rich and extraordinary.


If you've never tried this classic southern dish, you are in for a treat.  I remember the first time I had one it was from the Stono Market Tomato Shed Café.  They put fresh mozzarella sliced on top of theirs, and it's a dreamy addition, but I prefer the classic topping.  If you layer in some mozzarella with your tomato slices, I won't tell anyone though.
What makes the best tomato pie?
It's not just the recipe, it's the ingredients! Although you can make a perfectly decent tomato pie with the grainy beefsteak tomatoes from the grocery store, my preference is to grow my own or get local heirloom tomatoes from the farmer's market, like Cherokee Purple, Brandywine, and any sort of yellow variety I can find, mixed with some quality on the vine good-ol' red tomatoes.
Really high quality tomatoes give this pie a rich, almost creamy tomato-y flavor that you just don't quite get from the regular tomatoes.  You can also had a little bit of sliced eggplant in with the sliced tomatoes ( and prepared the exact same way as the tomatoes ) to give this pie a little extra umph, making it perfect for dinner.
This tomato pie is a great way to use up all those tomatoes from your garden as well.  I realllly don't have a green thumb, but I try to grow a garden every year, and even I can get some delicious tomatoes and basil out of my garden each year! Full disclosure, I did get the tomatoes for this pie from the farmer's market as mentioned above, but once the homegrown tomatoes are ready in my garden, I'll be making all of my tomato pies with with them and the fresh basil!
One thing to note - I'll admit, the topping sounds ... disturbing.  I'm not one much for mayonnaise, and in particular I don't want to ruin something as fabulous as leftover tomatoes from the garden with it, but y'all there are exceptions, like this easy tomato pie ( oh and let's not forget another summertime favorite, the tomato sandwich. )  The topping is crucial to this pie. Don't skimp on it. Don't substitute with something silly like greek yogurt.  I love the Tomato Shed's fresh mozzarella version, but I really think you should start with this classic mayo and cheese topping before branching out. You won't regret it.
MAYONNAISE. Just do it.
If you like this Southern Tomato Pie recipe, you might also like: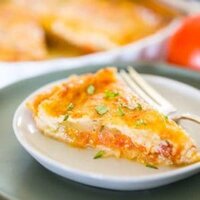 Southern Tomato Pie
Classic southern recipe that makes the BEST Tomato Pie with heirloom tomatoes, and a delicious cheesy gruyere and mayonnaise topping.
Print
Pin
Rate
Ingredients
1

Pre-made Refrigerated Pie Crust

4 - 5

medium to large tomatoes

1

medium Onion

thinly sliced

1

Tablespoon

Olive Oil

2 ½

cups

shredded Gruyere

may substitute swiss, provolone, or mozzarella if necessary but the flavor will be more mild

½

cup

Mayonnaise

6

Basil leaves

thinly sliced

approximately 1 ½ teaspoons salt

approximately 1 teaspoon pepper
Instructions
Preheat oven to 350 degrees F. Bring a large pot filled with water to a boil. Fill a large bowl with ice and set it aside.

Place the pie crust into a pie dish and bake for approximately 25 minutes. If you pie crust has directions for pre-baking on the box, then feel free to follow those directions instead.

Cut two 2" slices in the bottom of each tomato to make an X. Carefully place the tomatoes into the boiling water. Boil for 5 minutes.

Remove the tomatoes from the water, and place in the bowl filled with ice.

Drain the water from the pot and wipe it out with a towel to remove any residual water. Set the pot over medium heat and add the olive oil and onion to the pot with a pinch of salt. Cook on medium for 20 minutes to cook the onions, stirring occasionally.

Remove the skin from the tomatoes. It should peel off easily with your fingers. Slice the tomatoes and place each slice on a towel lined baking sheet to drain. Sprinkle with salt. Let sit for 20 minutes while onions cook.

Sprinkle ½ cup of the gruyere onto the bottom of the pie crust. Spread the cooked onions on top of the gruyere. Alternate adding layers of tomatoes with a sprinkle of basil, pinch of salt, and pinch of pepper on top of each layer until you run out of tomatoes.

Mix the remaining ( 2 cups ) of gruyere with the mayonnaise and ¼ teaspoon pepper. Spread the mixture on top of the last layer of tomatoes.

Bake at 350 for 45 minutes or until the top is browned.