Cucumber Tomato Salad -- it's a salad, southern style, and your new favorite picnic side that can sit out all day without killing anyone ( I'm looking at you, potato salad! )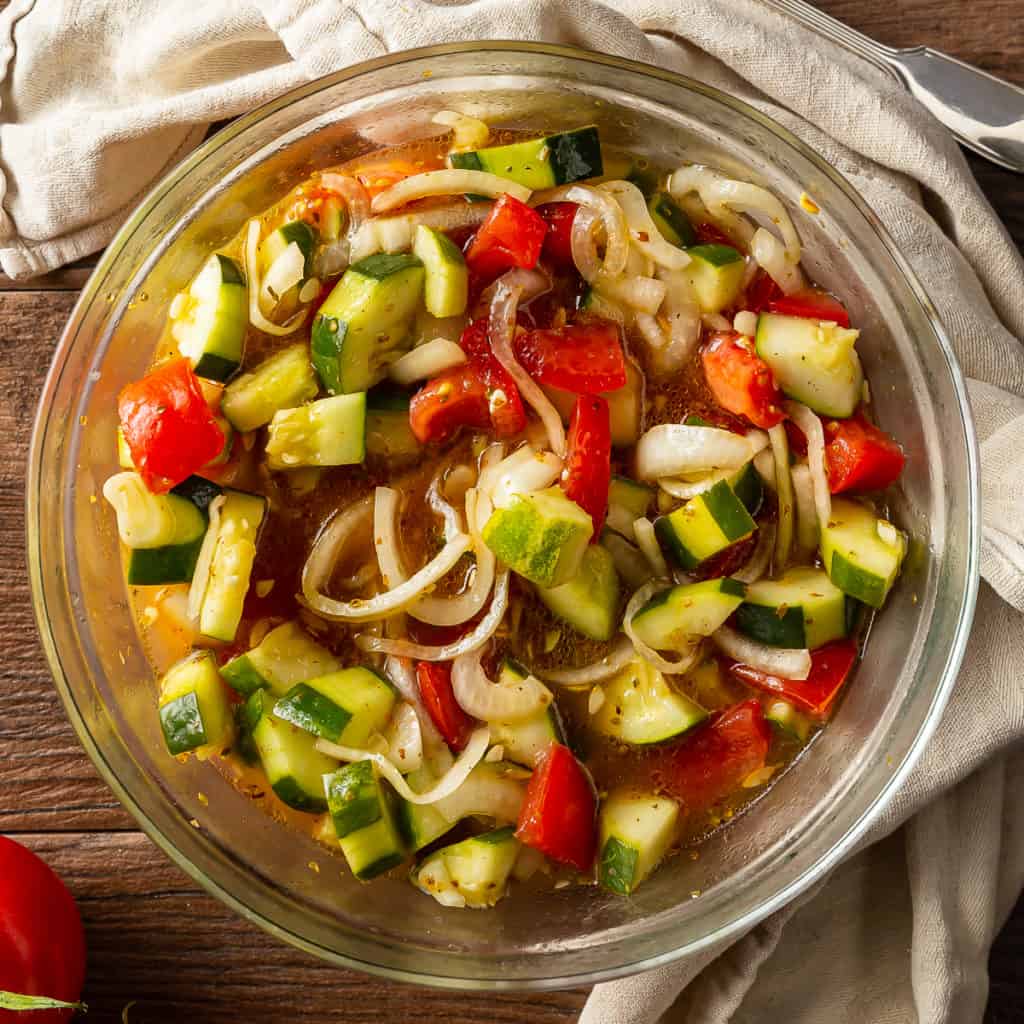 Why make a cucumber tomato salad recipe?
You know by now that I will eat pretty much anything. However, there are some foods that I would prefer not to eat if given the chance, and cucumbers are nearly at the top of that list. A little slimy and full of that ... I don't know ... cucumber-y flavor, they never seem to add anything notable to a dish other than a light slime and the vague flavor of garden-y water.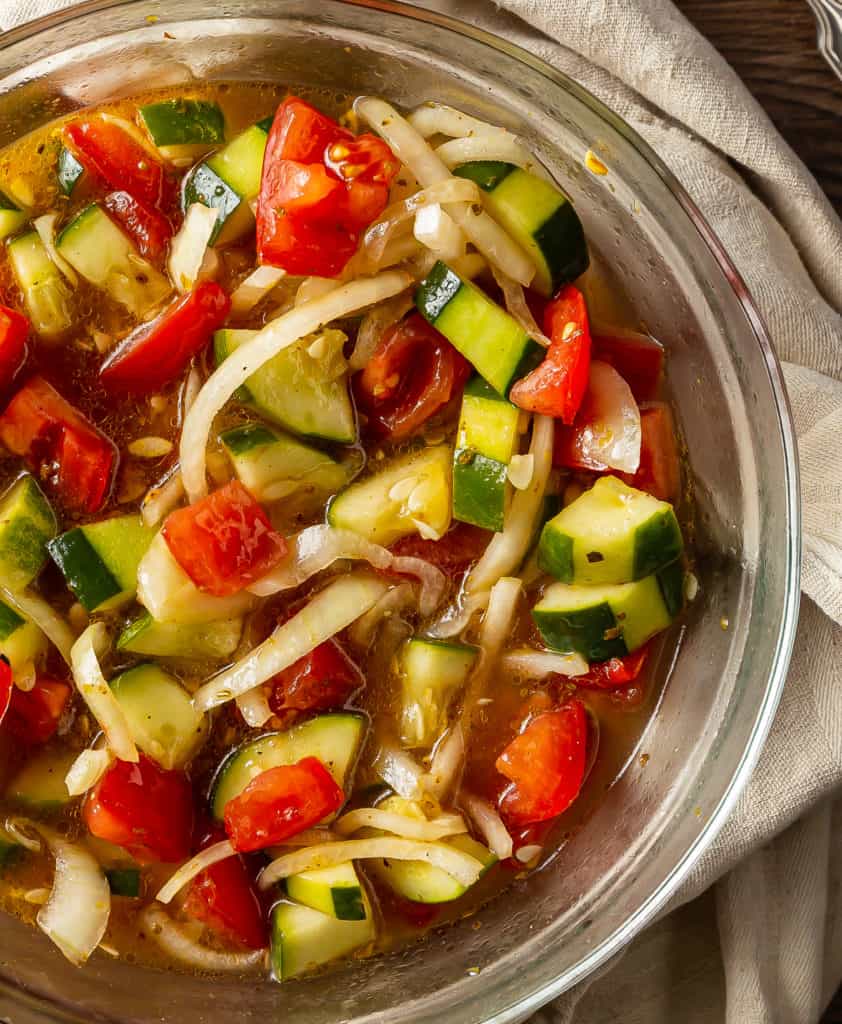 As for you health heroes out there doing things like eating cucumbers with your hummus instead of delicious, delicious pita chips, I applaud you: you are a better snacker than I. Salads, wraps, dips, and more -- they are ALL better without cucumbers.
So what business do I have making a cucumber tomato salad? Because cucumber tomato salad is one of those Southern classics that is so good, even this lifelong cucumber avoider can't say "no".
Garden fresh tomatoes, thinly sliced sweet onion, and yes, the bright, watery flavor and crunch of my one of my least favorite foods, the cucumber, all come together to make a vibrant, veggie-packed, Non-Slimy, vegan and vegetarian-friendly side dish that can stay on the picnic table even on the hottest of hot summer afternoons, without any worry of sending everyone home poisoned.
And really isn't that all any of us are after? Something to sustain us and not leave us poisoned? But also, the deliciousness. The bright, vinegary, crunchy, Summery deliciousness. Cucumber up, y'all!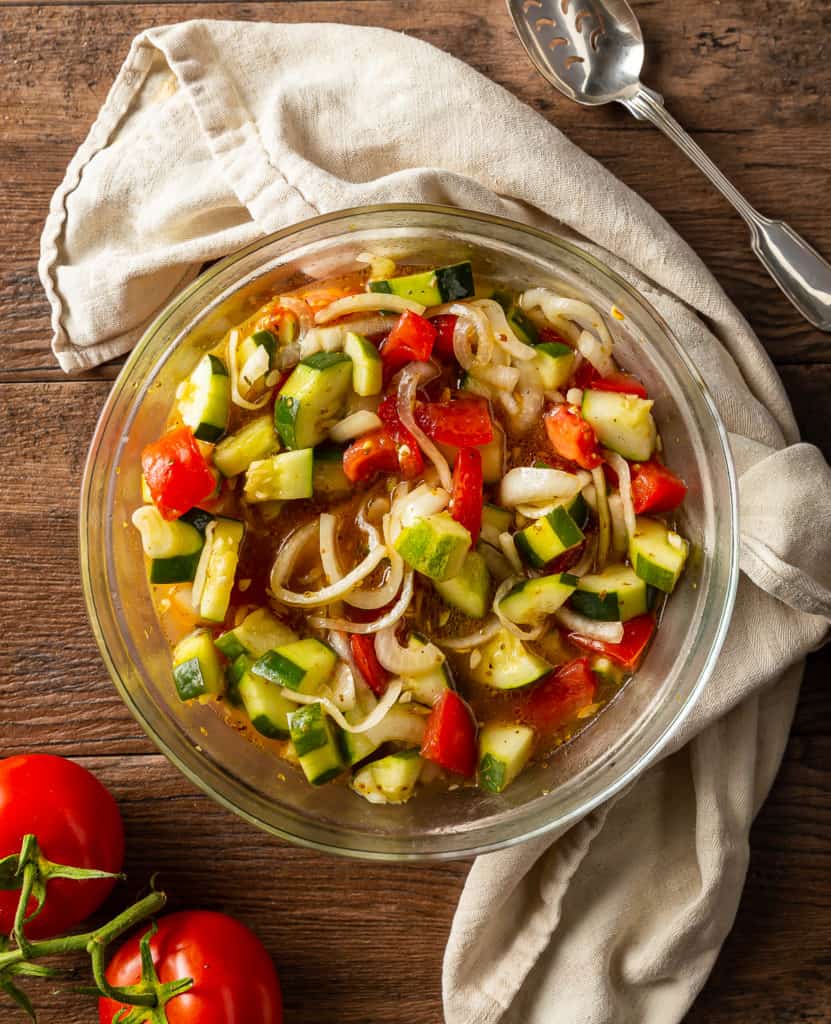 How to make Cucumber Tomato Salad
It couldn't be easier!
Chop all of the tomatoes, cucumbers, and slice the onion thinly
Make the dressing
Toss the dressing with the chopped items
Serve or let sit overnight and serve chilled
Dressing for Cucumber Tomato Salad
Super fresh and light, this acidic dressing has just enough sweetness added to give it balance.
Vinegar (I like white/distilled, but cider vinegar may also be used)
Olive Oil
Sugar
Salt
Pepper
Oregano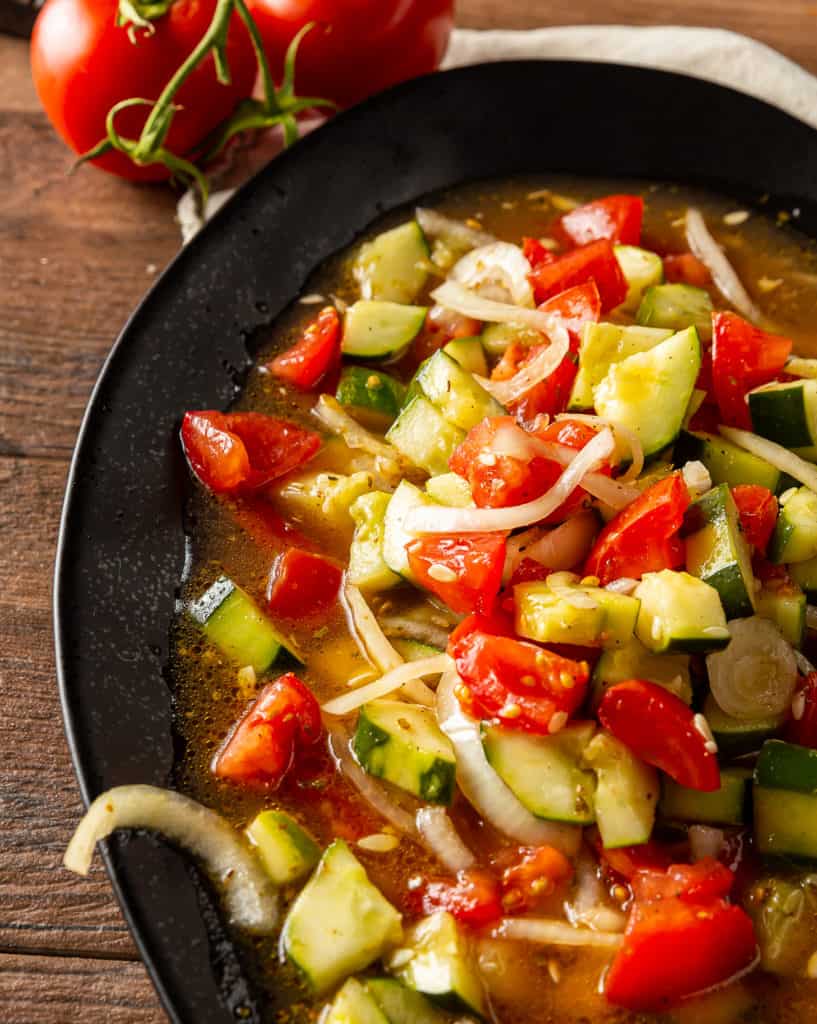 Can this dish be made ahead?
Yes! And I highly recommend doing so. This salad is best the day AFTER you make it - so go ahead and prep this long before you want to eat it, and then enjoy it nice and chilled once the flavors have had the chance to meld.
If you like this cucumber salad recipe, you might also like:
Cucumber Tomato Salad
A southern picnic and hot-weather healthy dinner staple: Marinated cucumbers, tomatoes, and onions make a delicious Cucumber Tomato Onion Salad
Print
Pin
Rate
Ingredients
4

vine-ripened tomatoes

cut into ½" chunks

2

cucumbers

cut into ½" chunks

½

large Vidalia onion

or yellow / Spanish onion. sliced very thinly
For the Cucumber Tomato Salad Dressing
1

cup

cider vinegar

or distilled / white vinegar

¼

cup

extra virgin olive oil

3

tablespoons

white sugar

1

teaspoon

dried oregano

1

teaspoon

ground pepper

1 ½

teaspoon

salt
Instructions
Whisk the dressing ingredients in a large bowl.

Add the tomatoes, cucumber, and onions to the bowl and toss to coat.

Let sit for at least an hour before serving, although it's best if left overnight in the fridge and then served chilled.
This post was updated in Summer of 2021 to have new photos and more clear instructions. Here are the old photos below ( because I love comparing the before and after and thought you might like to, too! )