It is a well known fact that I am dough-challenged. I am not one of these people baking sourdough bread right now. However, I am all about buying a loaf of sourdough, and then realizing there is no way my family can eat the whole thing before it goes bad. Cue the sourdough strata.
In case you aren't familiar, a strata is a bread and egg based dish - like a savory bread pudding of sorts. It is SUPER versatile, and is a great way to use up leftovers.
I'm figuring a lot of people are finding themselves with some leftover sourdough bread right now! And this is the BEST way to use it up, because even if you don't eat the entire strata, you can freeze it to reheat later.
You can throw pretty much whatever you want into the basic formula of bread + eggs + milk + cheese, but I think it's important to add aromatics like onion and/or garlic for flavor, a salty meat like ham or bacon, and some sort of veggie for both texture, color, and so you can look at it and say, "Hey, it's healthy! There's spinach in here!"
I've also heard many people love bell peppers in theirs. I personally cannot stand bell peppers, so you aren't going to find that here. But I've done my part in telling you that it might be delicious to add, if you are into that kind of thing.
I am not.
What I AM into, is anything that is simple to make, but comes out looking oh-so-impressive.
This brunch casserole fits that bill, and like I said, it's got spinach in it, so it's gotta be healthy, right???
Don't worry about getting the layers perfect. Have a look at the above photo ( bread plus dollops of spinach and onion mixture ) and the below photo ( the same layer of strata, with ham and gruyere added.)
Note that parts of the bottom of the dish are showing, that there's spinach falling onto the dish. It doesn't have to be perfect at all! That's the beauty of it.
However, in order to make the best strata, you DO want to make sure you fully submerge the bread in the milk and egg mixture. Once you pour the milk and egg over the final layer, press the bread down into the dish so that it absorbs more liquid.
To get the best absorption, place the assembled, unbaked strata into the fridge for at least 3 hours. Otherwise, your strata might end up a little dry.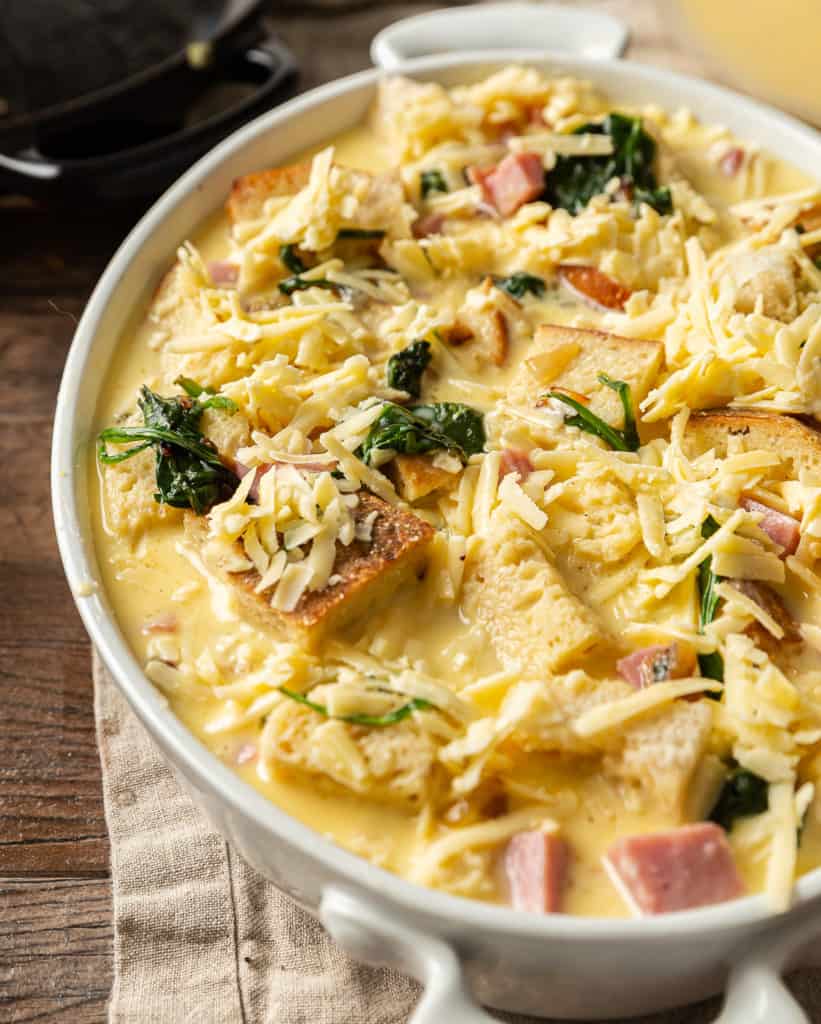 It's okay if the bread and toppings are peaking out again when it goes in the the oven. Those become the crunchy parts, and they are THA BEST.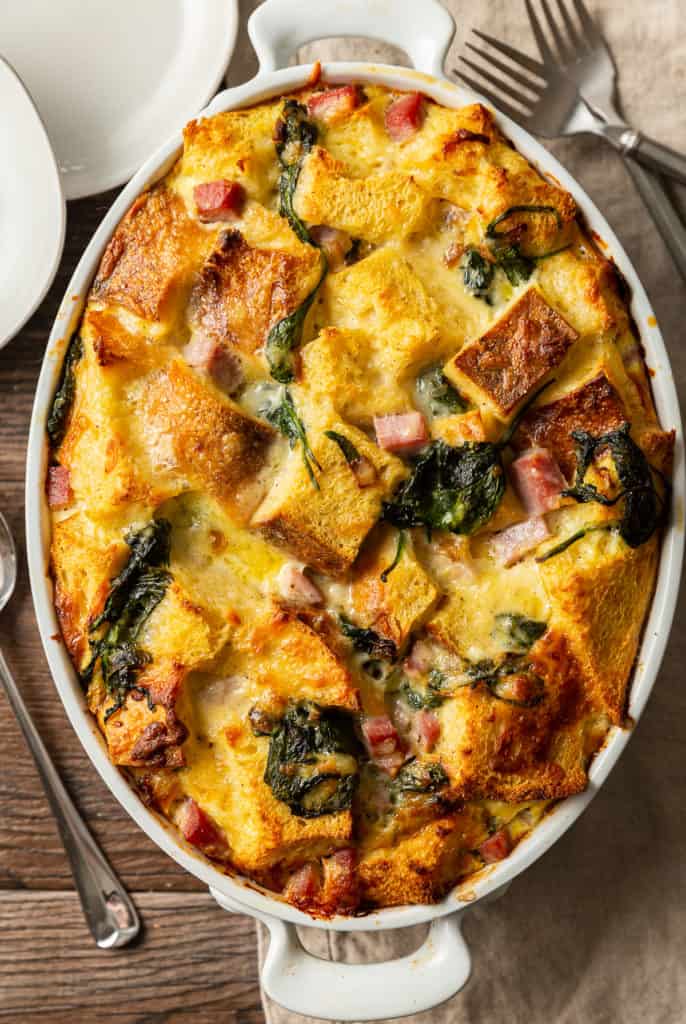 Some tips and tricks for the perfect breakfast strata
As mentioned before, you can make endless substitutions. Bacon or cooked sausage instead of ham, shallot instead of onion, kale instead of spinach, bell peppers if you can tolerate them, the list goes on and on.
Make sure you press the bread into the milk and egg mixture once it's been poured on top. You want the bread to soak up as much of that as possible!
If you take it out of the oven and it still isn't cooked (after all, everyone's oven is a little different, and the size and shape of your pan can make a difference in cooking time ), you can throw it right back in for 15 - 20 more minutes to finish cooking, without detriment to the final product
Some other of my favorite breakfast recipes are:
Sourdough Strata with Ham, Spinach, and Gruyere
A breakfast strata made with sourdough bread for extra zing. This ham and spinach strata is perfect for breakfast, brunch, or dinner.
Print
Pin
Rate
Ingredients
1

cup

diced onion

1

Tablespoon

olive oil

3

cups

roughly chopped or torn spinach, packed

1

Tablespoon

butter

roughly - to grease pan

10

large eggs

4

cups

milk

½

teaspoon

pepper

¼

teaspoon

nutmeg

8

cups

sourdough bread

roughly torn into 1" squares

1

cup

chopped ham

2 ½

cups

shredded gruyere

about ⅓ lb of cheese
Instructions
Preheat the oven to 350 degrees F.

Sautee the onion in the olive oil over medium high heat in a large saute pan. Once the onion begins to soften (about 5 minutes), add the 3 cups of torn/roughly chopped spinach. Cook together until it wilts.

Grease a 3 quart baking dish with butter.

Beat the eggs, milk, pepper, and nutmeg together.

Place a single layer of the bread into the buttered baking dish.

Scatter half of the ham, plus half of the onion and spinach mixture on top. Scatter half of the cheese on top of that.

Place a second layer of bread on top of that.

Scatter the remaining ham, onion, spinach, and cheese on top.

Pour the egg and milk mixture over everything. Firmly press down on it all so that the bread absorbs the liquid.

For best results, let the strata sit covered in the fridge for at least three hours or up to overnight/12 hours. Bake at 350 degrees F for 1 hour and 15 minutes.