I am terrified of making cinnamon rolls, but I can easily throw together this cinnamon roll casserole in no time, and get all that delicious Cinnabon flavor with very little effort! Your brunch guests will love you for this easy to serve sweet casserole.
Maybe you've noticed but then again, maybe you haven't: but I like to keep the recipes on my blog "quietly" all natural.  That means I don't like to use pre-made, well, anything in my recipes... mostly ( which is why we keep the all-natural thing quiet.  Nice to have a little cushion there.)  I love cooking from scratch, and I like having control over exactly what is in my food.

But y'all, I also like cinnamon buns.  A LOT.  And I'm bad at working with dough that involves yeast. REALLY BAD.
I'm also impatient, and my house is prone to wild temperature swings ( because I live in Charleston, which is also prone to wild temperature swings! )
So what's a girl to do when she wants Cinnamon Buns? And doesn't want to make dough. Or wait for dough to rise. Or figure out how kneading works. Or cover her one countertop in the kitchen with a huge sheet of dough.
What's a girl to do when she wants Cinnamon Buns NOW. Like, in the next 30 minutes, now.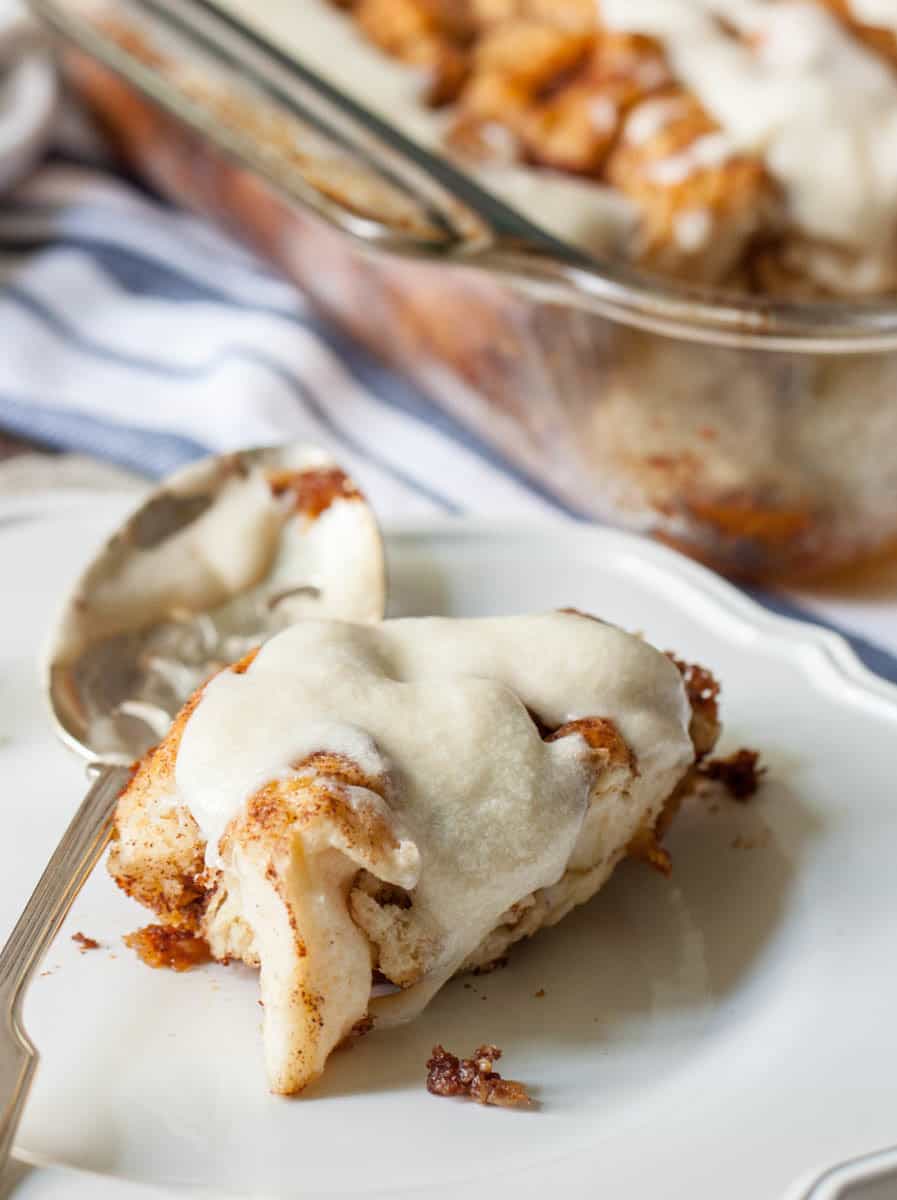 She cheats.  She swallows her pride and grabs two big ol' cans of Pillsbury Grands! Flakey-style biscuits and makes cinnamon rolls happen -- in the form of a delicious, sweet, nearly perfect replica of a Cinnabon Cinnamon Roll Casserole.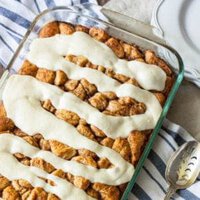 Cinnamon Roll Casserole
An easy recipe using refrigerated biscuit dough to make a casserole that tastes exactly like a Cinnabon Cinnamon Roll
Print
Pin
Rate
Ingredients
2 16.4

ounce

packages of refrigerated biscuit dough

½

cup

butter

melted

2

Tablespoons

cinnamon

¾

cup

brown sugar

2

eggs

⅓

cup

milk

4

ounces

cream cheese

¼

cup

butter

melted

⅓

cup

milk

1 ½

cup

powdered sugar

1

teaspoon

vanilla

⅛

teaspoon

salt
Instructions
Preheat oven to 350 degrees F.

Cut each biscuit dough piece into 6 pieces.

Whisk melted butter, cinnamon, and brown sugar. Toss cut up biscuit dough pieces in the mixture and pour coated biscuit pieces into a greased 9x12 pan. Pour any remaining sugar/cinnamon/butter mix over the biscuit pieces.

Whisk the 2 eggs and ⅓ cup of milk together. Pour over the biscuit pieces in the pan. Stir to coat.

Bake for 35 minutes.

To Make Frosting: Whisk together cream cheese, ⅓ cup milk, vanilla, salt, and ¼ cup of melted butter until smooth. Add in powdered sugar and whisk until smooth again. ( SEE NOTE FOR TIP ABOUT FROSTING CONSISTENCY )

Drizzle frosting on top.
Notes
If you pour the frosting over a hot casserole, it will become more thin from the heat of the casserole. If you make the casserole in advance ( or even if you let it cool for 15 or 20 min ) OR if you will be serving it after it has had a chance to cool, you will need to add at least an additional ¼ cup of milk to get the perfect consistency of frosting.