Did you know that over 70% of consumed fish is eaten in restaurants??? Fish is such an excellent protein -- there's no reason you can't make it at home! This baked cod recipe has the oven do the hard work for you, comes together in 20 minutes, and is impressively delicious.
This recipe is really a hybrid of a baked cod and a poached cod. There's quite a bit of liquid in the pan, and although the recipe calls for ¼ cup of white wine, you can pretty much fill the pan with it and the fish will still be delicious.
Think of the ¼ cup of wine as a minimum - after all, I certainly don't want to WASTE wine either! But if you have some that needs to be used up, go ahead and toss the extra in.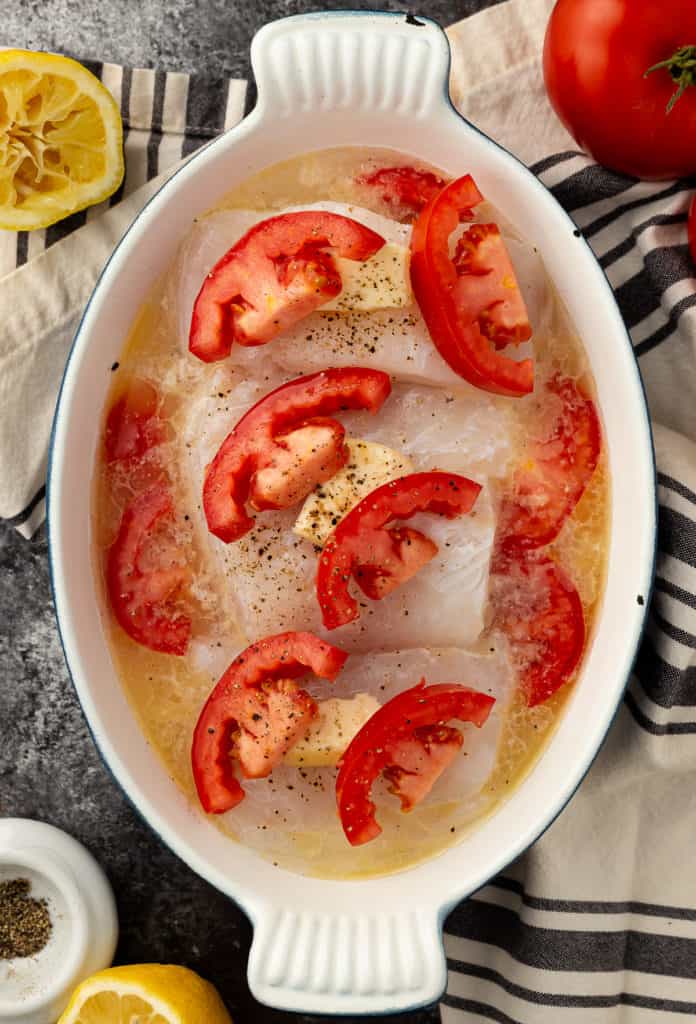 How to Bake Cod in the Oven
Look at the photo above to see truly how simple it is to bake cod. Filets with melted butter in a pan, pour in wine, top with butter, tomato slices, salt and pepper, a squeeze of lemon, and bake.
Fish cooks very quickly in the oven, so make sure you watch it ( although with this amount of wine in the pan, you do get a little bit of wiggle room, as the wine keeps the fish moist. ) Other than timing though, this recipe is very forgiving! More wine, more lemon, lime instead of lemon, olive oil instead of butter. It will all work!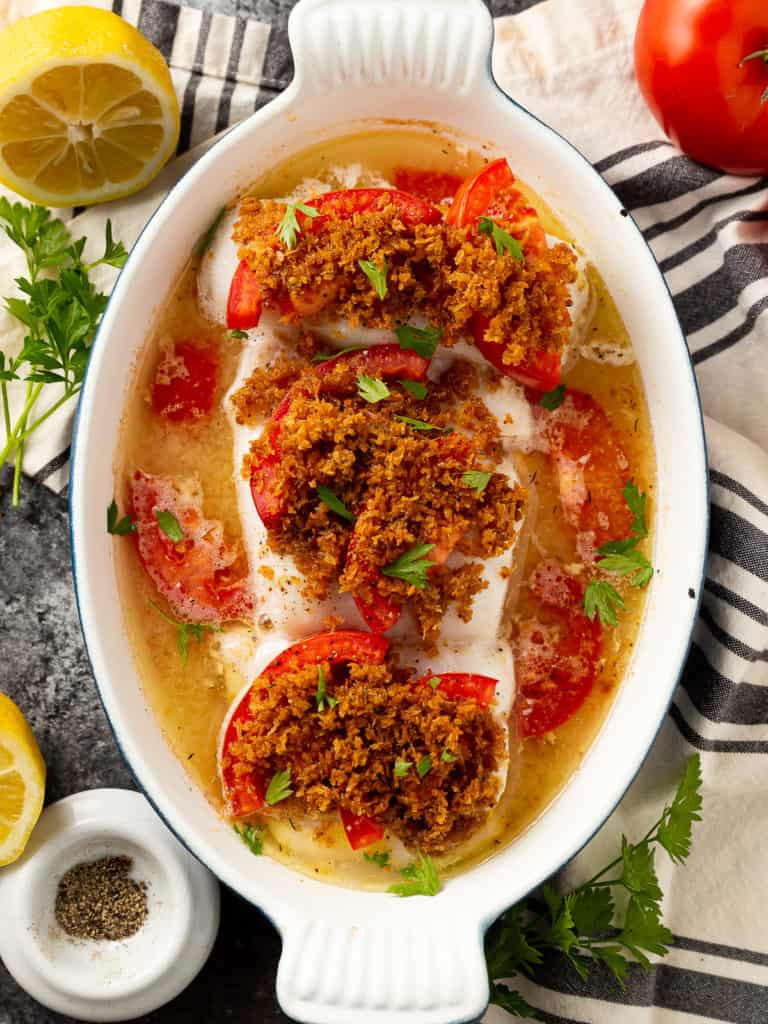 And then of course, there are the toasted breadcrumbs. Not a breading, just a light, crispy, garlicky topping to add a little bit more texture to the fish and make your weeknight dinner feel fancy.
I've started keeping toasted breadcrumbs ready at all times. I love them to finish off meats and pasta dishes, but also vegetables, too, like my roasted broccolini.
When I make this dinner, I love to serve it with a fresh green salad, and over some pasta, couscous, or rice. You can pour the reduced wine from the pan right on top of it for a super light, winey-tomato-y sauce.
Oven Baked Cod with Tomatoes
An easy weeknight fish dinner that feels oh so fancy. This baked cod dish comes together in 20 minutes from fridge to table and is healthy, light, and packed with flavor.
Print
Pin
Rate
Ingredients
Cod Ingredients
3

cod filets - about 1 lb total

1

Roma tomato

sliced into half moons

¼

cup

white wine

¼

teaspoon

Salt

⅛

teaspoon

Pepper

2

Tablespoons

Butter

Juice from ½ lemon

3

tablespoons

toasted panko
Toasted Panko Ingredients
¾

cup

panko or bread crumbs

2

Tablespoons

olive oil

1

teaspoon

garlic powder

⅛

teaspoon

salt
Instructions
Preheat the oven to 400°F.

Place an oven safe dish that is JUST large enough to fit your fish pieces in oven with 1 Tablespoon of the butter. Remove the dish when butter melts - after about 2 minutes in the oven. Swirl the melted butter around in the dish to coat the bottom.

Arrange the raw fish in the dish. Place 1 teaspoon of butter on top of each filet. Place sliced tomatoes on top of that. Squeeze the ½ lemon over all three filets and season with salt and pepper.

Pour the wine into the dish and bake for 10 minutes. Remove the dish from the oven and top each filet with the toasted breadcrumbs ( 1 Tablespoon per filet, recipe below). Put the dish back into the oven and bake for 4 minutes. Serve.
To Make the Toasted Breadcrumbs
Heat up 2 Tablespoons of olive oil in a small pan set over medium high heat. Add the breadcrumbs and garlic powder to the pan and stir to coat it all in the oil. Stirring often, cook the mixture together until it becomes fragrant and just starts to brown. Remove from heat. The breadcrumbs will continue to brown in the hot pan off of the heat until you are ready to use them.

Store in an airtight container in the fridge for up to three weeks.
Notes
The panko recipe makes way more panko than you will need, but it keeps for several weeks in the fridge and is wonderful on all kinds of other dishes, from pasta to cooked veggies!