Flavorful, crispy-skinned chicken thighs with crispy lemony artichokes - yes, please. Count me in.
I rarely use canned vegetables but I've found canned artichokes to be one of my favorites. Excellent in dips, stews, or anything saucy, it wasn't until this year that I considered roasting them.
And I am so glad I did.
With a lemony marinade and just enough time in the oven, canned artichoke hearts become deliciously crisp flavor bombs. Paired with the chicken thighs, it's an entire meal on one pan.
Cooked on their own, they're a delightful snack that I highly suggest pairing with an aioli for dipping.
What's the secret to getting crispy chicken thighs in the oven?
A combination of things come together for ideal oven crispy-ness - but the most important thing is almost always SPACE.
Like that guy who dated in college who swore he'd call you back, sheet pan dinners need SPACE.
Heat and fat are the other things - but even with the right heat and fat, you aren't going to get crispy perfection without space between each item you are roasting. A lack of space causes items on a sheet pan to steam, not roast, and that just isn't as delicious.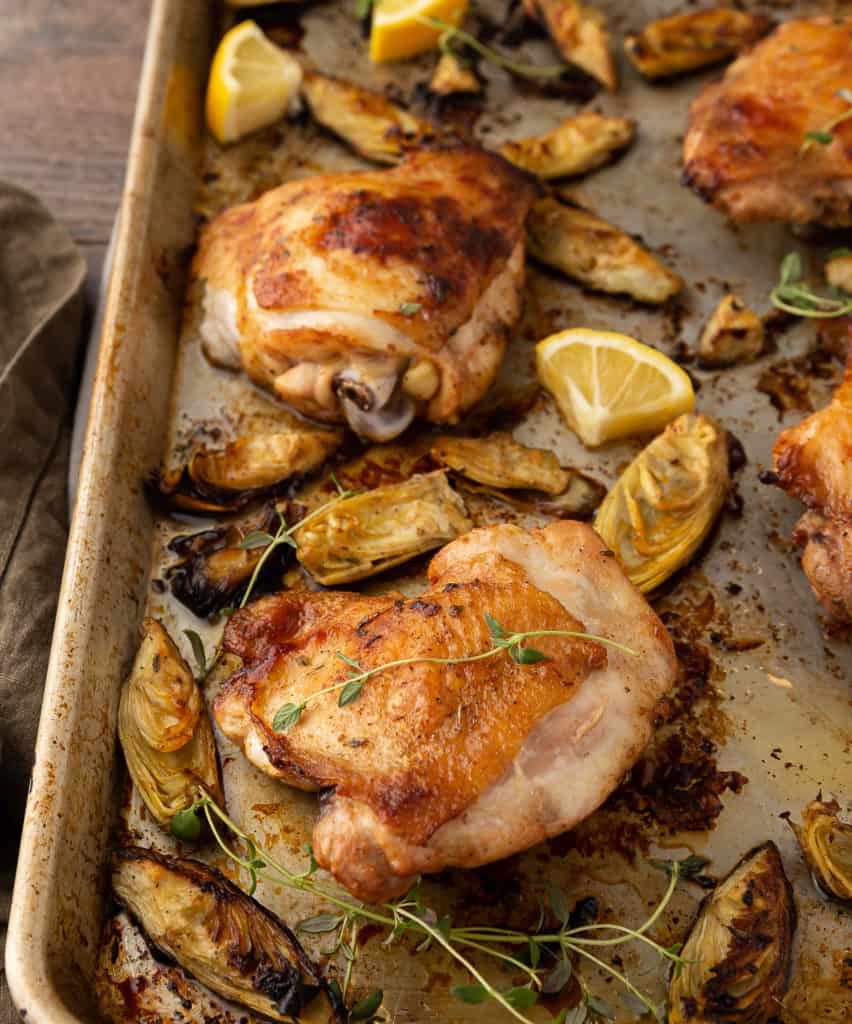 If you like this crispy sheet pan chicken recipe, you might also like:
Ingredients
¼

cup

olive oil

2

Tablespoons

lemon juice

1

teaspoon

dried thyme

1

teaspoon

garlic powder

1

teaspoon

salt

½

teaspoon

pepper

1

can

artichoke heart quarters

14 ounces

1

teaspoon

paprika

4

bone-in skin-on chicken thighs
Instructions
Combine ¼ cup olive oil, 2 Tablespoons lemon juice, 1 teaspoon dried thyme, 1 teaspoon garlic powder, 1 teaspoon salt, ½ teaspoon pepper. Drain and rinse the artichokes, then pat them dry. Toss half of that mixture with the drained artichoke hearts and set them aside.

To the other half of the mixture, add 1 teaspoon paprika. Rub the mixture into the chicken thighs. Place the coated chicken thighs skin side down on a large rimmed sheet pan.

Scatter the artichoke hearts around the chicken thighs, making sure they are not touching as best you can.

Bake in a 450 F oven for 15 minutes. Take the pan out of the oven, flip the chicken thighs over so that they are skin up, and flip all of the artichoke hearts. Place back in the oven for 10 minutes.