I've always had a soft spot for anything in the chicken and rice casserole family. What I've always NOT had a soft spot for? Cream-of-Anything, sodium packed, super processed soups. So I'm here today to prove to you that you do NOT need cream-of-anything to make an awesome, easy chicken thigh dinner with feel-good comfort food flavors.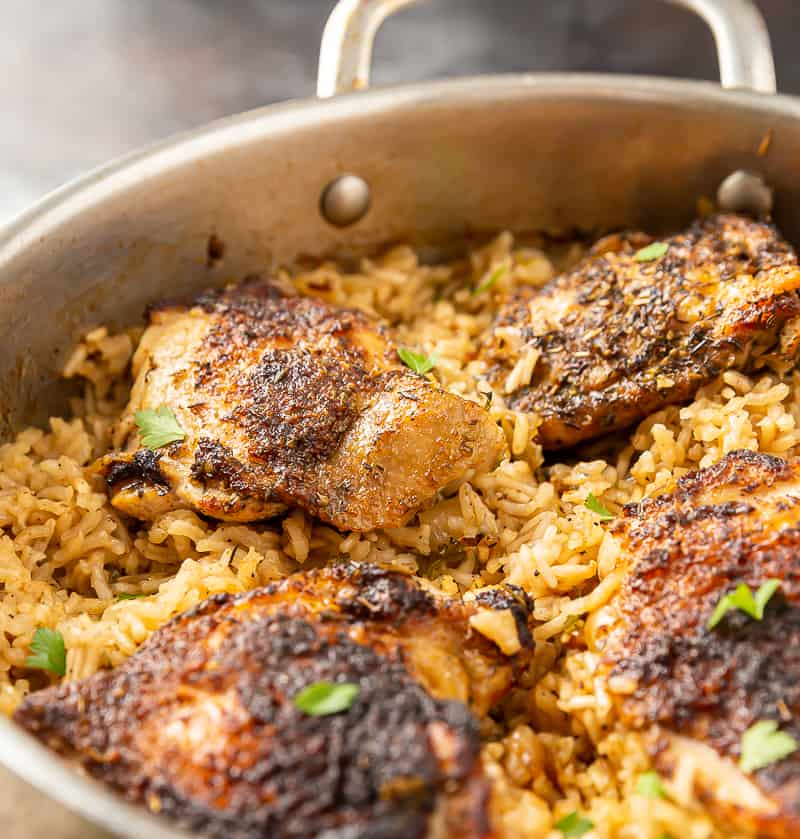 This dish isn't creamy at all, but it is PACKED full of flavor from the herbs, onion, chicken broth, and cooking process. The key is to crisp up the chicken skin ( and render off the chicken fat ) before you ever put anything in the oven.
Then you cook the aromatics in that delicious chicken thigh fat, which will later go on to make the most amazing, tender baked rice you've ever had.
No mush here, people.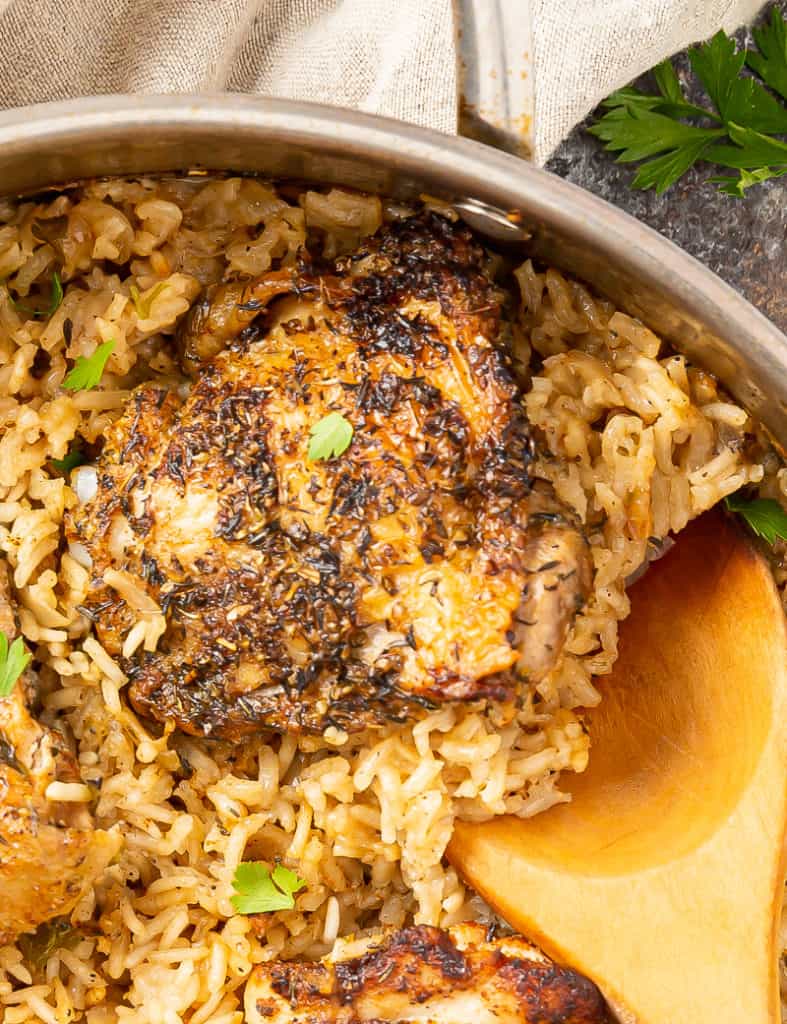 Helpful Tips for Making Baked Chicken and Rice Recipes
As mentioned above, crisping up the skin on the thighs before putting them into the oven is KEY. So is rendering off that extra fat.
You'll also want to make sure you cover the pan TIGHTLY with foil or a heavy lid that will stay closed as the steam builds. That's what makes the rice get its delightfully tender texture.
Seasoning the chicken thighs on all sides is another tip. When the chicken cooks, the juice will run through the spices and into the rice, taking some of that spice flavor with it. These layers of flavors are what make this dish special and not just another boring chicken and rice dinner.
Don't forget to round out your meal though! I love a big ol' pan of baked chicken and rice but I always need a veggie, or three, to balance the meal.
What is a good side with chicken and rice?
I love a nice, crisp green salad. Feel free to cheat and use a bag mix! Some other great alternatives:
Sauteed Green Beans
Roasted Broccolini ( cook it on a sheet pan right next to the chicken and rice pan for the last portion of its baking time )
Simple Salad with Greek Dressing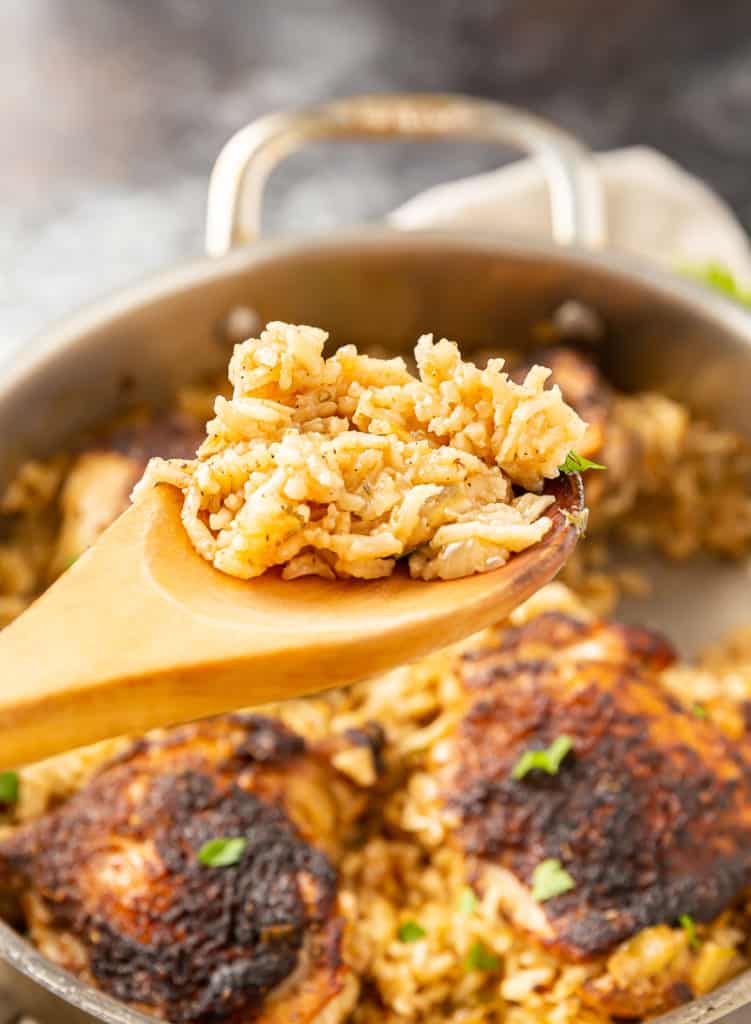 Other easy chicken thigh recipes:
Oven Baked Chicken Thighs and Rice
A flavorful chicken thigh dinner cooked all in one pan.
Print
Pin
Rate
Ingredients
4

Skin-on

Bone-in Chicken Thighs

1/2

cup

chopped onion

2

cups

chicken broth

1

cup

long grain rice

2

Tablespoons

olive oil

2

Tablespoons

chopped fresh parsley

3

garlic cloves

minced
Chicken Thigh Seasoning
1

teaspoon

paprika

1

teaspoon

garlic powder

1

teaspoon

onion powder

1

teaspoon

dried thyme

1

teaspoon

dried oregano

1/2

teaspoon

salt

1/2

teaspoon

pepper
Instructions
Preheat the oven to 350 degrees F.

Toss all of the chicken thigh seasoning together, then rub over the tops and bottoms of the chicken thighs.

Set a large sauté pan with deep sides OR a dutch oven over medium high heat. Pour the 2 Tablespoons of olive oil into the pan and let it heat up.

Carefully place the seasoned chicken thighs into pan, skin side down. Cook for 5 minutes without touching the thighs or moving them around in any way. After 5 minutes are up, remove the thighs from the pan and set aside for now. It's okay that they are still mostly raw - they'll finish cooking in the oven.

The pan should now have leftover olive oil, chicken drippings, and seasoning in it from cooking the chicken. Add the onion and garlic directly on top of that into the pan. Cook for 8 minutes, or until the onions begin to soften, stirring frequently in order to scrape up the bits and pieces of flavor stuck to the pan. You might need to reduce the heat to medium to prevent them from burning. Onions can be finicky like that.

Once the onions and garlic are softened, add the chicken broth to the pot and turn the heat up to high. Scrape up any remaining bits stuck to the pan that aren't already mixed in with the onions and garlic. Bring the broth to a boil, then stir in the 1 cup of rice and 2 Tablespoons of parsley.

Nest the chicken into the rice, and cover the pan tightly with foil.

Bake for 30 minutes covered, then remove the foil, stir the rice ( don't forget to stir in the rice stuck under the chicken too ), and bake uncovered for another 25 minutes.