Baked Rigatoni with Sausage, also known as Rigatoni al Forno, is the ideal intersection of "easy to make" and "crave-ably delicious." I've been making this dish for years, and over those years have perfected it to be the most delicious, easiest version it can be.
I'll be straight up - if you want to go ahead and cook the pasta to a perfect al dente, you can make this creamy sausage rigatoni without the baking step. Just be sure to cube the mozzarella and toss it into the pot when you are combining the sausage, rigatoni, mushrooms, and sauce, as it won't get a chance to melt in the oven if you aren't actually putting the dish in the oven (duh).
But that's the super low key weeknight version... let's be extra and go for that pasta al forno today.
So what does pasta al forno mean?
"al forno" means "from the oven" in Italian, and this dish gets its name from exactly that: it's baked! Pasta al Forno is simply a pasta dish that's been baked, and therefor Rigatoni al Forno is .... wait for it ... rigatoni that's been baked.
My version is a made with sausage for a punch of extra flavor, and we usually just call it Sausage Rigatoni in my house.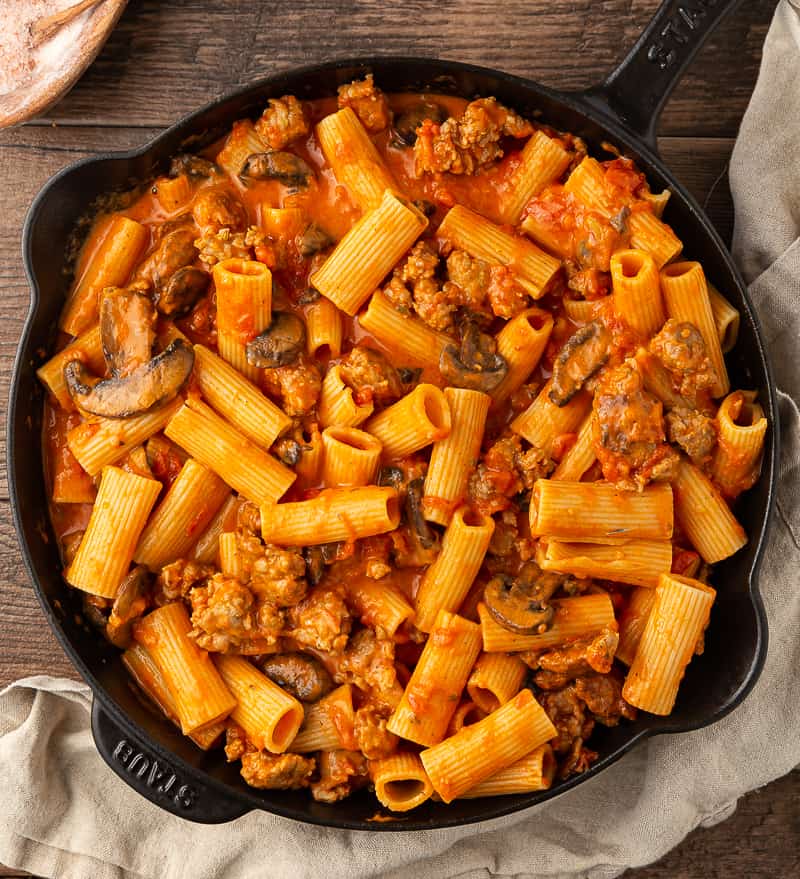 Do you bake pasta covered or uncovered?
It depends on what you're trying to accomplish. For this dish, we want to heat everything through, take that that last little crunch out of the pasta, reduce the sauce just a bit, and melt the mozzarella. So we bake uncovered.
If you have a LOT of cooking through of the pasta that needs to happen, or have tons of cold layers that will need a lot of time in the oven to heat through, you'll want to cover it. If you are cooking this dish from frozen, you'll also want to cover it ( for the same reason.)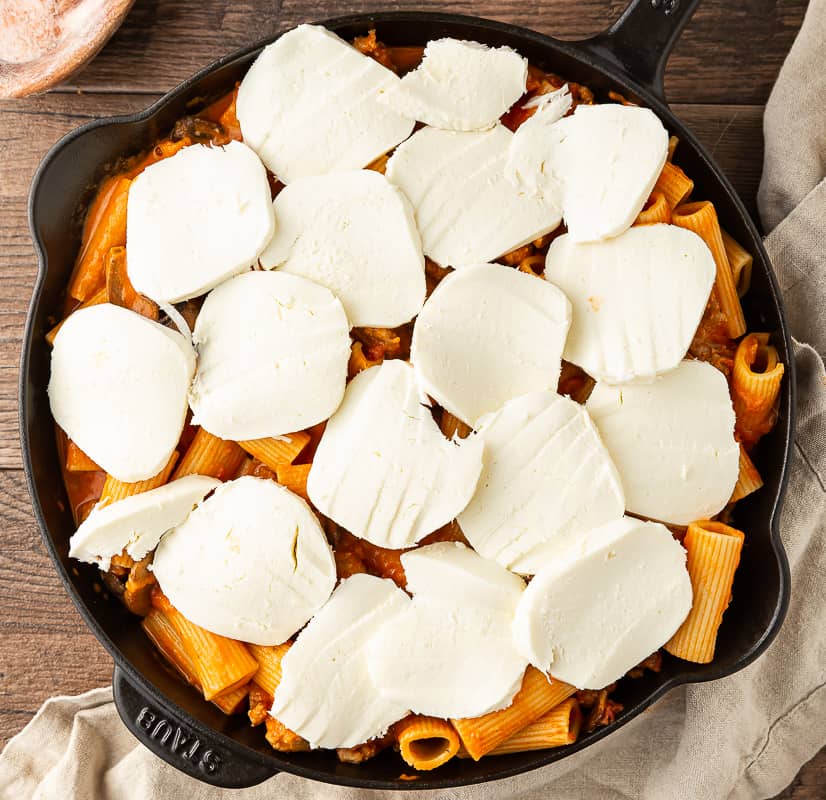 How long should I cook rigatoni?
For this recipe, the rigatoni should be slightly underdone from al dente. I cook it for two minutes less than the dried pasta package says. This is usually for 10 - 11 minutes.
If you want rigatoni to be al dente ( and you are not cooking it a second time like in this recipe ), boil it for 11 - 13 minutes.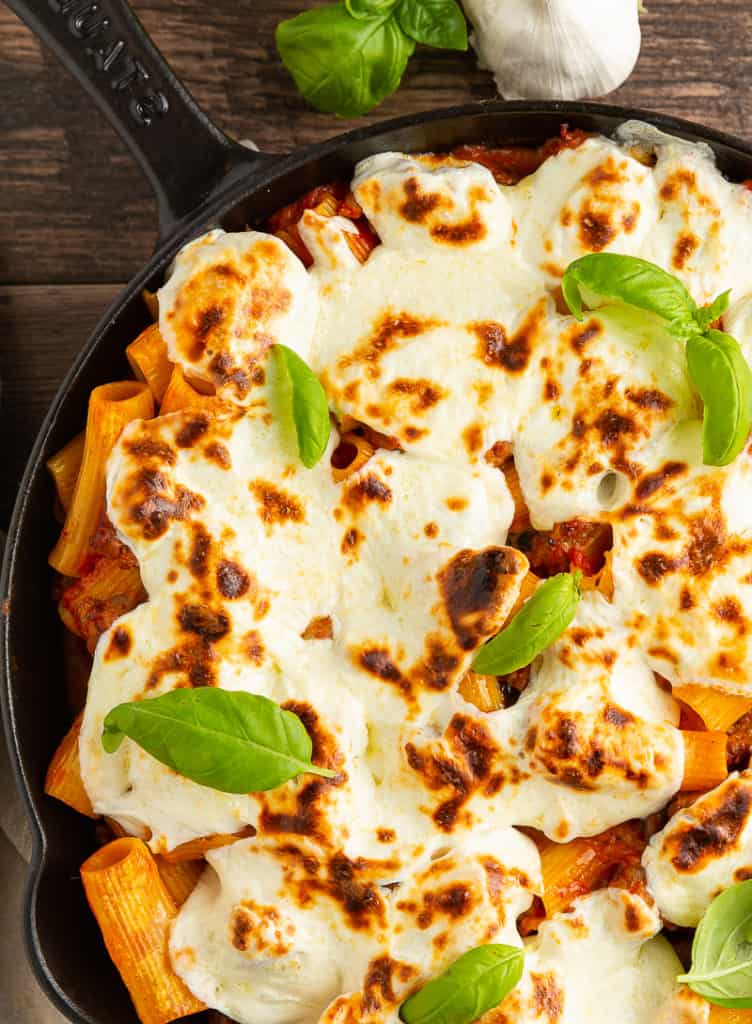 Can you freeze pasta al forno?
Yes! Instead of throwing this dish in the oven after you assemble it in the dish, cover it tightly with foil and then with plastic wrap and place it in the freezer for up to six months. When you're ready to eat some deliciously creamy sausage rigatoni for dinner, bake it covered with foil ( but NOT the plastic wrap ) in a 350F oven for 45 minutes.
If you love dishes like this baked sausage rigatoni, try these too:
Baked Rigatoni with Sausage
A creamy pasta al forno: Baked Rigatoni with Sausage. This hearty pasta dinner is perfect for weeknights or entertaining.
Print
Pin
Rate
Ingredients
1

pound

dried rigatoni pasta

1

pound

Italian Sausage

bulk or casings removed

8

ounces

mushrooms

sliced

32

ounces

marinara sauce

I use Rao's Marinara,( about 3.5 cups )

.5

cup

heavy whipping cream

16

ounces

fresh mozzarella cheese

sliced
Instructions
Preheat the oven the to 350°F and bring a large pot of water to a boil.

Add the pasta to the boiling water and cook for two minutes less than the directions on the box specify for al dente. You want the pasta to be slightly more underdone than al dente.

Drain the pasta, reserving .5 cup of pasta water.

Wipe out the large pot you cooked the pasta in. After the pot has been wiped dry, place it back over medium high heat. Once the pan has heated up, add the bulk sausage, breaking it up into small bits as it cooks and browns for 6 minutes.

Once the sausage is browned, remove it from the pot and set it aside, leaving only 1 Tablespoon of sausage grease in the pot.

Working in batches, add a single layer of sliced mushrooms to the pot and cook over medium high 3 - 5 minutes in the sausage grease until all of the mushrooms are cooked.

Add the sausage and pasta back to the pot with the mushrooms. Stir in the marinara, pasta water, and the heavy whipping cream until everything is evenly coated.

Pour everything from the pot into a large, greased casserole dish (3 quarts should fit everything ). Layer the fresh slices of mozzarella on top.

Bake uncovered at 350°F for 15 minutes, then broil for an additional 3 - 4 minutes or until the top of the cheese starts to brown.
I updated the photos and recipe of this sausage rigatoni, but I always love seeing other people's before and after photos, so left my old photos here for you to see!