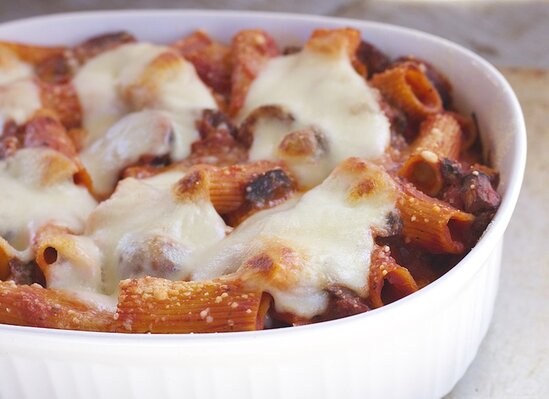 [shareaholic app="share_buttons" id="14875869"]
This is, hands-down, my husband's favorite meal, and fabulously, it is really simple to make.  I know, it doesn't look like it is easy, from the fairly long ingredient list and the verbose 8 steps listed, but once you get into the swing of the cooking, it truly is. Cook some pasta.  Cook some mix-ins ( sausage, mushrooms ), toss with sauce, top with cheese, bake. DONE.
It's a formula used over and over in my house:  Fabulous dinner on Night 1, leftovers on Night 2, then pack it all up for a real food workday lunch with absolutely zero effort put in before leaving for work in the morning.  This recipe as listed is our "Special Occasion So It's Okay To Eat This Much Sausage and Cheese" version -- but it's great as a lightened up version with less cheese, chicken instead of sausage, and a kick of spice from some crushed red pepper and extra garlic to make up for the loss in flavor from the missing sausage.  If you experiment with it, I'd love to hear your version!
Sausage Rigatoni
This spicy pasta dish is my husband's favorite meal, and has the added bonus of being fairly simple to prepare!
Print
Pin
Rate
Ingredients
3

links Hot Italian Pork Sausage

1/4

cup

Pecorino Romano cheese

grated ( Parmesan may be substituted )

8

ounces

Fresh Mozzarella Cheese

thickly sliced

12

ounces

mushrooms

sliced

1

teaspoon

olive oil

1

clove

garlic

diced

3

cups

of your favorite tomato-based pasta sauce

1

package dried rigatoni pasta
Instructions
Preheat the oven the to 375 degrees and start 4 cups of water boiling in a large pot.

In a pan heated at medium-high heat, cook the sausage for two minutes on each side. Since sausage is round, I'm counting "sides" as being 2: a top and a bottom.

Add 3/4 cup of water to the pan with the sausage, cover, and simmer for 10 minutes.

While the sausage is simmering, add the olive oil and garlic to a pan heated over medium high heat. Add the mushrooms and cook, stirring occasionally, until the mushrooms are browned.

Your water should be boiling furiously by now. Add the pasta and cook for two minutes less than the directions on the box specify. You want the pasta to be slightly more underdone than al dente.

Remove the sausage from the pan, pour out the water, and wipe the pan dry. Slice the cooked sausage, and put it back in the pan. Cook until for two more minutes, or until the sausage is browned.

Strain the pasta, and mix it with the sauce, mushrooms, and sausage. Place it all in a greased casserole dish, and top with sliced fresh mozzarella. Sprinkle the Pecorino Romano over the mozzarella and pasta.

Bake for 30 minutes, or until everything is heated through and mozzarella is bubbly.