Coming at y'all today with an easy Italian sausage appetizer that is only TWO ingredients, plus mustard dipping sauce! These little wine sausage bites are seriously going to be the biggest hit at your next party.
Y'all may already know that I have a deep hatred of American Chardonnay. You know the kind - oaky, buttery .... Chardonnay-y.
It's just terrible.
So what's a girl to do when faced with a half bottle lingering in the kitchen? Make sausage cooked in wine!
You're thinking,"But Marianne, aren't you only supposed to cook with what you'd drink?"
BAH! Nahhhh. Cook with what will taste good with that recipe.
I don't like American-stye Chardonnay because that buttery oakiness overpowers the flavor of the wine. It's all I can taste! And I don't like that when enjoying a glass of wine.
Do you know where I DO like that kind of bold flavor? When it needs to stand up the fatty, spicy flavor of Italian Sausage. PERFECTO!
Just make sure that you are using real wine ( NOT "Cooking wine") and that it isn't sweet. Other than that - you'll probably be fine for most recipes.

But back to these little sausage bites.
I didn't even use a cutting board. Just open the package of Mild Italian Sausage, cut the sausages into fourths right in the foam package, then toss them into a large pot.
Pour about half a bottle of some Chardonnay you have hanging around your house into the pot.
Then boil the Italian sausage with wine until they are cooked through. They'll look like the image below.
Toss them on a foil lined pan and put them under the broiler on high until they get nice and crispy.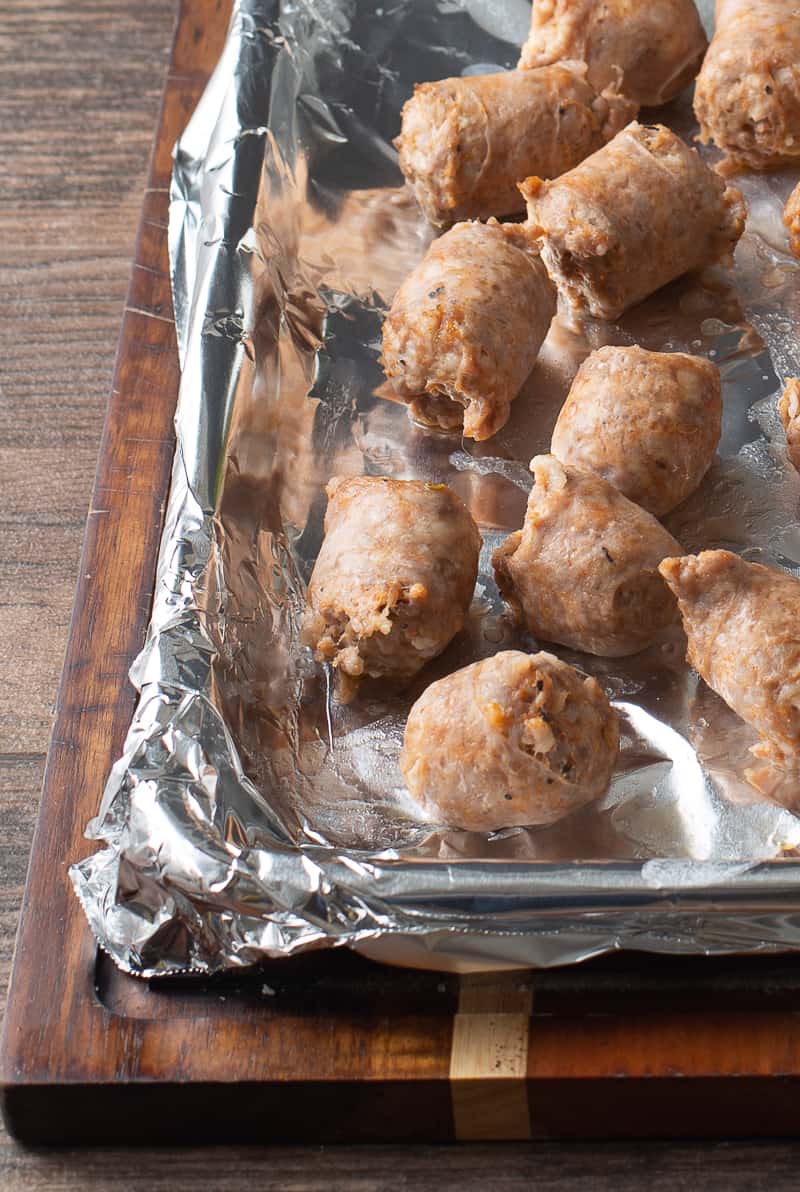 Because I can be incredibly lazy when entertaining, I served mine literally on the foil I cooked them on.
Guess what? NO ONE CARES!
Tuck in a ramekin of deliciously spicy honey mustard-y sauce to dip in ( and some toothpicks somewhere near by for stabbing the sausage bites ) and you've got an appetizer ready in no time.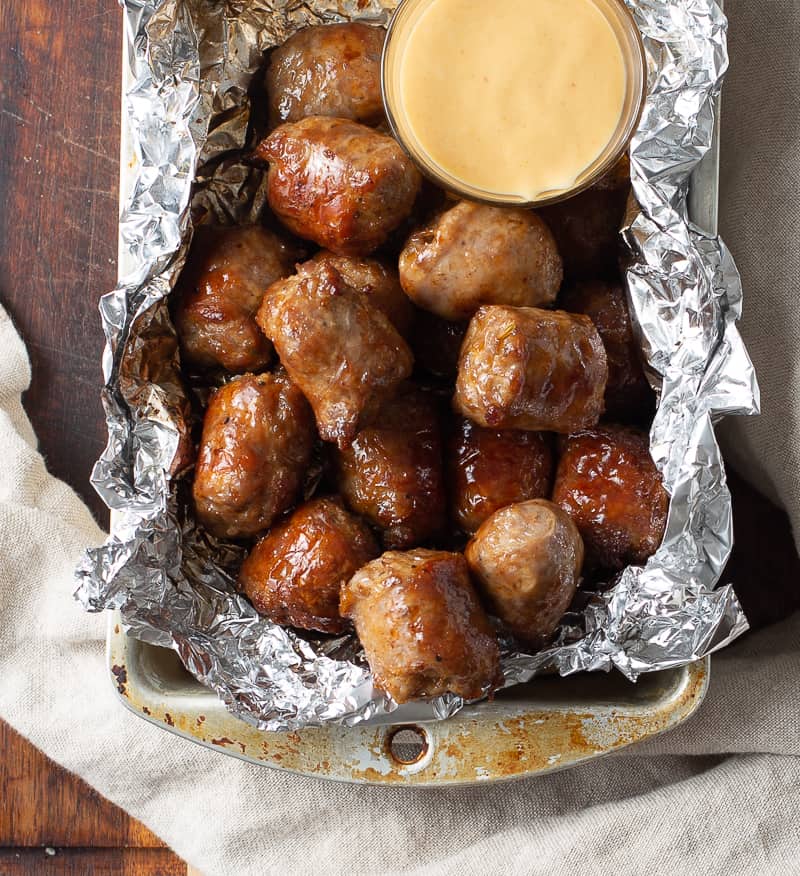 Other Easy Sausage Appetizer Recipes:
Sausage Bites
An easy sausage recipe with a spicy mustard dipping sauce.
Print
Pin
Rate
Ingredients
Sausage Bites
1.25

lb

Mild Italian Sausage

½

bottle

Cheap American Chardonnay
Spicy Honey Mustard Sauce
2

Tablespoons

Dijon Mustard

1

teaspoon

Sriracha

2

Tablespoons

Mayonnaise

1

Tablespoon

Honey
Instructions
Cut the raw sausages into 4th.

In a medium sauce pan set over high heat, add the sausages and the chardonnay. Bring the sausages and chardonnay to a boil. Once they start boiling, boil for 15 - 20 minutes or until the sausage is cooked through.

Remove the sausages from the chardonnay and place on a foil-lined rimmed baking sheet. Broil on high for 3 minutes, then stir/ flip the sausages. Broil on high for another 3 minutes and flip them again. Finally, broil for 3 final minutes so that all sides should be crisped and browned.

Combine all ingredients for the mustard dipping sauce in a small bowl. Serve alongside the warm sausage bites.