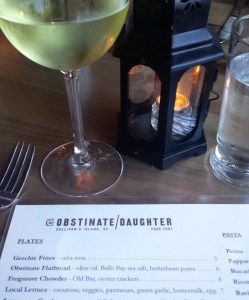 No restaurant exists in a vacuum; we make concessions -- on ambiance, food quality, service, etc. all based on the situation we find ourselves in for that meal.  It is my theory that this is what allows so many sub-par island restaurants and bars to survive in a city gloriously drowning in fabulous food and drink.  The tourists don't know where to go, so they go to the place near their rental.  The locals know where to go, but don't feel like leaving the island, so they, too, succumb to the call of the place right around the corner.  And these places -- with their deep fried imported seafood, soggy hushpuppies, and sad alcohol selections served watered down in questionably clean drink ware --  they survive.
Here's the thing: The Obstinate Daughter is not the typical island restaurant. The decor is bright but rustic. There is a parking lot ( Hallelujah! ).  It's a little small, but the on-street parking on that part of the island is very easy to deal with and free if you can't find a space. The noise is energetic but not overwhelming.  Over each of the three visits I have made there, the staff has been friendly and thorough.  During one of my visits, they were filming a reality show in the restaurant -- which seemed like a recipe for disaster.  Other than a slightly slower than expected kitchen ( the only time I've experienced that issue there), the experience remained on-point.  Impressively so.
The majority of the dishes sampled have knocked it out of the park.  A few left me underwhelmed.
"Peas and Carrots" sounds more like a baby food selection than a $9 appetizer, but if you like either of these vegetables, even remotely, this is a must-try.  Bright green peas tossed in mint and lemon are served on a bed of fresh ricotta cheese, topped with shavings of brilliantly fall-colored heirloom carrots and a light drizzle of unfiltered shockingly-high quality olive oil.  This dish is a great example of what can happen when simple, fresh ingredients are given just a little bit of help from good quality herbs and oil to create something magical.  I'm embarrassed to admit that I didn't even bother taking a picture of this dish before we devoured it, because I didn't expect it to be as show-stoppingly fabulous as it was. Don't let the name fool you -- this dish is a must-try for the vegetable eaters.
For weeks after eating at The Obstinate Daughter for the first time, I was telling everyone who would listen that the "NC Calico Scallop & Squid 'Fra Diavolo' " was the best dish I'd ever had in a restaurant.  To be fair, I can be somewhat prone to exaggeration, but this dish is still in my Top 10.  Perfectly tender scallops and squid are served in a vibrantly spicy red sauce with just enough body to it to balance out the heat.  This dish appears deceptively simple on the plate, but the flavors and textures are delightfully complex.  I have seriously considered ordering a second plate of it just to take home.
"Baked Clammer Dave's Clams" falls in the Underwhelmed category.  Although there was certainly nothing wrong with the dish, there wasn't anything particularly special about it, either.
The "Griddled Octopus - white beans, collard flower kimchi, charred green onion" is the plate that made me make a reservation in the first place.  I was really, really excited to give it a try.  Unfortunately, it fell a little flat for me.  The octopus was cooked perfectly ( kudos! ), but the kimchi was lacking, and the white beans had an odd smokey flavor that didn't fit with the rest of the dish.
The plates got me in the door, but the free-form crust pizzas are really what help make The O/D more accessible to the general tourist ( or a local like myself, whose dining party might be less than willing to eat only seafood all night ).  "The Moultrie", with its classic tomato, mozzarella, pepperoni, mushrooms (Mepkin Abbey shitakes), and parmesan is probably the safest bet for the person in your party who probably secretly wishes you'd gone to a chain restaurant on the mainland, but it is interesting enough for the foodies in the group, too.
"Old Danger" is a little more adventurous, with pancetta, mozzarella, white sauce, and a runny farm egg on top.  Very rich, but happily not greasy at all.  "The KFC" ( roasted Keegan-Filion chicken, fontal, peperonata, arugula, olive oil) opened my eyes to what chicken on a pizza should taste like.  I almost changed this order to something else last minute -- needlessly worried that the chicken would resemble the dried, pre-frozen chicken "pieces" found on so many chain restaurant chicken pizzas.  It was moist and tender, and complemented the peppery arugula and mild, creamy fontal wonderfully.
The dessert menu seems to rotate each time I visit.  I've tried a creme brulée was well executed, and a bread pudding that had me fork-fighting with my co-diners trying to get the last bite.  If dessert's your thing, give it a go.
The dinner menu is largely influenced by local ingredients, but I was amused to see that the beer list is local as well.  The wine list is heavily Italian, and included a few lesser known but fabulous reasonably-priced selections -- always a good way to get me back in for another visit.  There is also a small selection of craft cocktails.  Mostly everything on the menu ( alcohol and food menus ) is reasonably priced for the quality -- a refreshing change after the past occupants of the same building.
TL; DR:
One of the few restaurants worth the drive for the non-island dwellers.  A must-try for visitors.
Eat:
Peas and Carrots, NC Calico Scallop & Squid 'Fra Diavolo', any of the pizzas
Drink:
That inexpensive Italian wine you've never heard of ( but will be fabulous )
Wear:
Casual to Dressy Casual/ Business Casual.  Bathing suits and cutoffs would be out of place, as would cocktail attire.
Locate:
Sullivan's Island, South Carolina.  2063 Middle Street (Past Poe's but before the Fire Station).
Park:
Small (free) lot available.  Free on-street parking on Middle Street.
Website: