I not-so-recently visited The Darling with the fabulous Queen of the Food Age, aka Sydney, and figured it was high time I let you all know about it.
I'd been patiently watching the renovation of King and Morris into The Darling for months, and when I saw the menu, I knew I wanted to go as soon as I could, for one very important reason:
$9 cocktails. That's right: Nine. Dollar. Cocktails.  Not just $9 cocktails, but $9 cocktails that are creative, crafted with real ingredients, and not served in itty-bitty shot glasses, but in normal cocktail-sized portions. Throw in an extraordinarily reasonably priced food menu, killer oyster happy hour, and a wine list with bottles hovering heavily around $30, for a place that was pretty much begging for an opening-week visit.
Let me go ahead and tell you that this is not a dinner review per se, but more of a "Dinner at the bar" review -- where dinner is a bunch of cocktails and appetizers, as God intended.
We started off with with a few of the cocktails I was so excited to try, and they did NOT disappoint.  Literally every cocktail we had ( and uh, we made it through most of the list between the two of us ... ) was fantastic.  They struck the perfect balance of "craft" and "accessible", which is a polite term people tend to use when referencing food like french fries, but I use it here simply to say that the cocktails are good, balanced, and lacking in excessive amounts of herbs that overpower everything else in the drink.  The Shoulder Monkey, which I drank too fast to get a pic of but Sydney snagged one if you'd like to see it, was my favorite.  With an ingredient list full of things I hate ( scotch and sage being the main offenders ), this drink was a testament to the talent behind the bar: not too sweet but just enough so to take the edge off of the scotch, with a hint of sage that didn't make me feel like I passed out in the herb garden on the way home.
Moving on to the appetizers!  I can't even think of a polite way to say it so I'm just going to go with: GET THE CREOLE SHRIMP. IT'S AMAZING.  Officially My Favorite Thing In Charleston Right Now, the Creole Shrimp app at The Darling has delicious things like a mustard and bacon sauce, but somehow the show stopper is these "Anson Mills Rice Cakes" that sound kinda plain but actually made me feel things about rice that I didn't know were possible.
In the "I never would have ordered it but am so glad I did" category, we have a suggestion from Sydney: Snapper Toast.  This unexpected combination of sourdough bread, a snapper fish spread, pickled onions, and celery leaves ( plus some potato and country ham in there, because they REALLY don't wanting you guessing what this dish might taste like before it hits your tongue ) was the kind of thing that's so good you consider ordering a second one once you realize that you've each had two, and there's going to be a battle over the last piece.
Because we're both civilized women, there was no battle over the last toast, and luckily, we had more food to distract us so it really worked itself out.  Cue Lobster Cocktail from the Raw Bar.  Served on a bed of ice in a stainless bowl, you don't get a peek of it until it's right in front of your face, which lead me to believe it was going to be, well, disappointing.  Check that pic out though!  There are CHUNKS ( not pathetic little tendrils ) of lobster, and the rest of the cocktail seems intentional, and not just like "filler".  This was light and refreshing, and kinda begged for a vodka martini, even though I was too eager to try yet another cocktail from their list to get something so common as a plain ol' martini.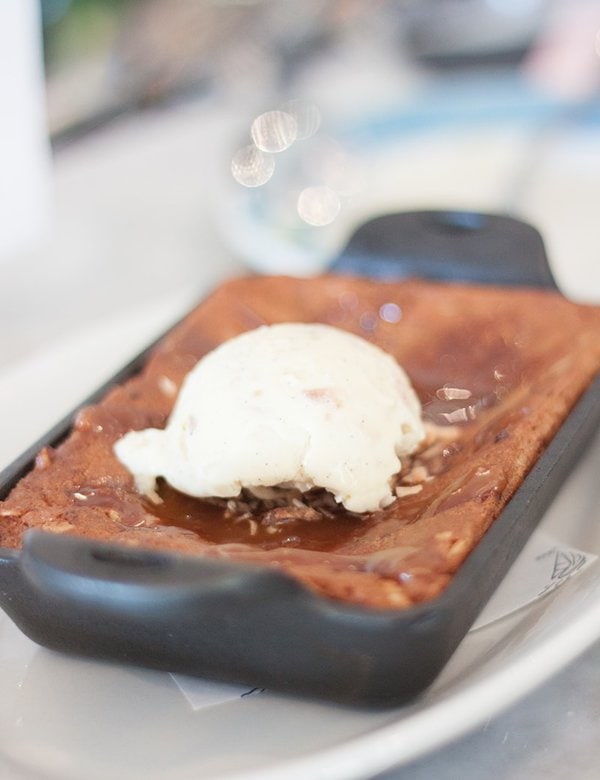 We finished off the meal with an Oatcake that came highly recommended by the bartender, but kinda fell flat.  I LOVE all things oat, and although this was good, it didn't quite stand up to the hype.  It was much sweeter than I expected, to its detriment.  I would not order this again, although it certainly wasn't Bad -- just not up to the standards that the rest of the food ( and cocktails ) had set.
TL;DR:
The Darling is accomplishing what other restaurants are merely trying to get away with.  Reasonably priced food that is Actually Reasonably Priced, fabulous cocktails at any price, but spectacular at what they are charging, a bustling atmosphere that's not overwhelming, and some creative but accessible apps will make this your new favorite happy hour spot.
Eat:
Creole Shrimp. UNDER NO CIRCUMSTANCES DO YOU NOT GET THE CREOLE SHRIMP.
Drink:
Something from their well crafted cocktail menu -- The Shoulder Monkey and Sherry Colada were some favorites.
Wear:
Casual
Locate:
513 King Street
Charleston SC, 29403
Park:
Valet after 6 pm. Street parking on King Street and surrounding areas, if you don't want to valet. The walk from Cannon isn't too bad.
Contact:
843-641-0821