Frosé, frozé, frozen rosé: whatever you want to call it, I bet you didn't even know you needed a pink frozen wine cocktail in your life until now.  You do.
It's summer, so of course we're already in the height of rosé season, but here in Charleston "summer" doesn't quite cover the heat we experience.
While much of the country is enjoying mid-to-high 80's temps, we're melting in 102 degree heat with humidity hovering around 98%, which sounds like it's raining, but it's not.
What's this mean for wine consumption? Well, it means that your perfectly chilled bottle of wine is essentially hot coca within 2 minutes of sipping on the back porch.
It means it's time to make my favorite frosé recipe
So yes, it's "rosé season", but sometimes I like to step up my game a little more and make something that will still be cool halfway through, even if the glass is still sweating in my hand so much that I'm worried it may slide right out.
Until, this week, that usually meant putting frozen grapes in my wine ( Yeah yeah I know, but don't knock it until you try it! ), but then...
Then I saw a recipe on Bon Appétit for frozen rosé.  Obviously this needed to happen.
How to make frose:
freeze a bottle of rosé in ice cube tray or on a rimmed sheet pan
Blend the frozen rosé with lemon juice and a small amount of sweetener ( I like to use a strawberry syrup )
Serve!
Can you drink wine after it freezes? Is frozen rose still good?
YES! It's perfectly safe, but it definitely loses a little something in the flavor department, which is why this recipe adds just a hint of strawberry syrup.
Video for how to make frosé:
What wine to use for frosé?
There are a few options.  Of course, a rosé is a good place to start! You want something dry but relatively heavy bodied for rose.  I like Mulderbosch Rosé for Frosé because its richness means you still get a lot of wine flavor coming through the icy coldness.  You can also use your favorite Trader Joe's rosé.  Don't go crazy on price here.  There's no reason to use a $20 bottle of wine in a frozen drink.
If you like this frosé recipe, you might also like these: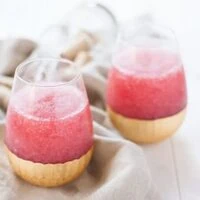 Ingredients
1 750

ml

bottle rosé

choose a heavy, dry rosé that looks darker than the others

½

cup

sugar

½

cup

water

8

ounces

strawberries

hulled, quartered

2 ½

ounces

fresh lemon juice

1

cup

ice
Instructions
Pour the wine into a large ( 13 x 9 or larger ) sheet pan ( Don't be an idiot -- obviously this pan needs to have lips so the wine stays in it ). Freeze for at least 6 hours.

Bring the water to a boil. Add the sugar, reduce the heat to low, and stir until all of the sugar is dissolved. ( HEY you just made simple syrup! Good work! )

Add the strawberries to the water/sugar, and give it a solid stir. Let that mixture sit for around 30 minutes to infuse the simple syrup with the flavor of the strawberries.

Strain the strawberry syrup through a sieve, but don't mash the strawberries through, just let it flow through naturally. Save the strained strawberries to put on some ice cream later, because that would be delicious. Oh, but the syrup: Chill the syrup for 30 minutes.

Add 3 ounces of strawberry syrup, 2 ½ ounces lemon juice, 1 cup of ice, and the frozen wine to a blender and blend until smooth. Serve!
Notes
The wine will still be slushy when it comes out of the freezer for the first time, due to the alcohol content. This is totally normal - do not be alarmed!