There is a shocking lack of waterfront dining in Charleston, particularly on the islands.  The Boathouse at Breach Inlet is one of the few places that has a true waterfront view -- the restaurant is up on stilts,  with sweeping water and marsh views, overlooking a small marina.  Almost every seat on their screened wooden porch has a beautiful view.
This always worries me.  Too many restaurants rely on their beautiful view ( or other attraction ) instead of their food and service.  It's a constant hazard in a tourist town: where do locals, intent on a fabulous meal, go in a town full of visitors there for the view?
That's how we ended up at The Boathouse at Breach Inlet on Isle of Palms for brunch.  I'd heard about The Boathouse for years, but never actually managed to get out to the islands to give it a try.  I guess it was time.
We started out with a carafe of mimosas while we perused the menu and took in the absolutely beautiful view.  Seriously, The Boathouse has one of the best views in Charleston.  Don't expect to gaze upon church steeples and the bridge, though.  The view at The Boathouse is of sweeping marsh and sparkling tidal creeks: a sight for sore eyes for this mainland dweller.  The only lightly orange-juice spiked mimosas don't hurt either.
Our waitress was attentive but not overbearing -- allowing us to take our time choosing our dishes.  I went with the Farmer's Casserole, a seasonal vegetable frittata type of dish.  The rest of the table went with the Omelette of the day and the Crab Salad BLT.
So we ordered. And we waited. Tick tock.  And Waited.
Finally, our food came out, and we found out why it took so long! They were making sure my Farmer's Casserole has a nice char to it.  Starving, half of a carafe of mimosa deep, and unwilling to wait another 50 minutes for a redone dish, I resigned myself to my charred breakfast.  Here's the worst part: I think it would have been really really good if they had not burned it.  In fact, I might even order it again in the hopes that they would cook it properly, if I were to go back.
The Omelette of the Day was a steak, bacon, and cheese concoction that was topped with some sort of thick, creamy ... aioli, maybe?  My husband is strongly against aioli ( don't ask ), and was a little peeved that this sauce dousing the omelette had not been in the description of the daily special.  Sans sauce, he believes it would have been a good omelette, though.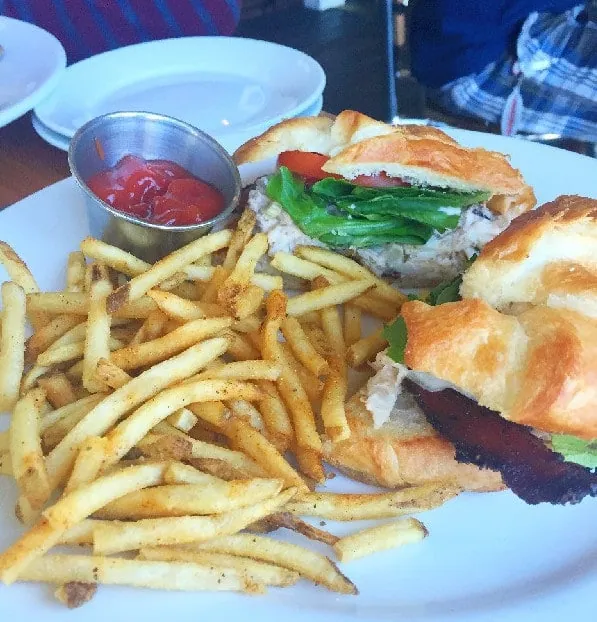 The Crab BLT looked to be the winner of the morning, but ultimately, it was just a sandwich.  A good sandwich, but on par with something you'd get at a high-end country club pool house lunch counter.
Overall, the food ... could have been good.  I feel like they just missed the mark, but on almost everything.  Even at its best, it wasn't memorable.  Cooked properly, my Farmer's Casserole could have been good.  Without the unlisted offending sauce, my husband probably would have liked the omelette.  The food is fine, but I would't go there without that view.
TL;DR:
A beautiful view with average food, when executed properly.  Worth a shot, but maybe not with your super foodie friends.
Eat:
Boathouse Benedict -- we didn't order it but saw several going by.  It seems to be the pick of the brunch group.
Drink:
Mimosas
Wear:
Casual
Locate:
101 Palm Blvd
Isle of Palms, SC 29451
Park:
Gravel parking lot in front of the restaurant.
Contact:
(843) 886-8000