An easy recipe for broiled pork chops that yields a deliciously crispy fat around the edges and a tender meaty interior. If you've been struggling with how to broil thin pork chops, your no-fail method is here!
Today's recipe is another entry in my "What Do I Do With These Boring Cuts of Meat from the Grocery Store?" diary.
Much like boneless skinless chicken breasts, those little three or four packs of center-cut boneless pork chops tend to jump in my buggy at the store at least once a week.
I'm not talking about the delicious, thick-cut, begging-to-be grilled chops. These guys are thin. Not paper thin, but thin enough to go from tender to shoe leather in the time it takes to pour a glass of wine while making dinner.
Why do grocery stores ubiquitously cut their pork this way?
Do they want us to think pork is supposed to be chewy and grey when cooked? Because it's soooo easy to turn those tiny chops into exactly that!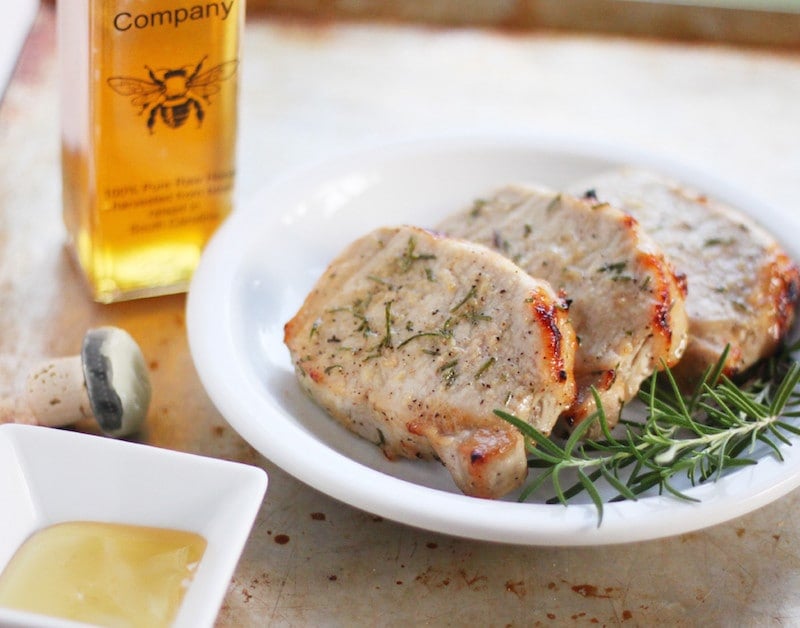 And there just don't seem to be a ton of thin pork chop recipes out there on the internet to save us from ourselves. Or even easy pork chop recipes, if I'm being honest ( regardless of thickness!)
Luckily, I've been working on an arsenal of pork chop recipes for all kinds of cuts and needs to solve this very issue.
Best Pork Chop Recipes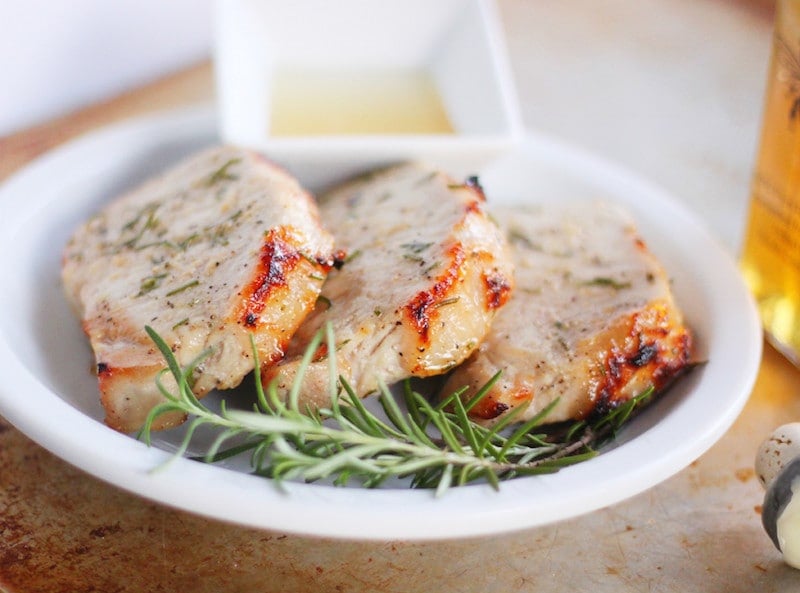 How to broil pork chops?
Cooking a perfect chop is absolutely possible on the range, but I think it's easiest under the broiler. With a timer set and the chops happily sizzling away under the brutal but consistent heat of the broiler, I am free to cook the rest of our meal for the evening ( or pour a glass of wine ... ) without worrying about the inconsistent heat of my range over or under cooking them.
I love how the floral and earthy flavors of the fresh rosemary combine with the natural sweetness from high quality honey to create a nice, thin glaze over the chops that locks in their moisture and gives a perfect crisp to the edges.
Honey Rosemary Pork Chops
An easy solution to those thin pork chops in every grocery store around the country.
Print
Pin
Rate
Ingredients
¼

cup

Honey

¼

cup

Extra Virgin Olive Oil

3

Tablespoons

Fresh Rosemary

Chopped

½

teaspoon

Pepper

½

teaspoon

Salt

3 - 4

center cut Pork Chops

½" thick

Broiler pan with grate

like this one
Instructions
Turn on the broiler. Set to "High", if that is an available option for your broiler. Place a broiler pan and grate on the top rack of your oven under the broiler to heat up while you prepare the pork.

Mix all ingredients except for the pork chops in a large bowl. Set aside ⅓ of the mixed ingredients to baste the pork chops later.

Add the pork chops to the remaining marinade in the bowl. Toss to coat.

Place the coated pork chops on the hot broiler grate. Broil on the top rack of the oven for 4 minutes. Remove from broiler and flip the chops.

Pour the marinade you set aside earlier ( i.e. NOT the stuff you had raw pork in ) over the broiled chops. Broil for 5 more minutes.

Remove the chops from the broiler and let rest for 10 minutes before serving.
Nutrition Facts
Honey Rosemary Pork Chops
Amount Per Serving
Calories 317
Calories from Fat 171
% Daily Value*
Fat 19g29%
Cholesterol 55mg18%
Sodium 502mg22%
Potassium 23mg1%
Carbohydrates 19g6%
Protein 23g46%
* Percent Daily Values are based on a 2000 calorie diet.
Notes
You can use any type of oil you'd like, but the extra virgin olive oil helps char the chops under the broiler. Other oils will not give you the same crisp on the chops.