I've always been an eater of salads, but I never knew I could love salads until I spent a little time in France, and had my first Salade Lyonnaise.
And what's not to love?  The piquant bite of real Maille Dijon Mustard (Seriously the best and by far my favorite! Nothing else compares!), the crisp and peppery greens, a little bit of cured pork, and the warm, gooey comfort of a runny egg perched on top... the Salade Lyonnaise is a wonderful thing.  A bottle of fabulous champagne to pair with it is optional.  Sort of.  Oh, who am I kidding, you need it.
I make a few small changes to my Salade Lyonnaise that I think really take it to the next level.  I do not use the classic frisée;  I use arugula.  For me, frisée is just a bit ... much ... in the bitter department.  Plus, it's hard to find, and usually much more expensive than arugula, and I like to save my budget for champagne.
Also, I don't use poached eggs. gasp.
I know, I know, but poached eggs are a PAIN.  They never come out right for me, and they are hard to make en masse.  I much prefer to soft boil my eggs to get that perfect, runny egg.  The soft boiled eggs are less delicate to deal with, and give you a few extra precious minutes to throw everything together while they stay at the perfect temperature in their little shells.  Plus, just look at that gorgeous egg.  Go ahead, scroll down.
Bonus points if you find some really fantastic Fleur de Sel to leave on the table, complete with its tiny serving spoon that makes even the most well-mannered feel a little extra fancy. ( Pro-tip: If you've never read up on Fleur de Sel, do! It's really cool! )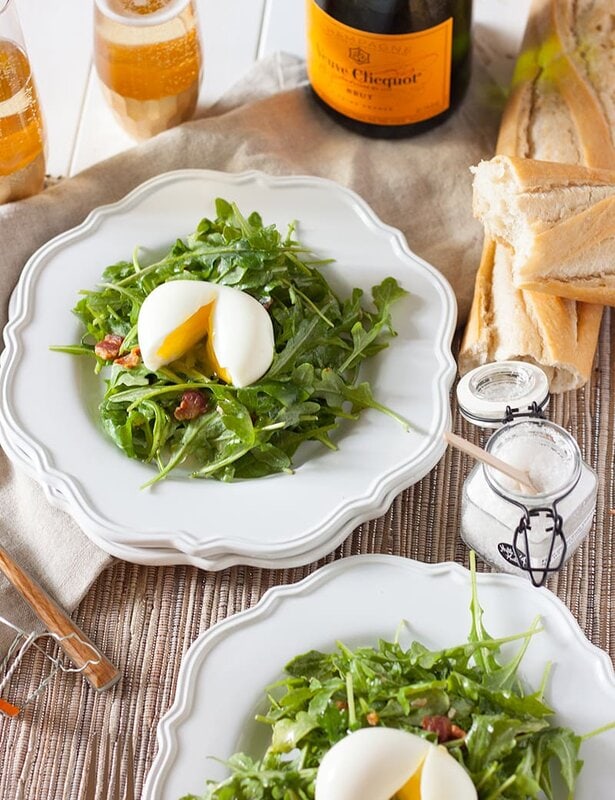 Ingredients
5

slices

Thick-Cut Bacon

cut into ½" slices

2

eggs

1

Tablespoon

Maille Dijon Mustard

1

Tablespoon

Red Wine Vinegar

¼

teaspoon

Black Pepper

¼

teaspoon

Fleur de Sel

1

Tablespoon

diced Shallot

2

Tablespoons

Olive Oil

1

Tablespoon

Bacon Grease

reserved from cooking Bacon Strips ( see instructions )

4

cups

Arugula

Ice

Water

French Baguette

for serving ( optional but delicious )
Instructions
Bring a large pot filled with water to the depth of 3" ( i.e. enough water to cover eggs, once they are placed in it ) to a vigorous boil over high heat. Once boiling is achieved, reduce the heat to medium to sustain an aggressive simmer. You'll see lots of tiny bubbles at the bottom of the pot, and an occasional one will burst at the top.

Fill a large bowl with ice and 1 cup of water.

Set a cold, medium pan over medium-high heat, and immediately add the raw bacon to the cold pan. Cook the bacon, stirring occasionally, until it is browned and crispy. This can take anywhere from 5 to 10 minutes, depending on the cut of your bacon. Remove the cooked bacon from the pan, and drain on a paper towel. Reserve 1 Tablespoon of bacon grease for the salad dressing.

Gently place the eggs in the simmering water. Cook the eggs for exactly 5 minutes, then immediately remove them from the water and place them in the ice bath. Leave them in the ice while you prepare the rest of the dish ( or 10 minutes, whichever is shorter ).

To made the dressing: in a small bowl, whisk together the dijon, vinegar, pepper, salt, and shallot until combined. While continuing to whisk, slowly drizzle in the bacon grease, followed by the olive oil.

Gently tap each soft boiled egg on all sides on your countertop until tiny cracks cover the entire shell. Carefully wedge a fingernail under the shell, and peel. Peel small sections at a time to make sure you don't mar the egg.

Toss the arugula and bacon in the dressing and split between two plates. Place one egg on top of each salad. Allow your guest to cut open his or her own egg over the salad.
Notes
Serve with a crusty baguette and champagne for a truly French experience!