I'll try pretty much anything once, but even I was skeptical the first time I heard of pickled shrimp.  Let's face it: it doesn't sound that great.   However, if you are like I am, and love seafood and fresh, bright tasting food, you have GOT to try pickled shrimp at least once.
It just isn't summer without a few lunches of chilled pickled shrimp.  It's just so FRESH tasting.  I'm sure you could put it on top of a light salad, or maybe even in a sub roll for a sandwich, but when I eat pickled shrimp it's almost always straight out of the mason jar while standing on my back porch.
There are all kinds of add-ins for this quick pickled shrimp, but I always make sure to add red onions and to also make my pickled shrimp with capers and LOTS of fresh lemons.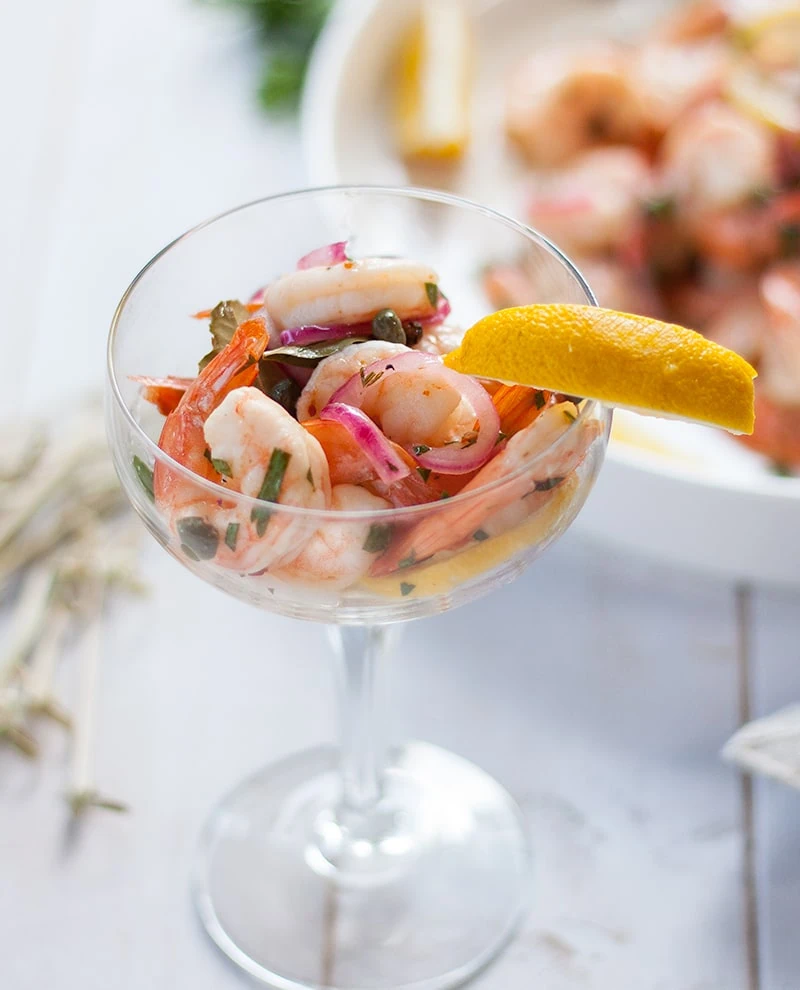 Did I mention that pickled shrimp pairs beautifully with white wine and champagne?  So I don't always stand on my back porch eating it straight from the jar -- sometimes I have to sit down at the table so I have a free hand to hold my wine.  A fork is only necessary because my grubby paws don't fit directly into the hole of my small-mouthed mason jars that I store this delicious treat in.  If you have wide-mouth jars, it is absolutely acceptable to dig right in.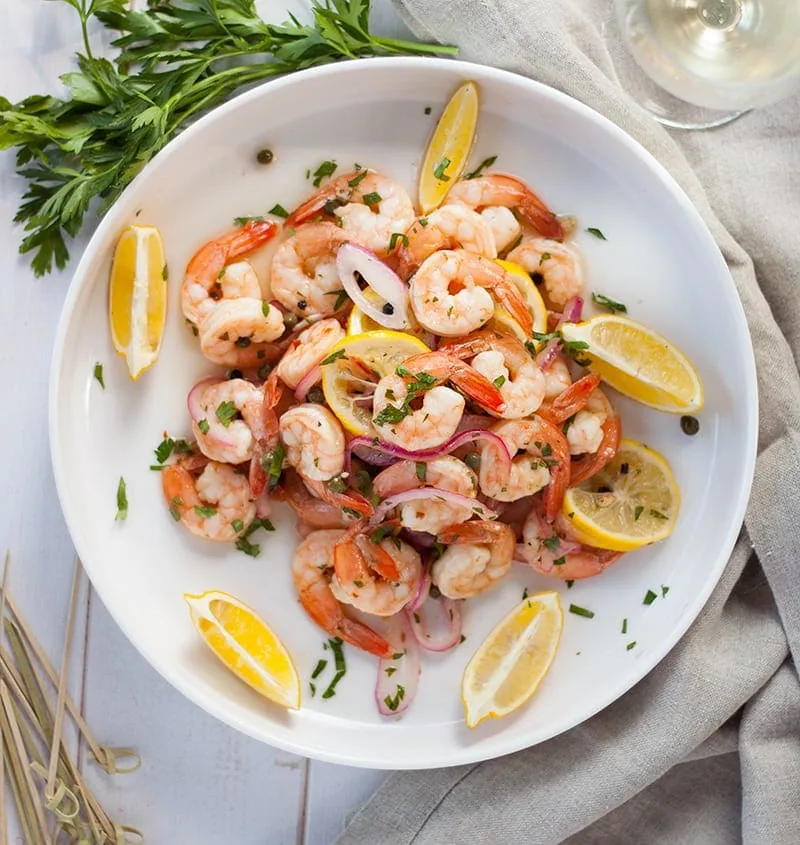 Of course, you can choose to eat these guys however you feel is right.  I've seen my father eat shrimp with the tail on, which I'm not sure is entirely intentional on his part, but is apparently not abhorrent enough to him to bother working on tail removal before eating.  I do not recommend eating the tails! But to each his own.
Make the shrimp, and let me know if you agree -- this delicious summery dish needs a better name than "Pickled Shrimp"!
Pickled Shrimp
Pickled shrimp are cooked shrimp in fresh, bright marinade and make a delicious appetizer or snack.
Print
Pin
Rate
Servings:
10
appetizer servings
Ingredients
1 ½

lb

Shrimp

peeled and deveined, tails on.

6

Cups

Water

½

Cup

Cider Vinegar

2

Thinly Sliced Lemons

¼

cup

Canola Oil

1

teaspoon

Salt

½

teaspoon

Sugar

¼

teaspoon

Red Pepper Flakes

1

Tablespoon

capers

straight from the jar ( i.e. don't drain off the juice )

½

Red Onion

sliced thinly

3

Bay Leaves

¼

Cup

Loosely Packed Parsley Leaves

chopped
Instructions
Bring the water to a boil. Add the shrimp, and cook for approximately 3-4 minutes ( or until shrimp turn pink and are cooked through ).

Drain the water from the shrimp and rinse the shrimp with cold water.

In a large bowl, mix the remaining ingredients to make the marinade. Add the shrimp and toss to coat.

Add the marinating shrimp to a large, glass jar ( or several jars, depending on the size of your jars ), cover, and chill for at least three hours to let the flavors meld.

Serve with toothpicks or let people grab the shrimp by the tail. Refrigerated pickled shrimp will last in the fridge for up to a week.