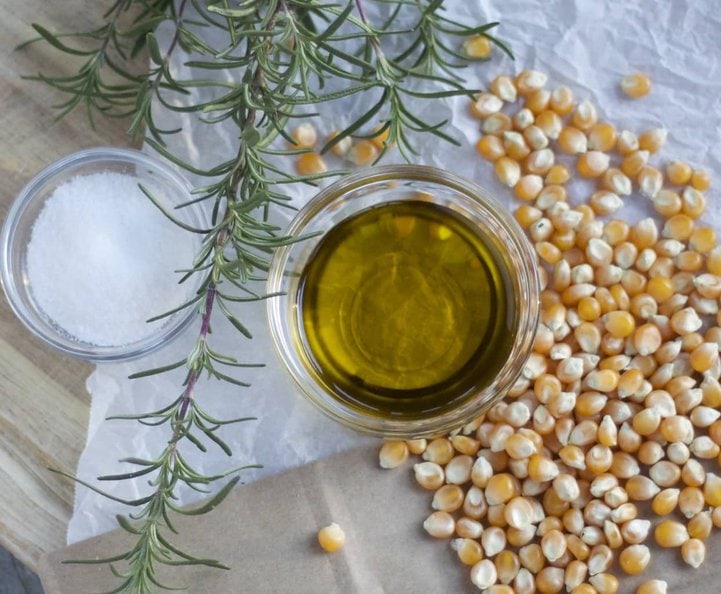 [shareaholic app="share_buttons" id="14875869"]
Popcorn is, by far, the most magical of the snack foods.  Seriously! You start with a ton of tiny, dried-up tooth breakers, throw them into a bag with oil, heat it all up until one by one, each piece explodes, and then .... you eat it. Freaky, but awesome.
Be it over-salted and doused in greasy movie theater "butter", air-popped plain, or drizzled with imported white truffle oil:  I love it all.  At one point, I had a stove-top popper, but after years of abuse the poor thing finally gave out, and I was forced to go back to the pre-bagged and seasoned microwave variety.  It wasn't until recently that I considered ditching the chemical-laden pre-seasoned microwave bags for something that I could make at home.  After all, I make my tortillas and pasta from scratch -- why was I still buying bags of popcorn!?
The one thing about popcorn that is different from homemade tortillas or pasta is that for me, popcorn is a convenience food.  For the most part, if I'm eating popcorn, it's because I didn't quite feel like making "real" food.  So yes, I know that you can make popcorn on the stove without a popcorn maker, but I wanted it to be 99% as easy as throwing the pre-made stuff into the microwave.  The hardest part about this recipe was finding plain, brown paper bags.  ProTip: If you really can't find any, the grocery store may give you one of theirs for free if you ask nicely.  Sometimes they call their small brown bags "wine bags".  Don't take an "ice cream" bag, though. They are treated with chemicals to keep the ice cream cold on your drive home and you do NOT want to microwave that with your food!  I had to snag a wine bag the first time I tested this out, but have since found a package of 100 from my regular grocery store in the plastic baggie section for under $1.
Rosemary Popcorn
Homemade Rosemary Olive Oil Popcorn is, by far, the best thing you can do with your microwave.
Print
Pin
Rate
Ingredients
½

cup

popcorn kernels

2

teaspoons

olive oil

chopped leaves from 2 sprigs fresh rosemary

1

teaspoon

fine sea salt

½

teaspoon

ground pepper

brown paper bag
Instructions
Combine popcorn kernels, olive oil, rosemary, sea salt, and pepper in the brown paper bag.

Fold over the top of the bag and crumple up the edges so that the bag will stay shut in the microwave. I've heard of people using a single staple to do this, but I'm pretty sure putting anything metal ( no matter how tiny ) in the microwave will result in the immediate nuclear demise of the entire world, so I refuse to try that method -- you know, for the children.

Shake the bag to coat the kernels in the oil and flavoring. The bag will look gross and oily, but don't worry! Your popcorn will not taste as greasy as the bag looks!

Pop for 3 minutes ( or until there are 3 seconds between popping noises )