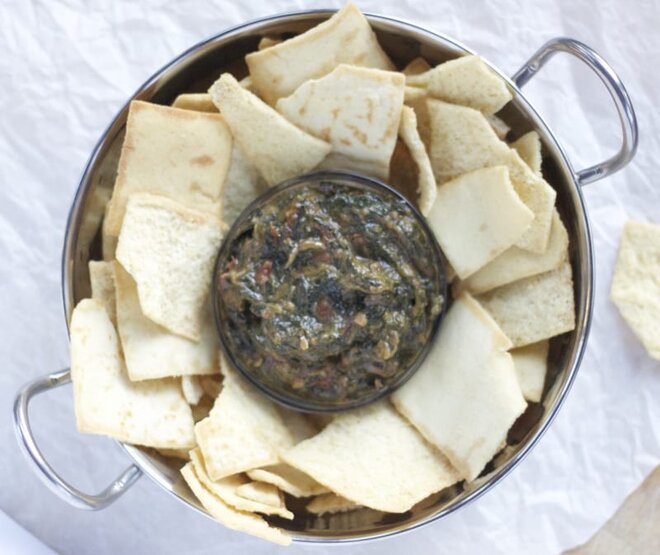 [shareaholic app="share_buttons" id="14875869"]
This dip is not going to win any beauty contests. Suspiciously dark green, it looks like one of those dishes that your fad-diet friend would bring over to a party, claiming you'd never guess it was made of spinach and not a plate hot wings. Well, this stuff is made of spinach, and it's supposed to be!
I have been on such an Indian food kick recently, and whenever we make an Indian main dish, we almost always have some sort of steamed spinach with it. After months of having curried spinach with chick peas, garam masala spinach with lentils, and plain steamed spinach, I decided to turn to the internet for something a little different. I knew right off the bat that I did not want to go with the classic Indian side dish of spinach and paneer, Palek Paneer. I certainly don't dislike paneer ( a very mild Indian cheese ), but it falls very squarely in the category of "not good enough for the calories" for me, particularly for a dish that we would like to eat on the regular.
That's how I found Budget Bytes' Indian Style Creamed Spinach. It's based on Palek Paneer, but doesn't contain the mild not-worth-the-calories cheese. I've heavily modified her technique for the recipe and slightly changed the ingredients. We often eat this as a side dish, but somewhere along the line I decided it was best as an awesome, spicy dip, served with pita, naan, or carrot chips. It can be made days ahead and reheated before your guests arrive, which makes it awesome for a no-fuss party app.
Ingredients
2

Tbsp

olive oil

2

cloves

garlic

1

medium yellow onion

peeled

2

inches

fresh ginger

peeled

10

oz

chopped frozen spinach

2

tsp

cumin

2

tsp

garam masala

½

tsp

cayenne pepper

1

medium tomato

diced

½

tsp

turmeric

½

tsp

salt

1

cup

evaporated milk
Instructions
Cook the frozen spinach according to the directions on the box. Do not drain it once it is done.

Heat the olive oil over medium heat. Grate the garlic, onion, and ginger directly into the pan. I used the big grate on my box grater for the onion, and the small grate for the garlic and ginger.

Cook, stirring occasionally, until onion is softened.

Add the cumin, garam masala, and cayenne pepper to the onion mixture. Stir to combine, and cook for 3 minutes. Your pan may roughly resemble wet cat food right now. Don't worry, this is but a short step in the journey to the delicious dip ahead of you.

Add the diced tomato to the pan, and cook until the tomato breaks down and easily mixes into the rest of the onion and spices in the pan. This will take approximately 5 minutes.

Add the turmeric, evaporated milk, spinach ( including liquid ), and salt. Stir until heated through and serve!