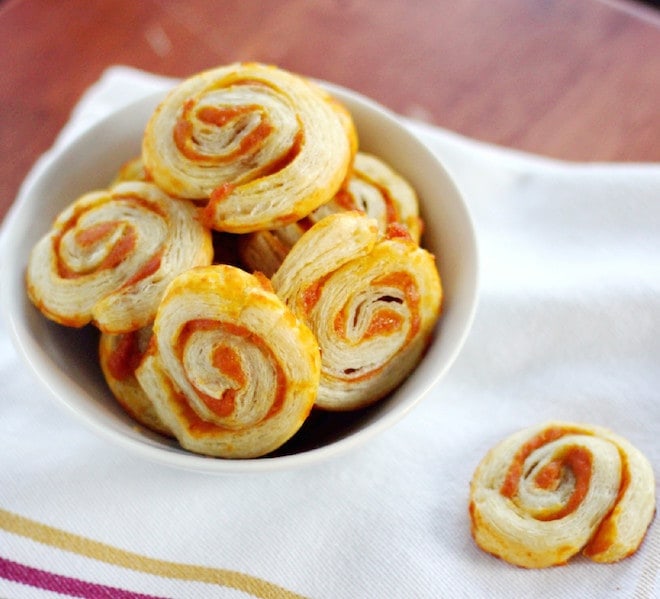 I have always been a pumpkin person.  Smooth, creamy, fresh, and even a little bitter, pumpkin puree is one of my favorite things about the Fall.  I make muffins with it, I put it into lasagna, and I even add it to my smoothies.  I love what a simple, mild sweet it is.
I've also been playing around with puff pastry recently, and lemme tell you ... it has not been going well.  Several recipes have ended up gummy or greasy, something that rarely happens in my kitchen.  My recipe experiments tend to, at worst, be not as good as I had hoped, but some of my puff pastry trials have been downright bad.
It's finicky stuff. Oh by the way, I'm not talking about making puff pastry from scratch; I'm talking about the frozen stuff you defrost and then cook.  Yep. I've been messing up PRE-MADE puff pastry. Embarrassing! Let's just say after a week of puff pastry failures, I was ready for a win, so I decided to make some pinwheels.  These little guys are some of the lowest effort, highest reward treats you can make, and the filling possibilities really are endless.  If you can roll it up, you can make a pinwheel from it.  Be warned, though, the pumpkin can get a little messy while you are rolling it up ( and later when you are slicing ), but you can easily scoop up any escaped filling once the slices are on the baking sheet, and slather it on top of the uncooked pinwheels before they go into the oven, pressing the filling right back down into the puff pastry.
This is a mildly sweet snack, that really lets the flavor of the pumpkin shine, instead of crowding it out with a bunch of heavy spices and sugar.  Enjoy!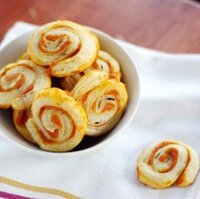 Pumpkin Pinwheels
An easy fall appetizer that can be made ahead and frozen, and sliced and baked right before guests arrive.
Print
Pin
Rate
Ingredients
1

can pumpkin

2

eggs

⅓

cup

light brown sugar

4

sheets

2 boxes puff pastry, defrosted
Instructions
Preheat oven to 400 degrees.

Mix everything except for the puff pastry in a medium sized bowl.

Unfold one sheet of puff pastry, smoothing any creases with your fingers. Slather a quarter of the pumpkin mixture all over the puff pastry -- right to the edges.

Roll the puff pastry and pumpkin slather into a log. Try not to be super rough with it, but expect that some filling will probably still ooze out while you are doing this.

Repeat Steps 3 and 4 for each sheet of puff pastry.

Slice the logs into ¼" slices ( SEE NOTES ), placing each slice on a parchment lined baking sheet. The filling may ooze out, but it's just fine to stuff it right back in.

Bake for 18 - 22 minutes at 400 degrees. The pinwheels are done when the puff pastry stops looking translucent and starts looking opaque.
Notes
Slicing the pinwheels is easier if you freeze them overnight -- but you absolutely do not HAVE to do this. The main difference between freezing and not freezing is how much filling you have to stuff back into the pinwheels after slicing.
You can make these up to a month ahead and keep them in the freezer, then just slice, bake, and serve when your guests are on their way!