When I was a kid we'd always go to this little pizza restaurant in Atlanta, tucked away on a side street off of Roswell Road, under a row of second-story offices.   You'd miss it in a heartbeat if you didn't know exactly where it was.  The split dining room had all kinds of video games in it.  They'd call them "Vintage" now, but back then they were just awesome.  I don't even remember the pizza there.
I remember the salad dressing.
Even as a kid, I remember actually liking the salads at this joint.  Dousing a mix of feta cheese, pepperoncini peppers, and iceberg lettuce with a quarter cup of "House Dressing" was almost as good as playing Frogger.  Almost. To this day, one of my favorite salads is still exactly that: iceberg lettuce ( torn way too large, just like at a pseudo-lazy kitchened casual restaurant ), a handful of good, fresh feta, and two or three spicy pepperoncini peppers tossed together, with a hefty drizzle of my own homemade version of Greek House Dressing.
It's full of oregano, and a big vinegary bite.  I also do not bother emulsifying this dressing, as I have never been to a restaurant that did. The separate oil and vinegar is part of the experience.  Another point of interest -- this dressing is not made with fresh herbs; you can make it at any time with the dried herbs in your pantry.  It's part of the charm!  I've made it with fresh ingredients and I'll tell ya: it just wasn't as good.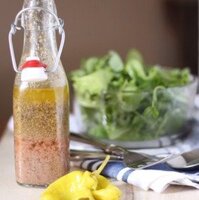 Greek Dressing
Classic House Dressing ( Greek Dressing ) for salads, and makes a great marinade for fish, vegetables, and chicken, too.
Print
Pin
Rate
Servings:
1
cup salad dressing
Ingredients
⅔

cup

Red Wine Vinegar

⅓

cup

Oil

1

teaspoon

Garlic Powder

1

teaspoon

Dried Oregano

1

teaspoon

Dried Basil

¾

teaspoon

Pepper

¾

teaspoon

Salt

¾

teaspoon

Onion Powder

¾

teaspoon

Dijon Mustard
Instructions
Put all ingredients into a mason jar or other sealable container and shake.