File this one under: things I never thought would be good, but turned out to be AMAZING. Today, we're essentially going to overcook broccoli and turn it into a sausage-y, broth-y, broccoli sauce for orecchiette.
This is a dish I have made for YEARS, but even I'll admit the first time I made it I was skeptical.
See, overcooking vegetables isn't really I think I care to do. I like that crisp crunch of a perfectly blanched veggies, not a sad mushiness usually reserved for things that have been boiled to death or canned.
But this sauce knows what it's doing. This sauce makes boiled broccoli SHINE. You can make the sauce and add it with any pasta, but I realllllly love the orechiette with sausage and broccoli because it cups the sauce in the most lovely way.
And of course it does - afterall, orechiette means "little ear" in Italian! And they do look like little ear cups! Totally adorable.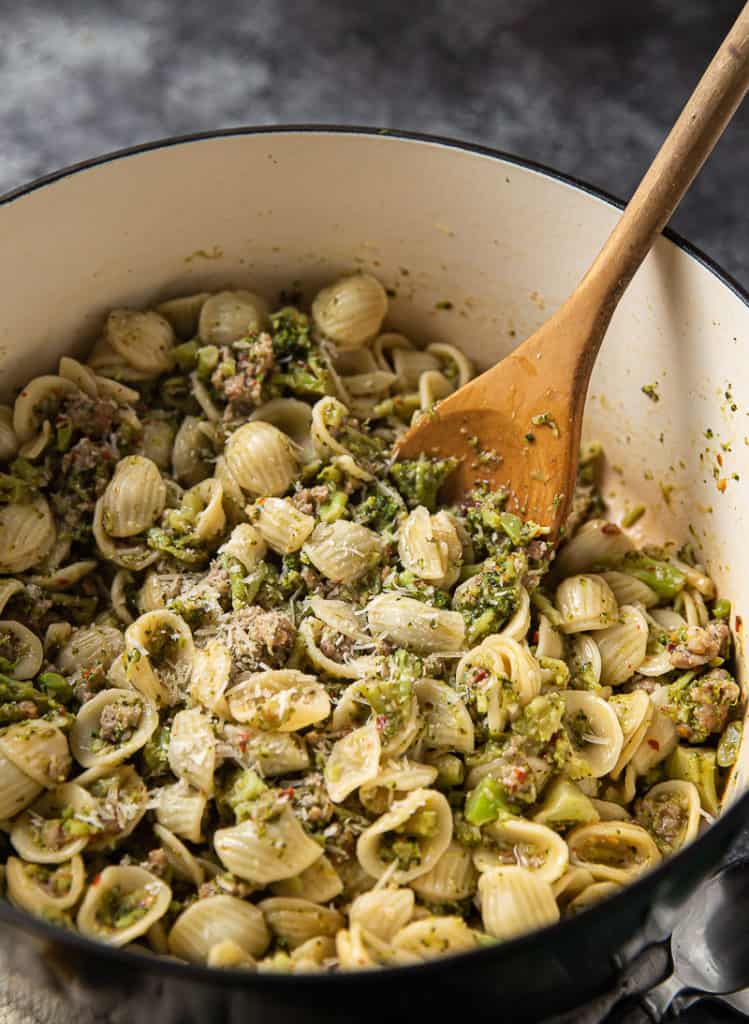 What You'll Need to Make Orecchiette with Broccoli and Sausage
Dried Pasta
Roughly Chopped Broccoli Florets
Italian Sweet Sausage
Crushed Red Pepper Flakes
Grated Italian Hard Cheese ( Pecorino Romano, Parmesan, or Piave are all nice choices )
Pasta Water
How to make pasta sauce with broccoli?
Because it seems like surely that shouldn't be a thing! But it is and it's wonderful.
The overall method is to cook a flavorful sausage into crumbles in a pan. Then boil the broccoli until it is soft, add it to the sausage pan, and smash it down into a very chunky sauce. You'll then add pasta water to thin the sauce out just a little bit.
Season with crushed red pepper flakes, if you are brave and like a little kick. I always like a little kick.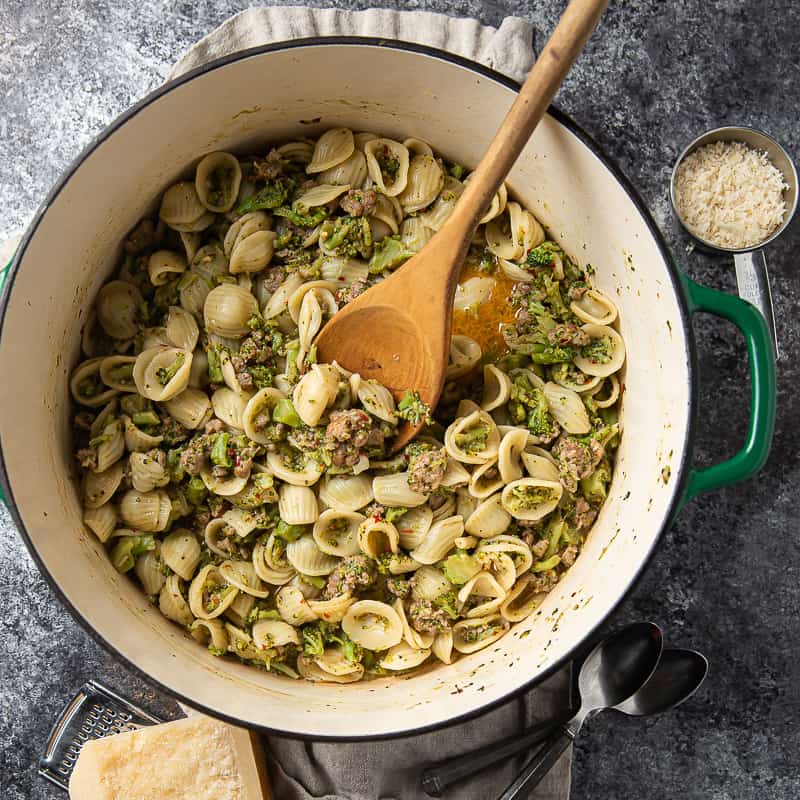 [oih_opt_in id="5"]
Orecchiette with Broccoli and Sausage
An easy weeknight pasta recipe with a broccoli sauce flavored with sausage.
Recipe from BasilAndBubbly.com
Print
Pin
Rate
Ingredients
3

links

Sweet Italian sausage

casings removed

1

teaspoon

olive oil

8

ounces

orecchiette

1

lb

frozen broccoli florets

½

Tablespoon

red pepper flakes

more or less to taste.

3

Tablespoons

butter

2

cups

pasta water

½

cup

grated Parmesan cheese
Instructions
Bring a large, heavy bottomed pot full of water ( at least 8 cups ) to a boil. Once the water is boiling, add the broccoli florets and boil them for 3 minutes, or until they become very tender. Using a slotted spoon or other utensil that allows the water to drain, remove the broccoli pieces from the water and set them aside.

Add the orecchiette to the boiling water and cook it according to package directions ( likely around 12 minutes ). Make sure to reserve 2 cups of cooking water before straining the pasta!!!

While the orecchiette is cooking ... In a large skillet, brown the sausage in the olive oil by cooking it for 6 to 8 minutes over medium high heat. Make sure before cooking that you have removed the sausage from the link casing OR are using loose ground sausage.

Add the broccoli, red pepper flakes, and butter to the sausage pan and stir to combine. Mash the broccoli into the sausage the pan with a wooden spoon.

Reduce the heat to medium. Slowly stir the pasta water into the broccoli/sausage mix, ½ cup at a time. Add the pasta to the pan and stir to combine it with the sauce. Add the parmesan to the pan and stir it again to combine.

Serve with additional grated cheese for topping.