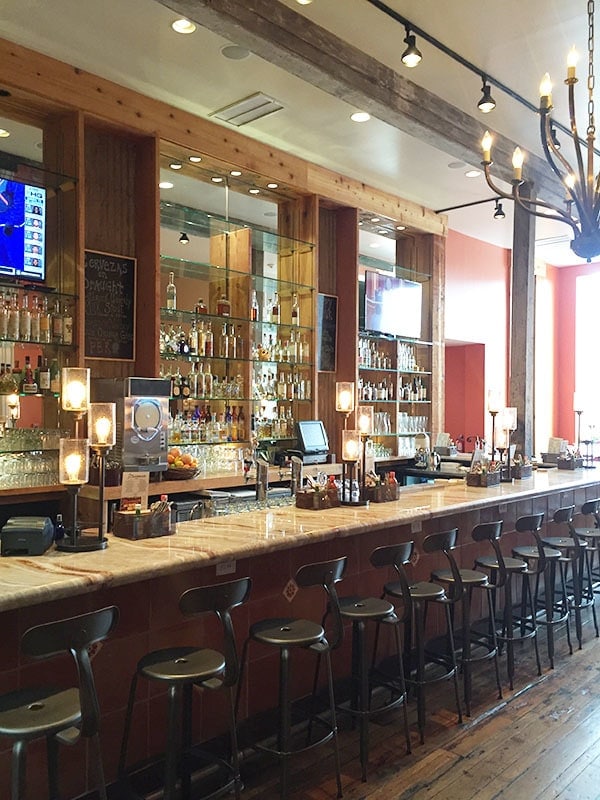 Minero. Sean Brock's Mexican darling in downtown Charleston has been on my restaurant "to try" list since the first day it opened in a tiny, cramped, East Bay Street location.  I was so slow to go, that I didn't even make it to that location! It closed a few weeks ago and Brock opened up a new, spacious, sparkling location pretty much on top of the old one, and I instantly found the time to make it down there, now that I knew I could comfortably have lunch there in the middle of the week with no stressful crowds.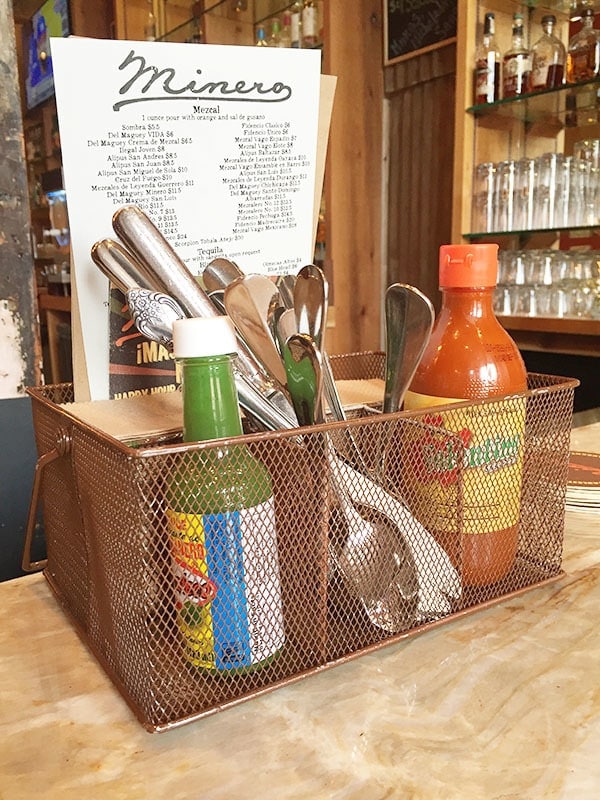 The menu has a little something for everyone, from hot wings to the famous Minero burrito to salads.  Despite it being noon, I started with a margarita -- because that's just how I roll.  This is not your neighborhood Mexican restaurant's lime green pre-mixed margarita.  This is a real margarita.  Lots of mouth puckering fresh citrus, a hefty splash or two of tequila, and just enough sweet to make you wonder who else simply must have snuck in a sip or two of your drink because it disappeared so quickly.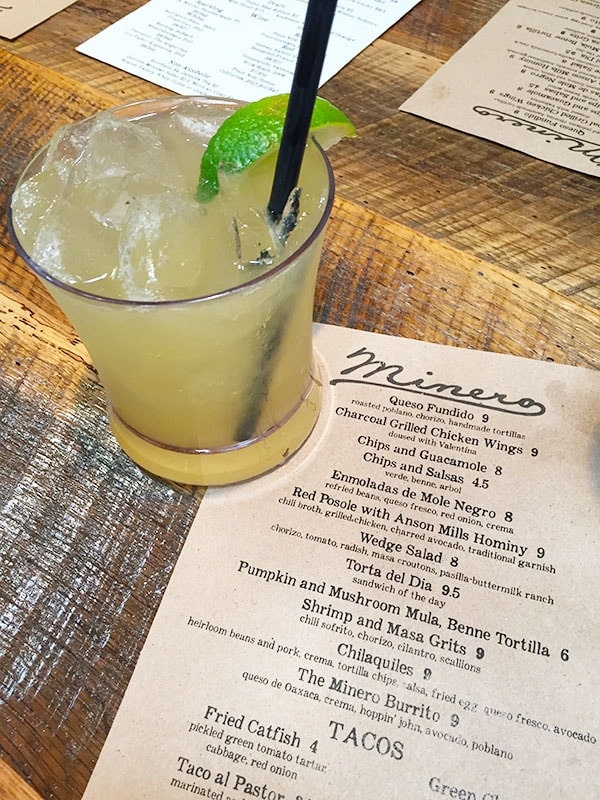 It may not be the best margarita I've ever had, but if it were the only one I could ever have again I wouldn't be devastated.  It's good. Really Good.  Oh, and that splash or two of tequila?  It'll catch up to you.  I consider myself something of a professional and was surprised at the strength of this particular cocktail.  Off to a good start, Minero.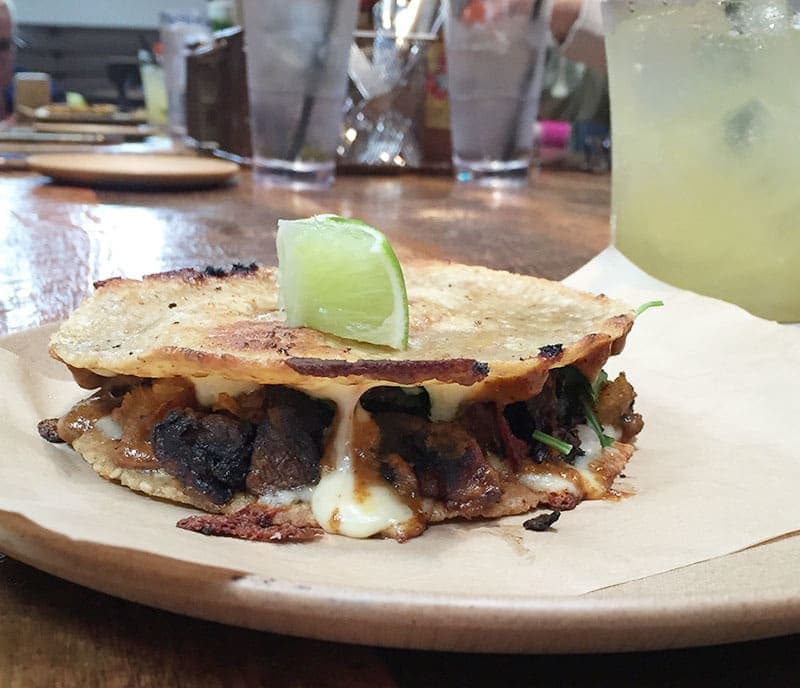 One of my friends ordered the Pumpkin and Mushroom Mula with Benne Tortilla for the table.  I wouldn't have ordered it for myself because the title ( and zero description ) didn't really speak to me, but BOY am I glad she ordered it.  Crispy, cheesy, and seasonally Pumpkin -- it came out like an extra crispy quesadilla type of thing.  We cut it into pieces and the table fell silent while we each tried a bite.  Absolutely wonderful: cheesy, crispy, and flavorful, it was definitely heavy but not so heavy that we all wanted to fall asleep at the table after splitting it.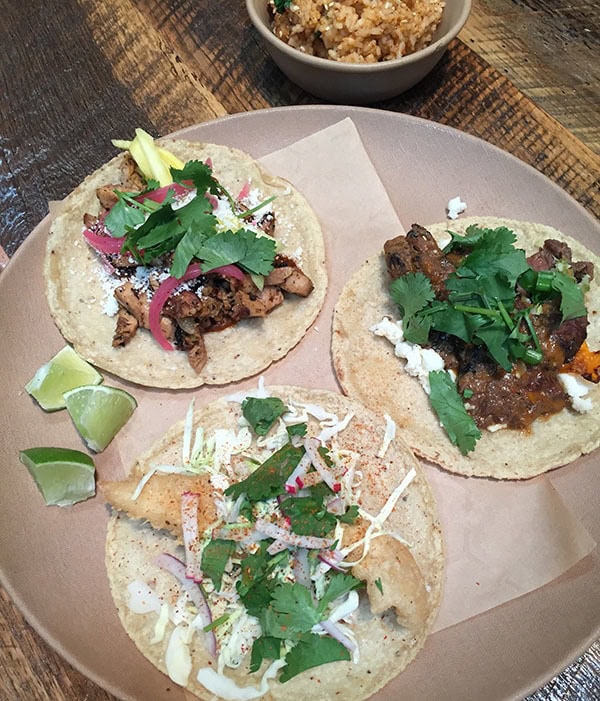 There's a selection of tacos you can order from, and we got Fried Catfish, Charcoal Grilled Chicken, and Grilled Steak.  Everything was executed exactly as we had hoped, and on homemade tortillas.  I would definitely love to go back and tried their other tacos sometime.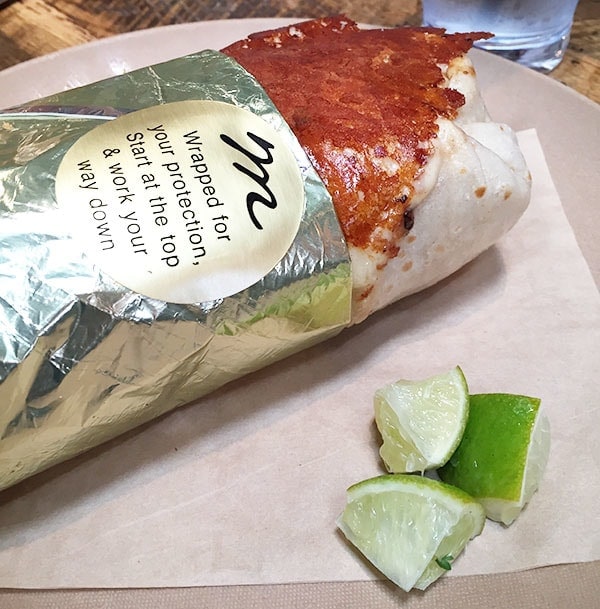 I ordered The Minero Burrito on the recommendation of pretty much everyone who has been to Minero before me.  It's a vegetarian burrito but don't let that fool you -- it's a beast.  Stuffed full of what is referred to as "hoppin' john" on the menu ( usually field peas or black eyed peas and rice ), the beans are clearly of the heirloom variety and might have been some of the best beans I've ever had in my life.  The hoppin' john is complimented by a fistfull of shredded raw cabbage, fresh Mexican cheese, crema, and avocado.
The burrito is spicy, but it's not too spicy.  I made my best effort but could only manage to get about halfway through the thing while at the table. ( By the way it was still delicious the next day ).  The entire burrito is sealed with a crispy cheese crust, then wrapped in foil and closed with a sticker stating, "Wrapped for your protection[...]". Cheeky!
Another friend got the Chilaquiles -- tortilla pieces baked in sauce with green chili pork, and topped with a slew of fabulous accoutrements like fresh cheese, cilantro, and an egg.  I didn't snag a bite of it, but it looked amazing and I have it on good authority that it was delicious.
We finished off the meal with some of the much-discusses Minero Churros.  Unfortunately, I wasn't a fan.  The chocolate sauce was bland and too thick, and the churros were chewy and tossed in a cinnamon chile type of seasoning that didn't quite work for me.
TL;DR:
Overall, the meal was excellent, the service was fine, and the margarita was awesome.  I'll definitely return, particularly now that they have a beautiful, roomy new dining space and bar.
Eat:
The burrito, for sure.
Drink:
Margaritas
Wear:
Casual
Locate:
155 E Bay St
Charleston, SC 29401
Park:
Meters on East Bay Street. The Parking Garage behind Charleston Cooks ( accepts both cards and cash).
Contact:
(843) 789-2241