In the sea of sanitized store-fronts at Seaside Farms in Mount Pleasant, it's easy for any business to get lost. Muted coastal colors carefully coat the matching siding of each slot in this upscale strip mall complex, with tastefully sized signs hanging over each store on its palmetto tree lined roads.  Here sits Ardoa.
I probably never would have gone in, if a trusted friend had not raved about it to me.
The concept is simple, like the name ( Ardoa means "wine" in Basque ): a self-serve wine system, with cheese and charcuterie for nibbling.  If serving your own wine isn't your thing, wines poured by the staff are available by the glass and bottle  as well.
As soon as you walk in, you are greeted from a small hostess stand.  Here, you can purchase a card that will give you access to the self-serve system.  Throw some money on the card, and if you are unfamiliar with the system, the woman behind the stand will happily show you how it works: Grab a clean glass from the wall of glasses surrounding the wine, insert the card above the glass display window, verify you have a large enough balance to actually pay for the wine you want, place your wine glass under your desired selection, and choose the pour you want ( 1 oz, 3.5 oz, or 5 oz ) from the touch screen above the bottle.
I'll admit, it's gimmicky.  However ... it's fuuuuun.  As someone who is always struggling to commit to a wine decision, I can stand in front of the row of downlit wine bottles waiting to be selected, and think about what choice I want to make, without some doe-eyed server staring back at me, waiting.  There are also no surprises, no wine list that needs revising ( I thought the list said this was a 2011 ... ), and no commitments to a $15 glass of wine that you might enjoy.  In fact, you'd be hard-pressed to find a $15 glass of wine at Ardoa, with the exception of Opus One -- a fun, if not pricey, novelty added to the selection.  The carefully curated selection of wines is small, but thorough and well-priced.  A refreshing change from the $10/glass-for-box-wine prices of downtown.
There is a downside to the automated system, though: a glass of wine is actually a proper glass of wine.  I don't know about you, but in my house ( and at every bar and restaurant in town ), a glass of wine is rarely the prescribed 5 ounces.  A glass of wine is often "whatever amount the bartender felt like pouring that night", and almost always an over-pour.  That can make the first glass at Ardoa seem ... scant. So be prepared, and remind yourself that it's not fair to talk trash about all of America super sizing their french fries, and then get fussy that a small french wine place sells you the proper amount of wine for a cheaper price than the other places in town.  Plus, you can always go to the bar if you want that "human factor" pour.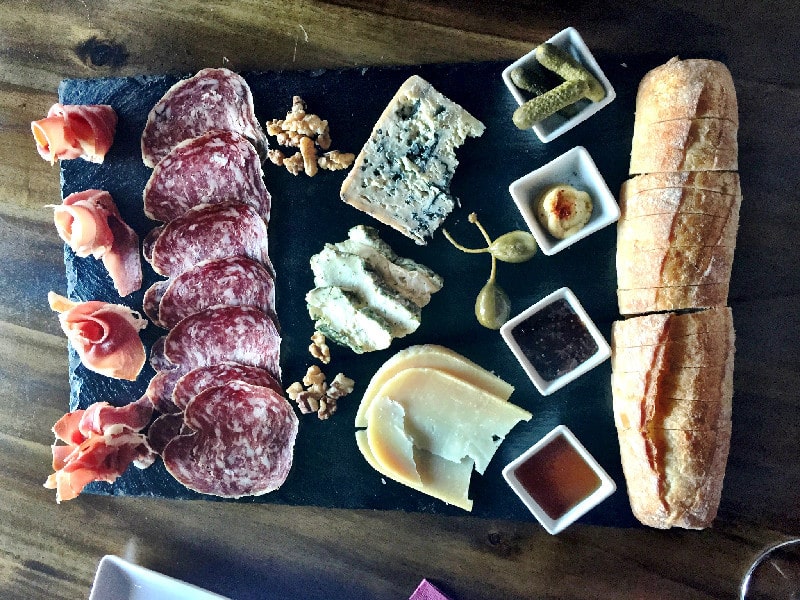 Speaking of the bar -- this is where you will find the cheese and charcuterie selections.  They have an impressive, but accessible cheese list.  The addition of a reblochon, la tur, or other soft but slightly stronger cheese would round it out nicely.  I would have also liked to see more selections available for cured meats, but the couple that they had were very good.  The cheese boards themselves are very impressive.  In addition to your cheese and meat, the boards have french bread, and all sorts of compliments to your selections,  including fig jam, honey, walnuts, cornichons, real french mustard, and caperberries.
The food and wine are on point, but there is more than that to an experience.  Ardoa's staff is friendly and helpful, and not in a painful or fake way.  The decor is tasteful and contemporary. The bar-height chairs are cloth ( a daring choice for a place where customers are allowed to serve themselves red wine ), and lend themselves to an evening of slowly snacking and drinking.  The entire experience is comfortable and leisurely: exactly how a wine bar should be.
TL;DR:
A great place to try wines with little commitment.  Spectacular cheese and meat boards, served with an impressive array of accoutrements.  Friendly and knowledgable service, in a comfortable setting. Will definitely return.
Eat:
Proscuitto and Saucisson Sec for meats.  For the cheese lovers: Blue D'Auvergne, Humboldt Fog, and Ossau Iraty (when in season). Fromage D'Affinois with herbs, if you are a cheese newbie and want something fun to nibble with your wine.
Drink:
Anything!
Wear:
Casual to Dressy
Locate:
1960 Riviera Dr STE D
Mt Pleasant, South Carolina 29464
In the Seaside Farms Shopping Center, near Basil.
Park:
Anywhere in the ample parking behind the restaurant, or the few row spaces in front.
Contact: