Marinated olives are one of my favorite things to snack on while sitting on the porch with a little white wine in the Spring and Summer, and these Lemon Garlic Olives are my favorite variation.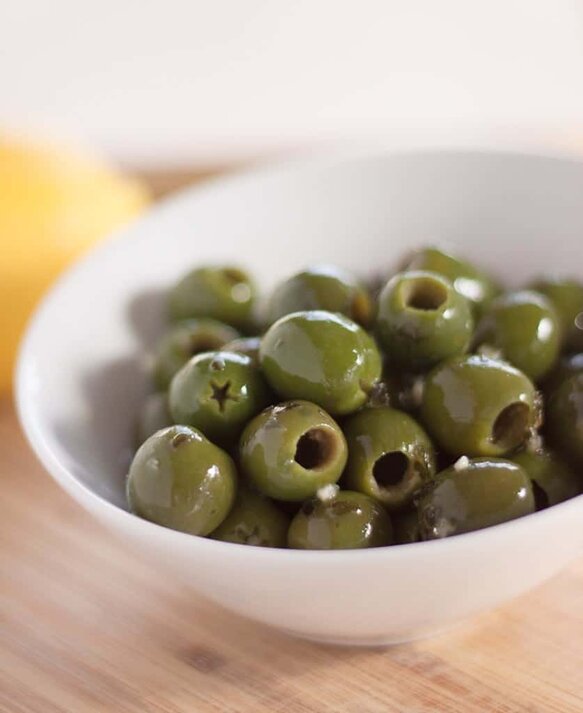 I have been a life-long hater of olives.  Or so I thought.  That was until someone spent a solid five minutes raving to me about these fabulous olives he had in California a few years ago called Castelvetrano Olives.  I was skeptical... and by "skeptical", I mean that I silently smiled at him while he talked about the olives, swore to him I'd try them, all the while secretly wishing he'd go away and stop talking about one of my Top Three Most Hated Foods.
Then a few weeks later, I came across some of Castelvetrano Olives and thought, "Ugh. Fine. I'll try one."  I prepared an iced coffee to wash away what I was sure was about to be a horrible olive-induced lingering flavor in my mouth.  I looked at the olives in my hand before eating them: bright, almost unnaturally green, no weird black olive smell... okay, let's do this. I popped one into my mouth.
Whoa.  No coffee chaser needed, as it turned out.  They were delicious!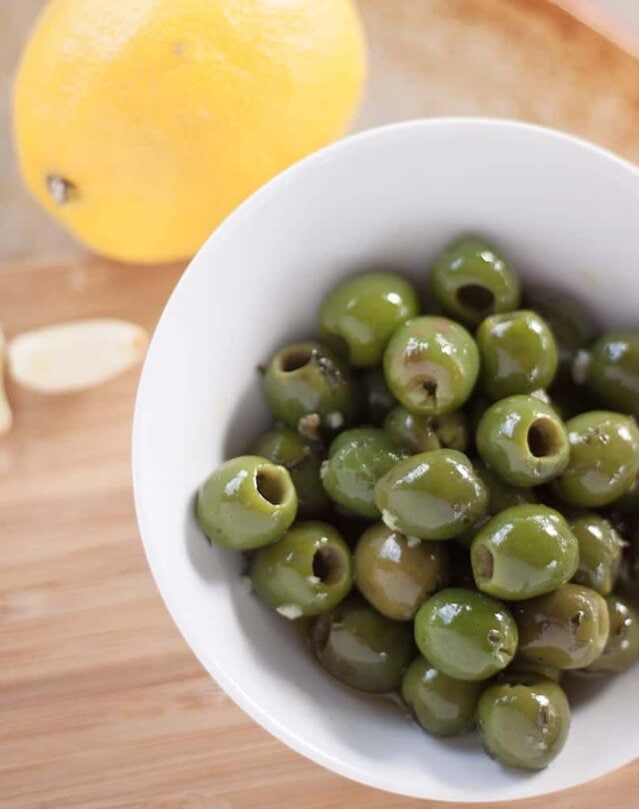 Castelvetranos are meaty and rich.  They are more olive-oil than cured black olive, in terms of flavor.  They are the olive for olive haters.  I often eat them plain ( even though I still can't stand other types of olives ), and every once and a while, I like to jazz them up with a little extra flavor. I always make these lemon and garlic olives with Castelvetranos, but my husband likes them with plain green olives, too.
If you'd like to try the Castelvetranos, you can find them on the olive bar at Whole Foods and sometimes Trader Joe's has them in the jarred pickle section.  You can always order them from Amazon, too.
Lemon Garlic Olives
Marinated olives are the perfect snack for any time of year, and are an easy addition to your tapas menu.
Print
Pin
Rate
Ingredients
⅓

lb

Castelvetrano Olives

3

Tablespoons

Olive Oil

1

Garlic Cloves

minced

½

Tablespoon

Dried Parsley

Juice from 1 lemon
Instructions
In a saute pan over medium heat, cook the minced garlic in the olive oil for two minutes, stirring occasionally to keep the garlic from sticking to the pan.

Add the olives to the pan, and stir to coat. Cook the olives in the garlic and olive oil for another minute.

Remove from the heat, add dried parsley and lemon juice.

Serve immediately while warm, or refrigerate for up to a week and serve chilled.