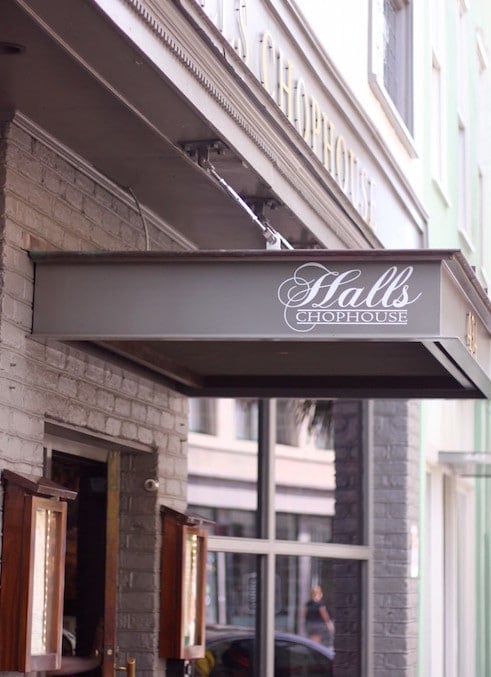 Charleston restaurants are getting ridiculously expensive. An appetizer, a salad, and an entree, plus a bottle of wine, all split between two people, will run you roughly $100 in downtown Charleston, pretty much everywhere. There are, of course, your dive-bar exceptions and a handful of quality places where you can escape for a more reasonable $50 or less ( Taco Boy, Spero, Monza ), but for the most part, you can expect to leave Charleston restaurants with your stomach full ... and your wallet empty.
Hall's is no exception.  Their dinner menu is so expensive that I actually haven't even been able to go there for dinner.  Ever.  So what do I do when I'm dying to go to a restaurant but really don't want to cough up the $100+ ( or in the case of Hall's ... $200+ ) dining room dinner plus wine cost?
I brunch.
And that's how I decided to try their Gospel Brunch for the first time, so many years ago.  Since then, we've been back .... a lot.  I take everyone who comes in town there, but I also go with my local friends.  I recommend it to tourists who stop me on the street, looking for somewhere silly like Hyman's.  I figured it was finally time to talk about it.
My name is Marianne, and I am addicted to Hall's Gospel Brunch... and I feel like I need to explain myself.
I'm not going to sit here and tell you it's the cheapest brunch in town ... because it isn't.   Really, the menu is not particularly innovative, either.  That's a word people like to use about menus these days: innovative.  Like if your meal isn't akin to a new electric engine or an upgraded cell phone, it's bad somehow. Hall's Brunch menu is Classic, and Classic is never bad.  It is the best version possible of what you would expect from a steakhouse that does Sunday Brunch. The food is good, solidly good.  The execution is flawless.  The ingredients are of the highest quality.  The service is impeccable.
I'd like to repeat that last part, in case you zoned out and are only reading lines that stand out: the. service. is. impeccable.
Everywhere in Charleston has great food, beautiful buildings, and high prices... so what makes one place better than another?  That thing we just mentioned: service.  I simply refuse to eat another $35 entrée served by some 22 year-old in blue jeans and a checkered shirt, who responds with "You mean, are there like, chips of wood in the wine?" when I ask, "Is that Chardonnay Oaked?". ( Yes, that's a real thing that happened at a downtown restaurant. ) Service is what makes me want to go to Hall's for dinner, even though it is pricier than most of the restaurants I begrudge for being pricey, and it's what keeps me going back time and time again for brunch.
This past Sunday morning, as soon as we got to Hall's, we were greeted by a member of the Hall family.  The restaurant was alternatingly filled with the loud, boisterous, clapping and singing, and moving, sorrowful, soul-filled solos of the gospel singers positioned right at the front door around the piano.  I had requested a table by a window in advance, which meant we were sat in the new dining room expansion next to the original restaurant, which was much more calm and quiet than the main building, but did, admittedly, lack a little of the same appeal as the main downstairs room.  However, even though we were in a separate room, we were in no way forgotten by our waiter.
He greeted us, and took our drink order of a bottle of champagne and trio of juices to make-your-own sparkling beverages at the table.  It's not on the menu, but it's definitely the way to go!  Shortly, a complimentary basket of double-fist-sized popovers was brought to the table, along with a selection of jams, honey, and butter.  The popovers are crispy on the outside, with an airy, eggy middle.  If you aren't a bread eater, don't worry about trying them... just give yours to me and I'll handle it.
---
Sorry. No pictures of the Popovers.  We ate them ALL before it occurred to me to snap a photo of them.
---
Here's where another example of the great service at Hall's comes in:  popovers are flaky, crusty things, and they are HUGE.  Inevitably, the table will get covered in popover flakes, even with the most cautious of diners.  Hall's is the one of the few places in town where they still use the crumb catchers that look like Venetian Blinds to clear the table cloth between courses.  A small touch, but a nice one.  It's a reminder that the staff is well-trained, and is taking care to pay attention to detail.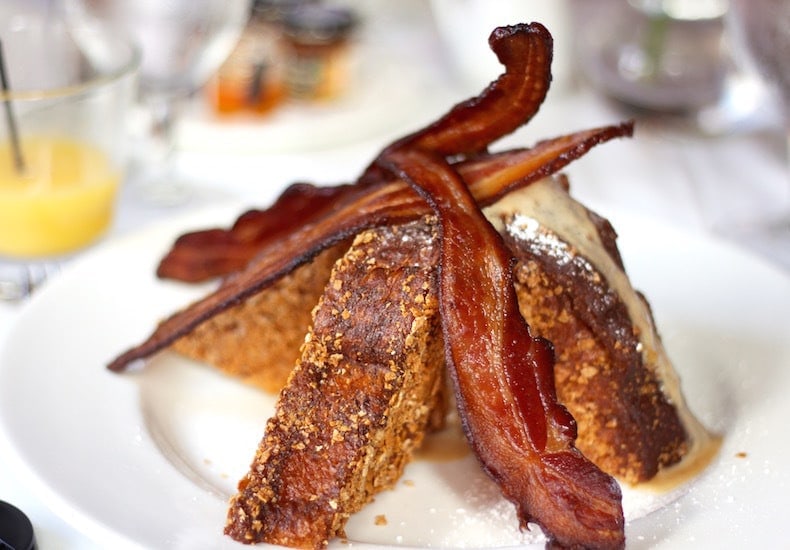 Once all evidence of the popover slaughter was removed, our main meals were brought to the table.  I could not resist getting the Lavender-Scented French Toast with Espresso Marscarpone and Bacon.  I get it every time.  I don't mean to get it every time, I just have to. It calls to me. The outside is coated with what I think might be corn flakes, but it's so good and crunchy that I don't care.  The syrup is light and obviously real maple syrup.  The bacon is smoky and thick.  I almost always take half of the dish home to have again the next morning, so know that you can totally split it if you'd like!
My husband got the Sausage Gravy and Biscuits, which looked like any other sausage gravy and biscuits, but tasted like it had been made with pure cream.  Rich, but delicious.  Our friends dining with us got the French Toast, as well as the Crabcake Benedict.  The crabcakes were full of real crab meat, and were not "bread-y" like many restaurants try to get away with these days.  They were perched atop an english muffin, with a layer of wilted arugula, that gave the dish a fresh, peppery bite.  All of it had a thick drizzle of wonderfully rich and slightly spicy Creole hollandaise.  I may actually forgo my usual French Toast for the Crabcake Bennie next time I visit Hall's.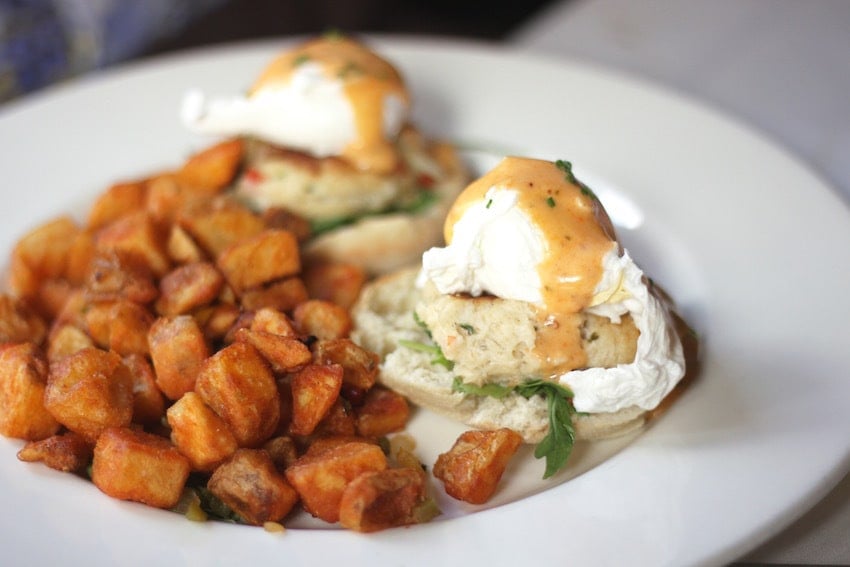 Since our waiter asked specifically if we were celebrating anything special when we originally sat down, we did mention that we were celebrating a career milestone for one of our friends with us that morning.  After we finished our meals, the owner personally brought out champagne for the table to celebrate on the house, and offered us a gratis dessert, which we declined as we were all already full enough to burst.
This may sound like it was special treatment for a special occasion, but truthfully, every time I've ever been to Hall's, the service as been perfectly on point.  My husband calls it "intrusively good service", but I disagree.  There are no waiters or water boys awkwardly looming over the table -- the service appears when you need it and is absent when you don't.  It is the type of service that should be given at a restaurant of that tier, and shockingly, for some reason Hall's is the only place in town that seems to do it.
TL;DR:
Eat at one of the fanciest places in town at brunch for a great value. A Classic Brunch menu, perfectly executed, with the uniquely southern sounds of Gospel Music piped through each dining room.  The best service I have ever had in a restaurant. A truly unique Charleston experience.
Eat:
Crabcake Eggs Benedict, French Toast
Drink:
Bottle of Sparkling Wine with Trio of Fresh Juices, or just a Bellini if you have to choose
Wear:
Business Casual to Sunday Best. Expect to see men in polos and khakis, but also full suits with bowties, and women in dressy pants or dresses and heels.
Locate:
434 King St
Charleston, SC 29403
Park:
Parallel Parking on King Street or surrounding streets (free on Sundays), John Street Garage, Visitor's Center Garage
Contact:
Hall's Chophouse
843.727.0090