I don't think too many of us have ever raced to the opening of a new hotel restaurant or bar. Just the phrase "Hotel Restaurant" evokes visions of 1990's heavy-weight floral curtains, mediocre big name wine labels with even bigger prices, and generic, forgettable food (at best).
So why did I decide to accept an invitation to a luncheon at Élevé, the top-floor restaurant at the newly opened Grand Bohemian in downtown Charleston?
Having recently stayed at the Grand Bohemian in Asheville and enjoyed a fabulous evening at the restaurant on that property ( Red Stag Grill ), I was curious to see what they would do in my own little corner of the world. Classic Southern Charm? A Stark Modern Contrast? I had no clue.
As it turns out, the entire property is bathed in eye-popping color with an opulent Alice in Wonderland flair. Élevé has a more rustic feel than the rest of the hotel, but those classic Kessler details are still everywhere. There's a wall that is covered in chair railings, grand chandeliers hanging from a distressed-wood ceiling, and pops of unexpected lime green on the bar and walls. The exterior space is phenomenal, with some of the best ( and most comfortable! ) outdoor seating I've ever seen, including four show-stopping open-caged Porter Chairs. There are also views of the Ravenel Bridge, at least four church steeples, and ( unlike many other rooftop bars ), one of the nicer neighborhoods in downtown Charleston.
The feel inside the restaurant is the elusive Casual Fine Dining that everyone else seems to think they are pulling off so well. It's casual because casual is comfortable, but the bread was still served from the left, and plates were cleared from the right. Bravo!
As this was a seated event with a set menu, we did not have much interaction with the servers other than refilling our beverages and delivering our meals, but they were well organized and attentive in those two things.
The menu consisted of three dishes. One thing I noticed on both the menu we were served and the full menu of the restaurant is that almost every dish has a component attributed to someone else. Mrs. Park Smith's currant mustard chutney is on the Pork Tenderloin, Mrs. T. Ladson's french dressing is on one of the salads, and many more! As it turns out the chef, Ryley McGillis, formerly of Jasmine Porch at the five-star Sanctuary on Kiawah, incorporated recipes from the original Charleston Receipts into the menu. Charleston Receipts is the cookbook from our very own Charleston Junior League, and is wildly considered the Bible of Southern Cooking. It's a little gimmicky, but I don't care. I love, love, love that he did that. It's Élevé's polite tip of the hat to Charleston; it's proof that this is not a Hotel Restaurant, rather a restaurant that happens to share property with a hotel.
The first dish was a Roasted Beet and Butternut Squash Salad, with Mrs. Henry P. Staats' roasted beets, of course! The salad had toasty, crunchy hazelnuts, a mix of watercress and peppery arugula, good-quality feta ( I'm a feta snob, what can I say ), and a delicious vinaigrette that I would have liked just a little bit more of on the greens.
For the main course, I was delighted to see tilefish: my favorite fish! Perfectly crisp with still-tender flesh, the fish was perched atop a butter bean, potato, and fennel salad, and finished with a rosemary and grapefruit beurre blanc. Although I would have liked a less of whatever was sweet in the sauce, this dish was still wonderful and technical execution was flawless. I would go back and order it, for sure.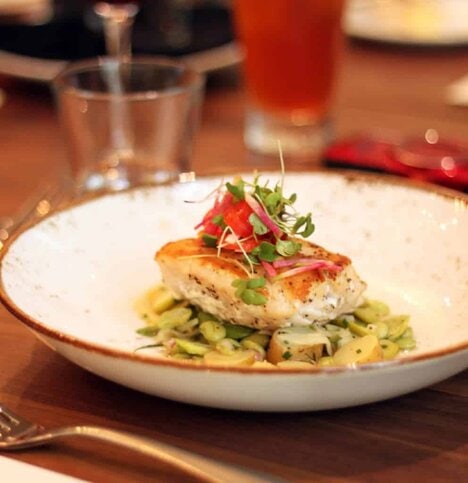 I was surprised to see dessert on the menu. I'm not a huge dessert person, and I don't think I've EVER thought to have dessert at lunch before. Even when the "Apple Blossom", a sort of apple pie/galette hybrid, and Grand Marnier Gelato was placed in front of me, I thought I'd have a taste to be able to report back on it later, then leave it there. One bite in, and I knew that dessert was a goner. The apple blossom had all of the homemade pie-y goodness you'd expect: warm, brown-sugary, cinnamon-y, apple richness wrapped in a flaky crust. I almost didn't even try the Grand Marnier Gelato. I'm not a huge Grand Marnier fan ( unless it's in a margarita... ), but then I realized that all around me, people were tasting this gelato and gasping at how amazing it was. I thought it was a show. I thought they were exaggerating.
They were not.
Y'all. This. Gelato.
It may be one of the Top 10 Sweets I Have Ever Consumed. This, from someone who doesn't love Grand Marnier, from someone who doesn't even really love sweets, and definitely is not an ice cream ( or gelato ) eater. I will be back for this gelato.
Oh, and I will be back for a drink on that patio from one of their two bars!
TL;DR:
A Hotel Restaurant and Bar that feels nothing like a hotel. Just as good as, or even better, than independent establishments downtown trying to pull off similar concepts. Currently the best rooftop bar in town.
Eat:
Do not leave the building without eating the Grand Marnier Gelato.
Drink:
Wine, or something from the Specialty Cocktail Bar.
Wear:
Spiffy Casual or Better. There will be tourists in this place who will have no clue how to dress in Charleston, but that doesn't mean you have to follow suit.
Locate:
55 Wentworth Street
Charleston, SC 29403
Park:
Metered Parking on Wentworth Street, Residential Parking on Wentworth Street, Wentworth Garage (our recommendation)
Contact: