"FINALLY a coffee house on Daniel Island."
That was my first thought when a coworker came into work with a cup of coffee that clearly was not from the breakroom, nor from the gas station down the street.  Then he opened the little white paper bag he also had with him, and took out something amazing for those of us who work out in the sticks of Clements Ferry ( aka The Forgotten Part of Daniel Island ): it was a bagel sandwich, and it looked like a good one.
See, for years, those of us working on the edge of Mt Pleasant have had to either secure breakfast at home, stop somewhere in Belle Hall or Park Circle, or just suffer, starving to death at our desks.  STARVING, I tell you!  Oh, unless you want Bojangles, which I don't.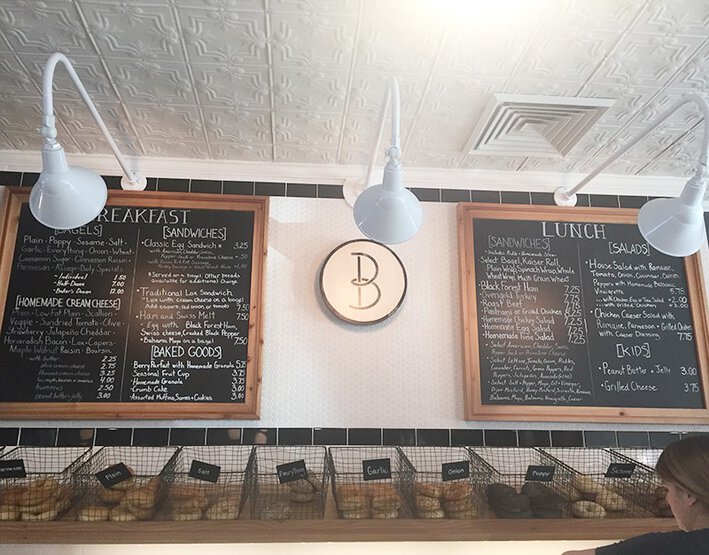 But now... now, there is Blondie's.  Hidden in a shopping center I'd never visited before venturing out for coffee last week, with a parking lot that would be better suited to a small one-person tax office than a bustling coffee shop, Blondie's is an unexpected shabby-chic industrial coffee shop and café with more than just breakfast, although I have yet to make it there for lunch.
For breakfast,  you can build your own bagel (my favorite is egg, swiss, and turkey sausage on a Garlic Bagel -- sorry, coworkers), and they also have a vast array of coffee drinks.  Everything is made to-order, and I must admit ... the wait time reflects that.  The last time I went, I waited well over 15 minutes for a bagel sandwich and a latte "To Go".  The bagel sandwiches are absolutely delicious, though, and if you have the time to wait, as I'm sure many of their yoga pants-clad clientele does, order a few things, cozy up on the large leather sofa, and enjoy a great breakfast.
I've ordered coffee from Blondie's a few times, and I've found that I enjoy the regular ol' joe more than their lattes and mixed coffee drinks, but I'm not much for sweet coffee.  If that's your thing, give it a try.  A friend of mine had their Salted Caramel Latte and swore it was ah-mazing.  Speaking of coffee, I love that they have almond milk, but I wish they had at least one other choice ( Soy? Coconut? ), too.
TL;DR:
Great coffee and delicious bagels.  It's of note that almond milk is the only non-dairy creamer/milk option.
Eat:
Egg, Swiss, Turkey Sausage on a Garlic Bagel
Drink:
Plain Coffee, or a mixed latte if you like flavored drinks
Wear:
Lululemon?
Locate:
245 Seven Farms Drive, Suite 130
Daniel Island, South Carolina 29492
Park:
Tiny shared parking lot off the main strip.  Parallel parking in front of the building.
Contact:
(843)377-8671