There's a new kid in town in a part of King Street I'd all but given up on.  Tucked under part of the new developments up by Spring Street ( also known as "near that place I get my hair done" ), there's a French inspired cocktail bar serving up delightful small plates, wines, and drinks.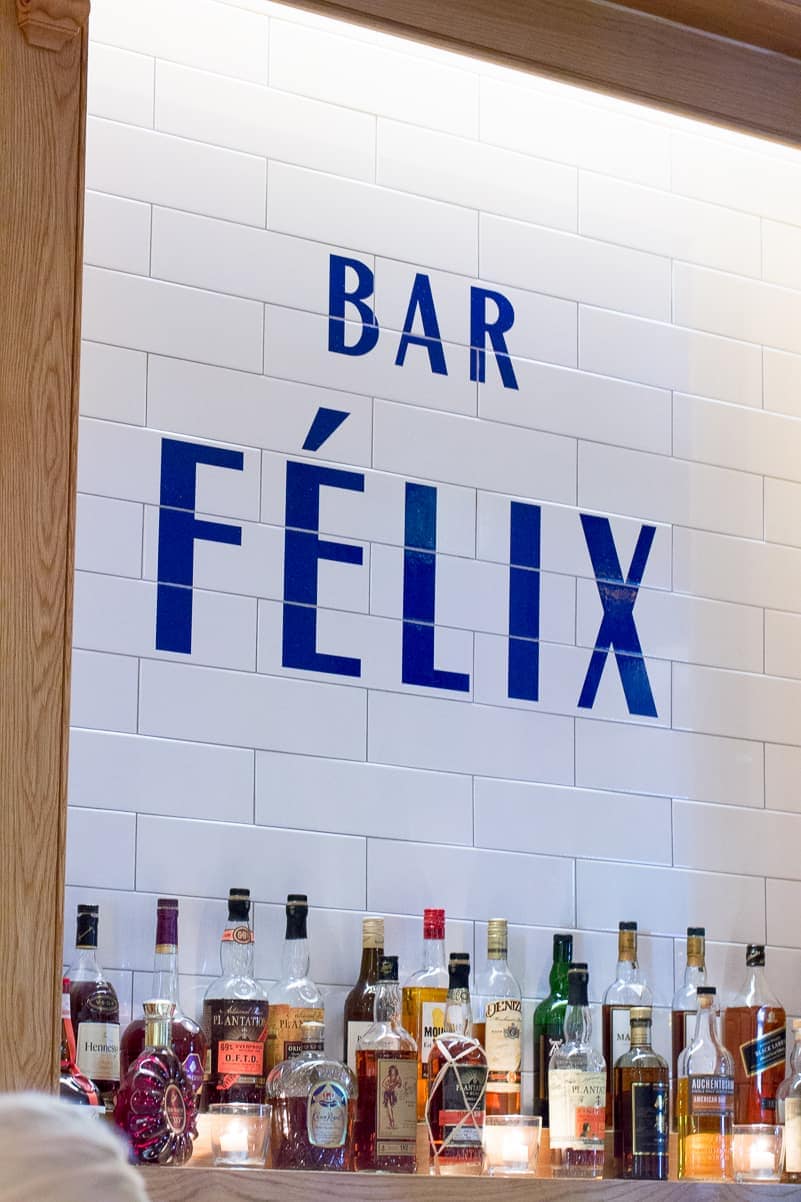 You guessed it: Bar Felix. Offering a robust wine list, full bar, and a killer cocktail list, as soon as they opened, I knew I'd have to drop by to check it out.
Oh, and did I mention the cocktails are only $10?! On King Street! Superb.
In fact, it's not only the cocktails that keep the price reasonable at Bar Felix, they've got a great assortment of wines by the glass for $10 and under as well, a rarity in downtown Charleston these days.
The small plates range from about $7 - $20 each, but they really are small, so keep that in mind when ordering.  At first I was a little surprised, but then I had to check myself - after all, the food section of the menu is literally called Small Plates.  They warned me.
And small though they may be, they are delightful.  The crab croquettes are full of real crab, more so than many so-called "crab cakes" I've had downtown.  At $10 for 3, it feels like a deal, given the quality of the dish and well, crabbiness of it all.  The crab croquettes are that perfect little snack to share with a friend while you enjoy your second adult beverage at Bar Felix.
In the sleeper category is the Tarte Flambée. Something that I expected to be like a mushroom and potato gratin but ended up being this crispy-crusted pizza-style dish that I absolutely fell in love with.
Bar Félix knows what they are doing: mushrooms and potatoes on a pizza-style crust, taken over the edge with the rich flavors of truffle, herbs, and goat cheese, and the light peppery crunch of just enough arugula to tell yourself you practically had a salad for dinner. Be still, my beating heart.
Bar Félix also has a few draft cocktail options ( also only $10 ).  I tried the St Félix on recommendation from a friend.  Frankly, I likely never would have tried it without that recommendation, as the ingredients ( which include Brandy, Rum, Peach, Champagne ) are often indicators of something much more sweet than I care to drink, but the St Félix is only lightly, perfectly appropriately, sweetened.  It has the appeal of a porch sipper, but the depth of something a little more intentionally crafted.  When the weather is warm, I can't wait to dip into Bar Félix to sip on this cocktail and watch all the tourists stroll by on King Street.
TL;DR:
The perfect place to start your evening with a snack and a few cocktails. The ambiance is modern romantic, but still appropriate for drinks with friends or coworkers.
Eat:
Crab Croquettes, Tarte Flambée
Drink:
Alpine Piste if you're a bourbon drinker, St. Félix if you're not, or a selection from the wine list.
Wear:
Casual
Locate:
550 King St Suite #100
Charleston, SC 29403
Park:
Street parking on King Street or surrounding streets, or the Garage next to the hotel by the restaurant.
Contact:
(843)203-6297
Website