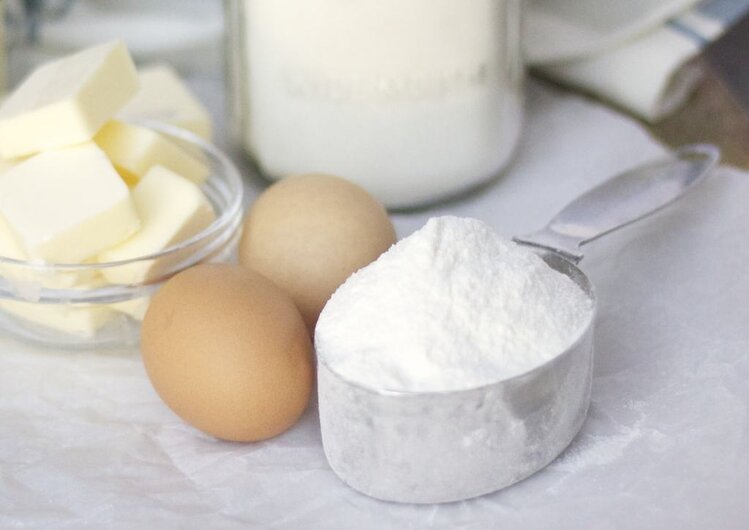 I'm not often one for shortcuts, but this post is about a major one: Cake Mix. I love baking, but honestly, I hate making cakes and cupcakes from scratch. I also hate using those boxed cake mixes! I feel like you can never really be sure what exactly is in them in plain English, and since I don't know exactly what Polyglycerol Esters Of Fatty Acids is (are?), I'll leave it out of my baking, thankyouverymuch.
But this brings us back to the original issue -- I just don't like making cakes from scratch. So you're thinking, "Awesome. Cake Mix. Why bother? Making cakes from scratch is easy". Sure it is, but this is more than just a short cut. This isn't just any cake mix; it makes the perfect cake or cupcake. Like a bakery, or dare I say ... better. Plus, it's great to use in all those recipes that call for a boxed cake mix, except you'll know exactly what's in it.
I'll also take this opportunity to toot my own horn and tell y'all that this is the mix that I used to make some Bourbon and Candied Bacon Vanilla Cupcakes about a month ago that won best overall in a cupcake competition. So maybe the award was in an office competition, but that's a minor detail. The competition was stiff!
YELLOW CAKE MIX
2 ½ cups all purpose flour
2 ¼ cups sugar
⅓ cup instant dry milk
2 teaspoons baking powder
1 teaspoon salt
Whisk all ingredients together. Store for up to three months in a mason jar or sealed baggie.
To Prepare:
In any recipe requiring cake mix, 2 cups mix replaces 1 box of cake mix
CLASSIC YELLOW CAKE
2 cups cake mix
1 stick melted butter
3 large eggs
½ cup water
1 teaspoon vanilla ( I always use Nielsen Massey Madagascar Bourbon Vanilla Paste. It's vanilla bean scraped into their already amazing vanilla extract. And no, I wasn't paid to say that. It's just really really amazing stuff.)
Fold all ingredients together, then beat on medium for two minutes.
Bake at 350.
For 2 round cake pans: 15 minutes.
For (24) standard sized cupcakes : 18 minutes.