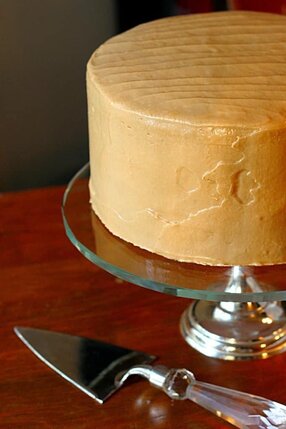 Like everyone else in the country, I recently read The Help by Kathryn Stockett. The plot can be found anywhere on the internet, and if you're really lazy you can just watch the movie
, so I'll spare you the details, but after reading it, I was left with thoughts of a very particular classic Southern food that comes up repeatedly in the book: the Caramel Cake.
My childhood was not filled with what some would have you believe are the typical Southern Sunday Suppers of macaroni and cheese and fried chicken, but the Caramel Cake does have a special place in my heart. Beloved by both my grandfathers, this cake was often present at family gatherings, bought at a local French bakery, but distinctly perfectly Southern all the same.
It was out of character for both of my grandmothers, each fabulous cooks in their own right, to purchase a premade good to serve the family, but after making several myself, I can understand why the stress and slight danger of making a caramel cake was best left to the professionals when grandchildren were running around and copious other dishes needed tending. Particularly when the professionals did such an authentic job.

Still, I have a rule for myself: premade goods and shortcuts are fine, as long as I know that I can do it the old-fashioned way. Plus, I no longer live in my hometown of Atlanta, and could not purchase the famed Caramel Cake, even if I wanted to. Not for the faint-of-baking heart, the secret to this cake is the make-you-die-early (a.k.a omg-this-is-delicious) Southern trifecta: butter, sugar, cream. I am usually not a recipe hound, but this one must be precisely followed in order to yield the desired result. You cannot rush the frosting on this cake. REPEAT: You Cannot Rush This Frosting! The frosting is why this cake takes two days to make, but it is also what makes it so very, very special. You are essentially making a classic caramel sauce, and then whipping the dickens out of it.
Try the recipe, love the cake, and don't come crying to me if it doesn't turn out because you didn't follow instructions.
If you came for the pictures, and decided it's more than you'd like to bother with even though you'd still love to try an authentic Caramel Cake, I HIGHLY recommend ordering a cake from Caroline's Cakes. You can order here. This is not an affiliate link ( read: I don't get any kickback from you ordering there ), her cakes are just truly fantastic and I get that not everyone wants to spend two days of their life making a cake!!!
Southern Caramel Cake
An old fashioned Southern Caramel Cake with deliciously sweet and rich caramel frosting.
Print
Pin
Rate
Ingredients
Caramel Frosting:
2

pounds

light brown sugar

2

cups

heavy whipping cream

1

teaspoon

baking soda

1

cup

butter

sliced into 1 tablespoon pats
Cake:
1

cup

butter

softened

2

cups

granulated sugar

3 ⅓

cups

self-rising flour

5

eggs

1  

cup

whole milk

1

teaspoon

vanilla extract

Preheat the oven to 350°.
Equipment
9" cake pans

Heavy Duty Stand Mixer
Instructions
Preheat the oven to 350°.
For the caramel frosting
Find the heaviest saucepan you have that is at least 6 quarts.  I like to use the bottom part of my pressure cooker.  Stir together the sugar and cream in the cold pan, turn the heat to medium, and bring to a rolling boil ( see picture on the far left from the below photos; there will be lots of bubbles and a sort of lighter foam to go along with them).  Do not stir once the boil has begun.

Boil exactly one minute.  Add baking soda and boil for exactly one more minute. Be careful: the mixture will foam up as in the picture on the right.

Remove from the heat and add the butter, but Do Not stir the butter as it melts.

Once the butter has completely melted, stir the mixture just enough to combine the melted butter, and let it cool to room temperature.  Next, cover the pan and place it in the refrigerator.  Let it sit overnight.

A small note here: it will be ugly.  It will look nothing like the final pictures.  You will be worried.  Trust me, it's going to be okay.

After the frosting has thoroughly chilled in the refrigerator, beat it using the whisk attachment (if you have one) on your blender.  This can take anywhere from 10 to 20 minutes.  If after this time your caramel still hasn't whipped into a thick frosting, chill it for another hour and beat it again.
For the cake
Grease and flour three 9" cake pans.  If you've never done this before, it's easy.  Rub the inside of the pan with butter.  Throw a handful of flour in the pan, and shake the pan around like you're panning for gold, making sure to turn it on its side in order to get the edges and nooks and crannies of the pan.

Beat the butter until it becomes fluffy.  Gradually add the sugar, beating until completely combined. Add the eggs, one at a time, making sure each egg is thoroughly mixed in before adding the next.

Mix in ⅔ cup of flour, followed by ¼ cup of milk, repeating until all flour and milk have been added.

Beat in the vanilla extract.

Pour the batter into the three pans, and bake for 25 minutes (or until a toothpick inserted into the center of the pan comes out clean).

Once the cakes have cooled, place the first layer of your cake on a cake stand or plate, and line the edges of the stand with parchment paper.  This will let you go crazy with frosting without ruining your clean stand.