All of the delicious spice and sweetness from the classic sweet potato casserole, turned into an easy Thanksgiving sweet potato appetizer. Your guests ( and even your sweet-potato-hating husband, or mabyethatsjustme ) will love my Sweet Potato Casserole Bites.
I've always had a love affair with sweet potatoes, and I've always been convinced that they are nature's perfect snack.  Growing up, I remember my mother leaving cooked sweet potatoes wrapped up on top of the oven, and I'd grab one passing through the kitchen, peel it like a banana, and walk around the house eating it plain.
Sweet potatoes are perfect.
Sweet potatoes need nothing else.
But you may remember from my last post ( Chocolate White Russians, y'all! ), that I strongly feel that it's 100% okay to gild the lily every once and a while.  Or like, a lot.  Whatever feels right to you.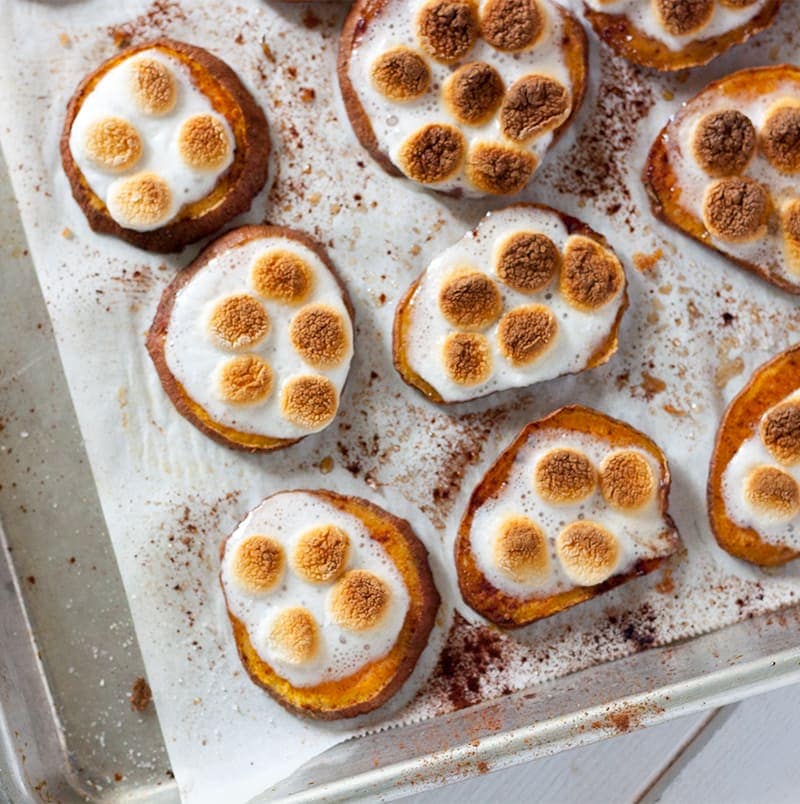 What I love about these little sweet potato casserole bites is that they don't go too crazy with a bunch of "stuff".  Just a little bit of spice, and a few mini marshmallows perched atop a roasted, hearty sweet potato round, make this appetizer super easy, and just sweet enough so that even the most fervent sweet potato hater will be tempted to try them... and then try four more.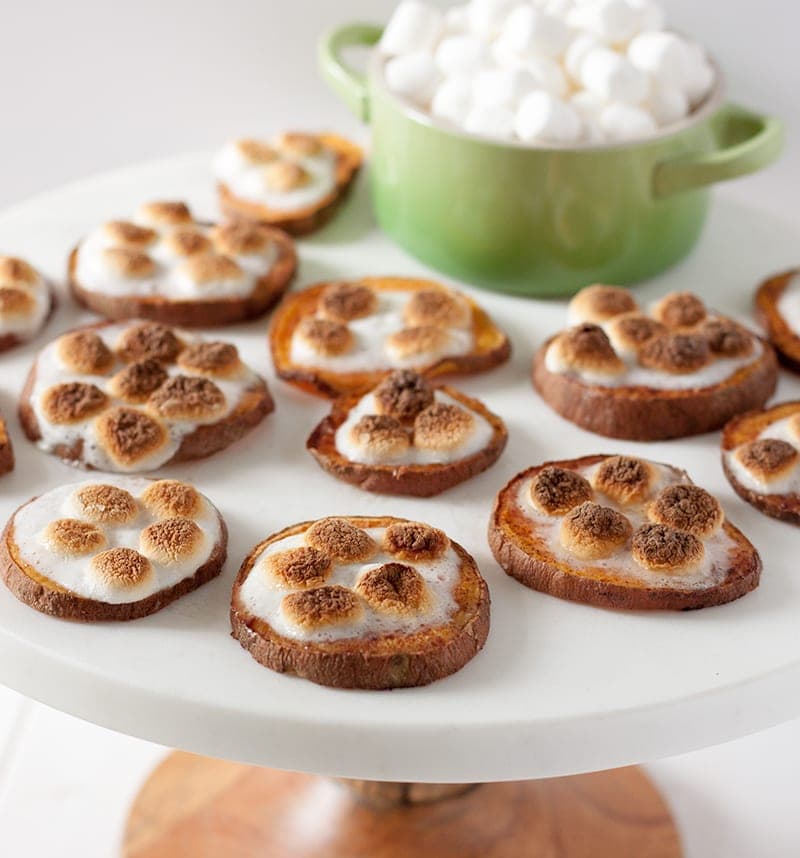 I know a ton of people add nuts to their sweet potato casserole, but I'm just not a huge fan of pecans ( the classic choice ), so I decided to go without.  Of course, if pecans are your jam, you can absolutely top each of these with one for a bit of crunch.
Ingredients
1 ½

lbs

sweet potatoes

scrubbed but not peeled, and sliced ⅓" thick

2

teaspoons

brown sugar

¼

teaspoon

cinnamon

70

approximately mini marshmallows

pinch

of salt

cooking spray

don't get all judge-y, there are a TON of great natural and organic options for this stuff
Instructions
Preheat oven to 425 degrees F.

Line baking sheet with parchment. Place sweet potato slices on the sheet.

Sprinkle the sweet potato slices with a pinch of salt, ¼ teaspoon cinnamon, and 2 teaspoons brown sugar. Spray the slices with cooking oil.

Bake at 425 for 15 minutes.

Top each slice with 2 - 3 mini marshmallows.

Broil 1 ½ minutes, or until marshmallows are toasted.