Everyone needs a few meals in their arsenal that are 2-for-1-ers, and this spinach stuffed shells recipe is one of mine.
What's a 2-for-1-er, you ask?  It's a meal that you make once, and eat twice, preferably the second time is weeks later, so it doesn't feel like "leftovers".    Really, I make this meal once and eat it like 5 times, because even after splitting it between two dishes, I still get some lunch leftovers from it, too.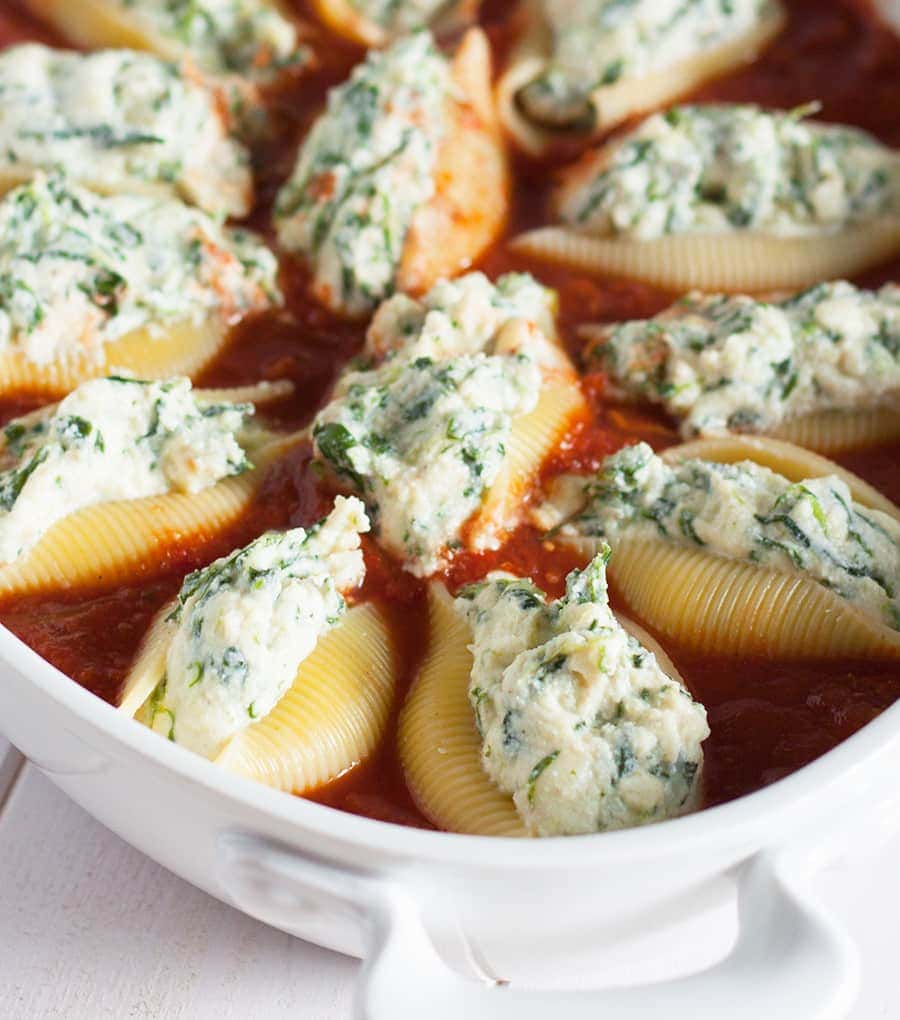 The funny thing about this recipe is that I always make it with the sausage mixed into the stuffing, but this time I completely forgot to add the sausage until I'd already made the spinach stuffed shells, and you know what??? I actually liked it BETTER that way, so I decided to stick with it.
Also, I tszuj it up when I'm feeling fancy with some chopped mushrooms and a cup of wine added to the sauce, but you can totally use your favorite jarred sauce and I won't tell anyone, I promise.  You can also leave the sausage out entirely and make this a vegetarian meal and it's STILL delicious!  The versatility of these spinach stuffed shells are just one more thing that makes them a staple in our house.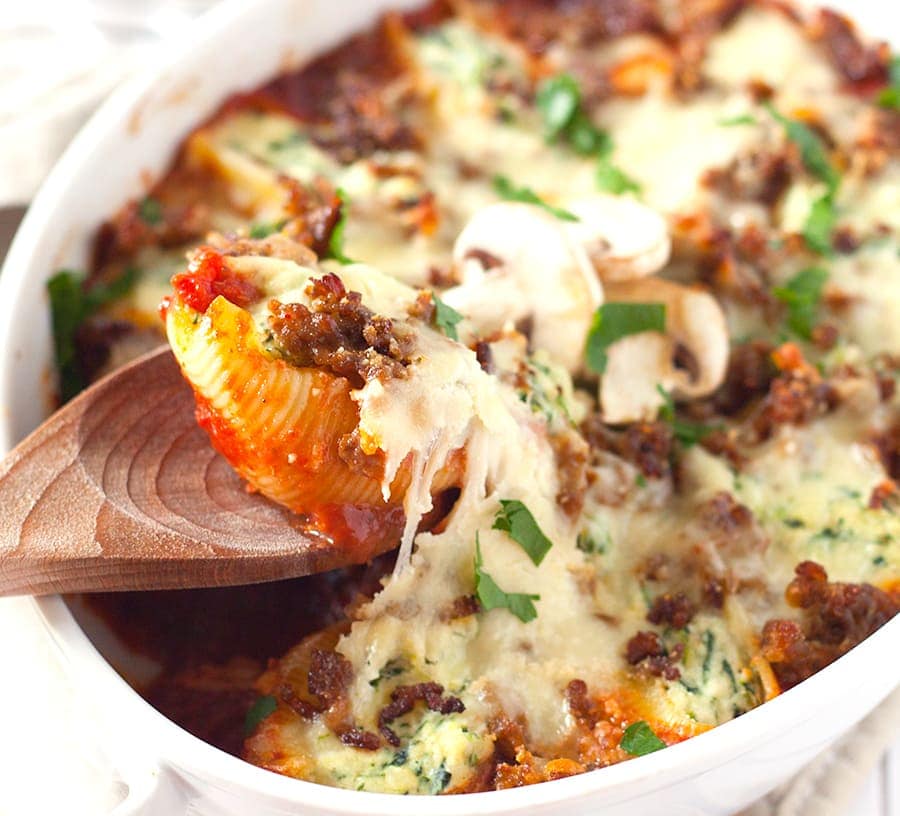 Spinach Stuffed Shells with Sausage
Spinach Stuffed Shells, topped with Sausage and an abundance of decadent mozzarella cheese. Freezes beautifully.
Print
Pin
Rate
Ingredients
1 ½

tablespoons

minced garlic

10

ounces

frozen chopped spinach

an ounce or two under or over won't kill you, feel free to substitute fresh, chopped spinach

¼

cup

fresh parsley

chopped

6

leaves

fresh basil

shredded

3

cups

ricotta

2

eggs

½

cup

parmesan

1

teaspoon

salt

½

teaspoon

pepper

1 ½

cups

shredded mozzarella

32

ounces

of your favorite red pasta sauce

16

ounces

loose

bulk Italian Sausage ( optional )

1

gallon

freezer zip-top baggie for filling the shells

optional, but makes life easier

16

ounce

jumbo pasta shells
Instructions
Preheat oven to 350 degrees fahrenheit.

Bring a large pot of water to a boil. Cook the shells in the water for approximately half of the listed cooking time on the package ( around 6 minutes for the shells I used ).

Cook the spinach according to package directions. Let cool, squeeze the water out.

Mix the garlic, spinach, parsley, basil, ricotta, eggs, half of the parmesan, all of the salt and pepper in a large bowl until well combined.

If you'd like to include the sausage ( SO GOOD! But usually only added as a special treat in my house ), brown it in a pan over medium high heat for 4 - 6 minutes, crumbling it up with a cooking utensil in the pan as it cooks.

Prepare one 8x11 pan and one 9x9 pan ( or a second 8x11 -- I don't have two so I have to cram into my 9x9 ) by pouring the tomato sauce into the bottom of each pan.

Put the filling into the freezer bag, cut 1" off of the corner to make a piping bag. Pipe each shell almost full with filling. Place each filled shell into one of the pans.

Split the remaining cheeses ( mozzarella and parmesan ) between the two dishes -- covering the shells in both dishes with cheese.

Bake for 25 minutes to eat tonight. Freezing directions in "Notes".
Notes
I use my mushroom marinara for this recipe to make it a little extra special. I'll get the exact recipe up one of these days, but you can fake it in the meantime by adding 8 ounces of chopped then sauteed mushrooms to your favorite red sauce, plus 1 cup of red wine, and then simmer until the red wine cooks down into the sauce.
TO FREEZE: Complete all directions except for the very last step ( the baking ). Instead of baking the dish, wrap it several times in foil, and then one last time with plastic wrap and place in the freezer. When you're ready to bake, remove the plastic and all but one layer of foil, and toss it in the oven at 350 F for 55 minutes, or until heated through, brown, and bubbly.