This recipe for the perfect Southern Style Baked Macaroni and Cheese has been in the works for a while. I am a huge fan of a Classic Mac and Cheese, so I really put a ton of time and effort in making sure I got it RIGHT, and I am really convinced this is the BEST macaroni and cheese recipe out there.
For years I've been trying to figure out that exact combination of those basic macaroni and cheese ingredients to make a baked macaroni and cheese recipe that came out creamy enough for me, but still in that Southern Macaroni Pie Style for my classic-loving husband who always wants it from the local soul food restaurants.
People: I have done it.
Creamy but not saturated like a pan mac and cheese, this recipe is, in my humble opinion, the perfect macaroni and cheese.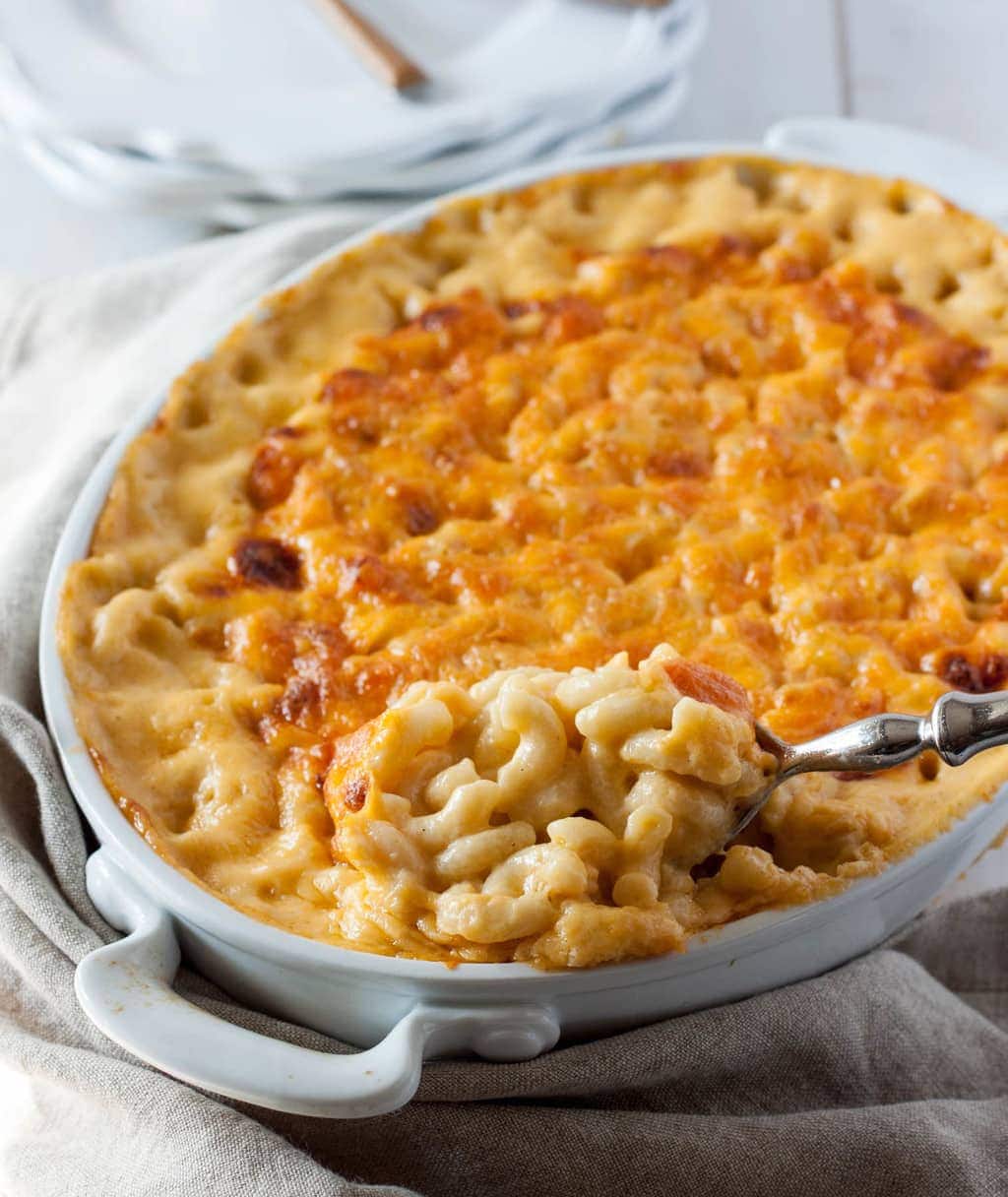 You can change the cheeses, you can change the milk. You will, I know you will.
And that's okay.
But I cannot be held responsible for how it turns out unless you use my exact recipe. More extra sharp cheese, or substituting any lower fat cheddar, regular gruyere, etc will make the sauce gritty.
Using all Medium or Mild Cheddar will make it more gooey and bland. Substitute gouda or fontina and you'll get more of a pan-style sauce.
You've been warned ( but if that's what you are looking for, go for it! )
Update: Okay, people. As predicted, I've gotten a lot of questions about this recipe. Let's take a minute to answer some so you don't have to comb through the comments if you have a similar question about how to make this an easy mac and cheese recipe!
FAQ for Southern Baked Mac and Cheese:
Let's keep it short and sweet, shall we?
What is the best cheese combination for macaroni and cheese?
People. It's what I put in the recipe: Medium Cheddar plus Extra Sharp Cheddar. That's why I chose those cheeses, and that's why ( IMHO ) this is the PERFECT Mac and Cheese recipe!
Can I substitute all Extra Sharp Cheddar, Muenster, Brie, Aged Cheddar, an old shoe I found behind the QuickMart?
Sure. But like I said above - the cheese changes more than just the flavor. It changes the TEXTURE! And I strongly feel the cheeses I've listed in the recipe create the perfect balance of sharpness AND texture.
But you do you, boo! ( and if you LOVE the combo you found, share it with me! )
Can I freeze mac and cheese?
You sure can - but be aware: dairy and the freezer don't always love each other, and frozen mac and cheese that's been reheated is never going to be good as the fresh version.
If you'd like to freeze it, I recommend assembling the entire recipe, baking it at 425 F for just long enough to get a little browning on top, letting it cool completely, then wrapping it and freezing.
What to eat with mac and cheese?
If you want to go full-on comfort food, my Crispy Oven-Baked Chicken is a great route for a protein to go with mac and cheese. If you want to shake things up a bit, Honey Rosemary Pork Chops are easy and a little lighter.
With either protein, I love a fresh salad to balance out all that cheese!
what are some other amazing holiday side dishes?
Creamy Baked Macaroni and Cheese
A baked mac and cheese recipe that is rich and creamy, but can be made ahead of time and thrown in the oven when guests arrive.
Print
Pin
Rate
Ingredients
16

ounces

macaroni

⅓

cup

butter

⅓

cup

flour

½

tsp

white pepper

½

tsp

salt

⅛

tsp

cayenne pepper

3 ½

cups

2% milk

8

ounces

medium cheddar cheese

shredded

8

ounces

extra sharp cheddar cheese

shredded
Instructions
Preheat the oven to 375 degrees F.

Bring a large pot of salted water to a boil. Add the macaroni, cook for 8 - 9 minutes. Strain and set aside.

In a heavy-bottomed large pot over medium heat, melt the butter.

Sprinkle the flour, white pepper, salt, and cayenne pepper over the melted butter, whisking until smooth and the mixture has thickened slightly.

Stir in the milk ½ cup at a time ( feel free to eyeball it ), only adding the next half cup once the previous one has been incorporated entirely.

Add all of the medium cheddar cheese and half of the extra sharp cheddar cheese, stir into the milk/flour sauce until melted. Stir in the macaroni.

Pour into a 3 quart baking dish. Top with the remaining extra sharp cheddar cheese.

Bake at 375 F for 30 minutes.
Nutrition Facts
Creamy Baked Macaroni and Cheese
Amount Per Serving
Calories 538
* Percent Daily Values are based on a 2000 calorie diet.