Struggling to make tender, juicy pork chops? Try making sous vide pork chops and I guarantee you'll never eat a dry, leathery pork piece again.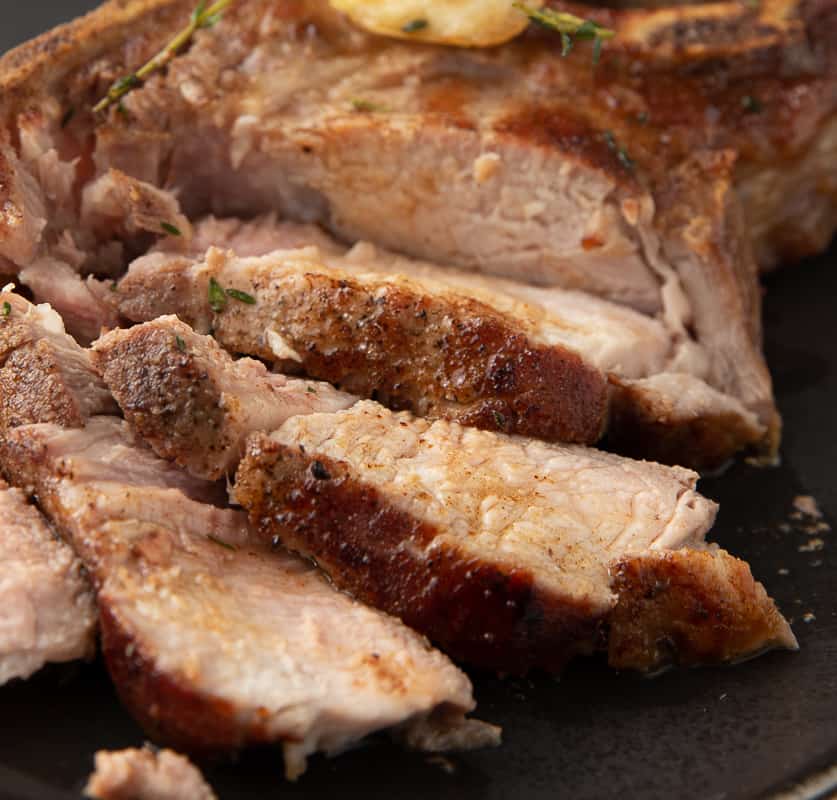 Sous Vide Pork Chop Recipe
Whether you're looking to sous vide bone in pork chops or sous vide boneless pork chops, this post covers it all. That's one of the great things about sous vide! Once you've determined the proper temperature at which to set your immersion circulator (don't worry, I've got a sous vide pork temperature chart for you in this post), then you can pretty much throw in whatever style pork chop you want, set it, and forget it.
At least for a few hours.
How to Sous Vide Pork Chops
For how different cuts of chops can be, the method to cook them sous vide and get the best results is shockingly all the same.
Start with a dry pork chop (or chops) - I usually pat mine down with a paper towel because it weirds me out having raw pork touch my kitchen towels
Season pork chops with herbs and pepper ( but not salt, yet )
Vacuum seal the meat ( or use the water displacement method and a zip top plastic bag or sous vide bag)
Cook the sealed meat in the sous vide at 140 F (medium temp) for at least 1 hour and no more than 4 hours.
Remove the meat from the water bath, pat it dry, and sear it on both sides in a screaming hot skillet
sous vide pork chops temp chart
As mentioned about, when working with the sous vide, the temperature is the most important part of getting a perfectly cooked meat. This chart indicates the temperature at which you should set your sous vide when cooking pork and works no matter how thick or thin your chops are, and applies to both boneless and bone-in chops.
NOTE: The FDA recommends cooking pork to 160 F. The USDA recommends cooking it to 145 F. Do your research and determine what temperature is right for you. The temperatures in these charts will NOT be the final temperature of the meat, as you will sear it after the sous vide cooking process, which will raise the internal temperature slightly.
| | |
| --- | --- |
| Medium Rare - warm, dark pink center | 130 F |
| Medium - warm, light pink center | 140 F |
| Medium Well - nearly white center | 150 F |
| Well Done - white center | 160 F |
This chart indicates the temperature to set the sous vide at for pork chops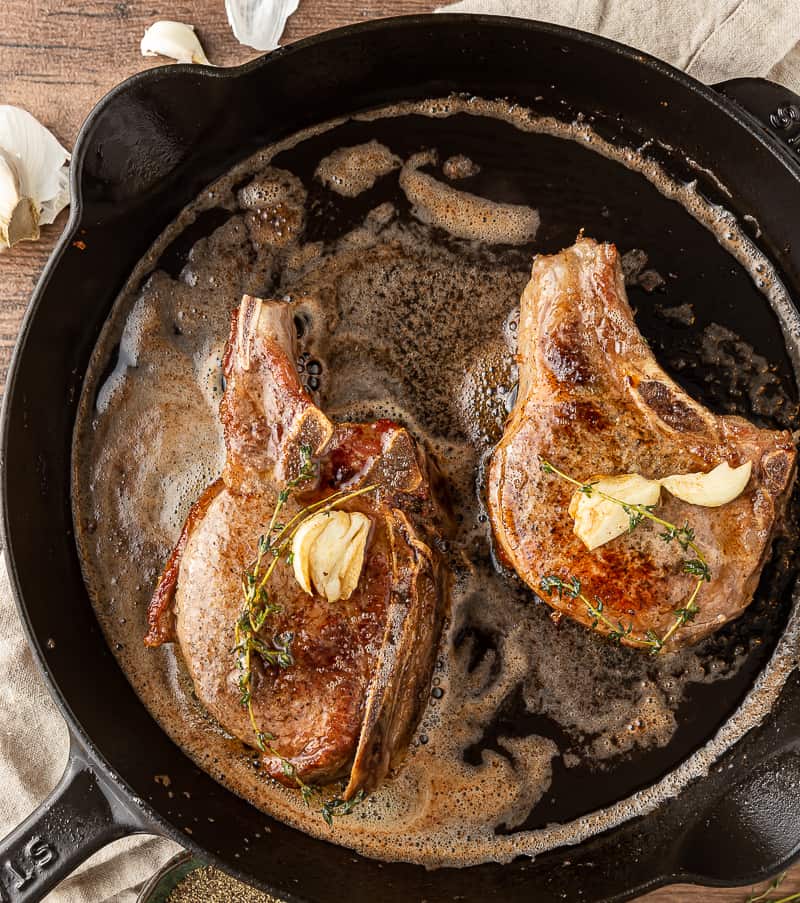 How long to sous vide pork chops
Compared to temperature, cooking time isn't nearly as much of a concern with the gentle sous vide cooking process.
Fresh chops bone-in or boneless pork chops should cook for at least 1 hour, and up to 4 hours.
To sous vide frozen pork chops ( bone in or boneless ), cook for at least 2 hours but no more than 5 hours.
The minimum time is when the pork chops will be ready. The maximum time is the longest you'll want to leave them in the sous vide - otherwise the texture will start to change and can become mushy and generally undesirable.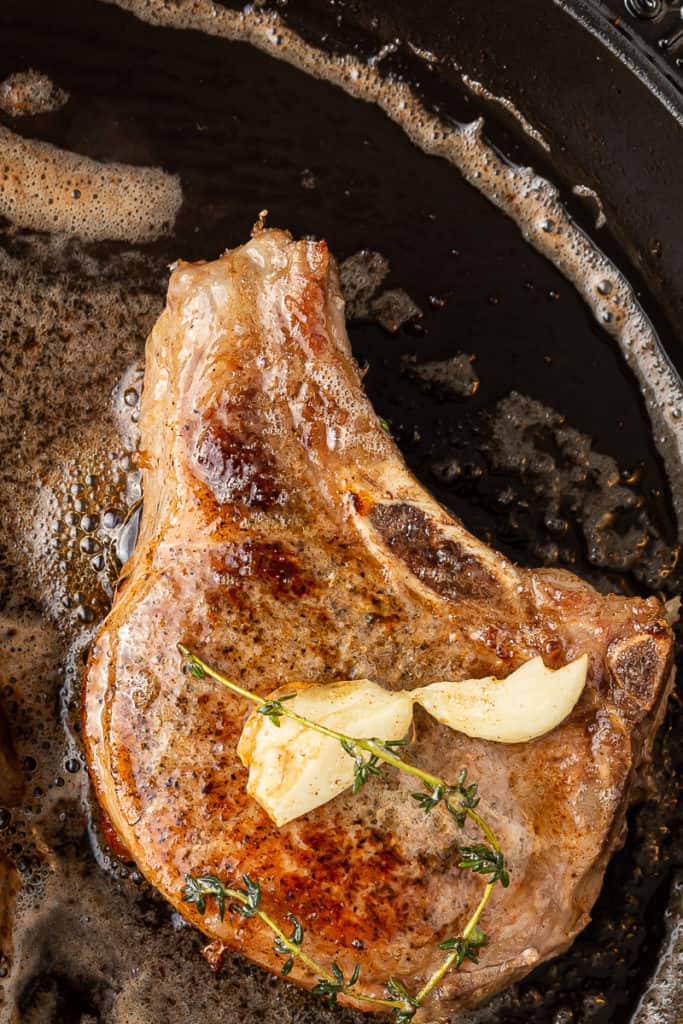 If you liked learning how to sous vide pork chops, you might also like these recipes:
Sous Vide Pork Chops
How to sous vide pork chops: bone in, boneless, fresh, frozen, thin, thick, and what time and temperatures you'll need.
Print
Pin
Rate
Ingredients
4

Pork Chops

1"-1.25" thick if boneless, 1.25" - 1.5" thick if bone-in

½

teaspoon

ground black pepper

4

cloves

garlic

4

stems fresh thyme

½

teaspoon

salt

high heat oil

I use grapeseed. I do NOT recommend olive oil for this recipe.
Equipment
Sous Vide

Sous Vide Container

Vacuum Sealer Bags

Vacuum Sealer (optional)
Instructions
Attach your sous vide machine securely to the container. Fill container with water based on your specific machine. I have an Anova Nano, and it has a fill line on the side. Set the sous vide to 140 F for medium pork chops. For a different temperature of chops, please see the chat in the post above. WARNING: The FDA recommends cooking pork to 145 F. Setting the sous vide to 140 F and then searing the meat after will bring it up to that temp.

Pat the pork chops dry. Season with pepper. Smash each clove of garlic and place it and one piece of thyme on top of each pork chop. Place the pork chops in a vacuum sealer bag and remove all the air using either a vacuum sealer or the water displacement method.

Place the sealed bag of pork chops into the 140 F water bath. Cook for at least 1 hour, but no more than 4 hours. If you are using a different temperature, the cook time remains the same.

Remove the chops from the sous vide. Prepare a heavy skillet with just enough high heat oil to coat the bottom of the pan. Set the skillet over high heat. Once the oil starts to shimmer, pat the pork chops dry and add them to the pan. Cook for 2 minutes without moving the chops. Flip and cook for two more minutes, or until there's a brown crust on each side.