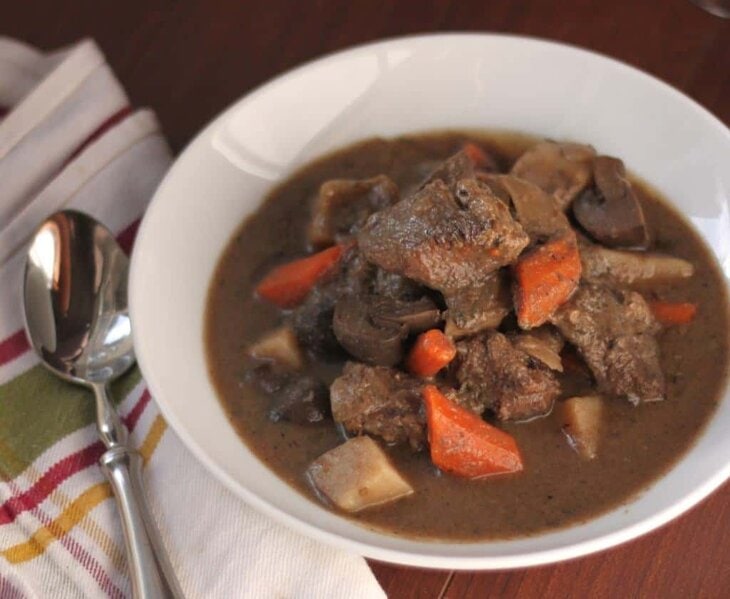 I really, really want to love my slow cooker.  Who am I kidding -- my three slow cookers.  It seems like such a miraculous appliance: plug it in, throw in a slew of ingredients straight from the fridge ( or even the freezer ), turn it on low, and come home 9 hours later to an amazing, warm home-cooked meal.  But does it ever turn out like that?  Not in my experience.  Most slow cooker meals seem to have that ... welllllll ... slow cooker taste to them.  A little mushy, a little bland, a bit watery, and a whole lot of leftovers. Who wouldn't want seven quarts of that?!
The recipes people make for the poor slow cooker really don't help, either:  My personal favorite is the "beef tips" recipe that calls for cubed meat, 1 gravy mix packet, 1 onion soup mix, 1 can cream of mushroom soup, and a cup of ginger ale.  Does that even count as cooking? Is it... is it even food? Reviewers of that recipe say things like "Use Diet Ginger Ale to save calories!".  Nothing says "Delicious!" like a bunch of processed ingredients simmered in aspartame.
So after sludging through endless recipes on the internet, I decided to do what I would do with any other type of food I wanted to make, and wing it based on my own experience.  I'm no slow cooker expert, but I love my dutch oven, and the two really aren't so different.  So I started to think -- if I were to make a recipe for my dutch oven that were super simple to throw together and needed no intervention while cooking, what would I make?
Well, I'd make a stew.  That crock pot classic:  beef stew, in fact.  The number one offender of watery "gravy", mushy vegetables, and generic bland flavor.
But mine would not be allowed to taste like the classic.  It would need the varied textures that composed dishes contain.  It would have to taste every bit as flavorful as something carefully constructed in my dutch oven.  It would have to be company-worthy.  Yes, company-worthy.
And do you know what? I succeeded.  This beef stew is rich, with a luxuriously smooth sauce and vegetables that still have just the right amount of bite to them. I would never have guessed this came from the crock pot, had I not ladled it out myself.  So break out your crock pot, go to work, and come home to a fabulous gourmet meal.

Company-Worthy Slow Cooker Beef Stew
A rich, thick-sauced beef stew good enough to serve to dinner guests!
Print
Pin
Rate
Ingredients
2 ½ - 3

lb

beef chuck roast

cut into 1" chunks, fat trimmed off.

8

ounces

mushrooms

quartered

8

carrots

peeled and roughly cut ( approx ¾" pieces )

1

stalk celery

sliced

2

medium potatoes

peeled and roughly chopped ( approx ¾" pieces )

2

small onions

roughly chopped ( approx ¾" pieces )

1

Tablespoon

black pepper

1

Tablespoon

parsley

1

Tablespoon

dried rosemary

3

cloves

garlic

finely diced

½

cup

red wine

4

cups

beef broth

1

cup

flour

1

Tablespoon

salt

1

Tablespoon

dried thyme

2

Tablespoons

olive oil
Instructions
In a large bowl, combine the flour,salt, and thyme. Toss the beef chunks in the flour to thoroughly coat the beef.

Add the olive oil to a large pan set over medium heat, and brown the beef in batches. As each batch is finished browning, throw it in the slow cooker. Once the last batch has been browned and moved to the slow cooker, sprinkle the remaining flour mix on top of all the meat.

Add 2 cups of the beef broth to the pan you browned the meat in, and use a spatula to scrape up any bits and pieces left after the browning, and mix it into the beef broth. ( This is called deglazing the pan. )

Layer all of the remaining ingredients in the slow cooker, in the following order: meat (should already be on the bottom), potatoes, carrots, onions, celery, mushrooms, spices, and pour the liquids over the top last.

Cover and cook on high 6 hours. For the last hour of cooking, leave the heat on high high and take the lid off the crock pot.