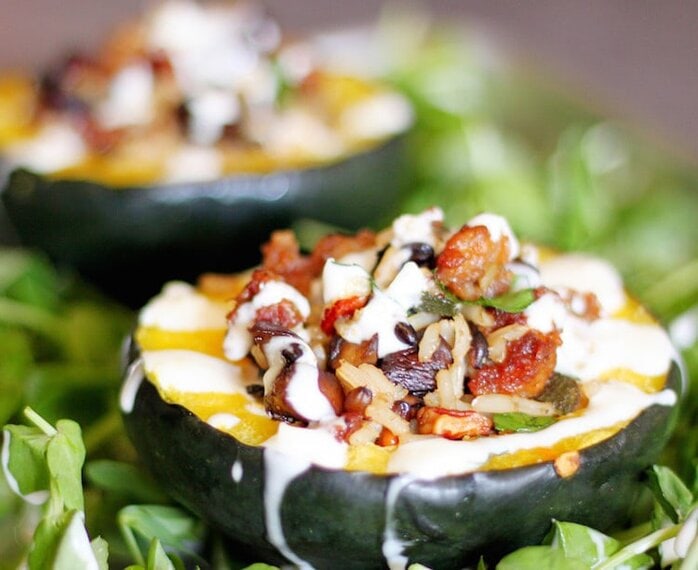 For well over a week, everything in Charleston has been soaked.  Before the flooding that made national news even took place, many of the streets on my daily commute were already completely underwater.
So on Saturday morning, when I got out of bed and stepped directly into a four inch lake spanning my entire first floor, I was horrified but not too surprised.  Luckily, we called some professionals immediately.  Not-so-luckily, apparently so did everyone else.  For the first few days, until they could get out to help us, we pumped the water out ourselves.  A week later the professionals have taken over, and our first floor is mostly gutted, but also mostly dry. We have moved upstairs to live entirely on the second story of our home.  It's the first time I've ever been grateful for the weird 1960's split-foyer design of our house and our second-story kitchen. Needless to say, after this week I was ready for some warm, Fall Comfort Food.
Oh yeah, and I wasn't in the mood to get real fussy about it.
Not wanting to go to the store, I began the all-too-common Fridge Forage. We all do it -- you stick your head in the fridge looking for that single ray of inspirational light to shine down on your next meal.  See nothing. Close Fridge.  Repeat.
Then it hit me -- the acorn squash I bought last week because it's Fall and in Fall, We Eat Acorn Squash.  It was the perfect base for an easy meal!  I could have cut it in half and baked it with some butter, honey, nutmeg, and cinnamon,  but I was really in the mood for something more savory.  So I grabbed some sausage and my favorite brown rice medley, and put them with some of my favorite Fall flavors: earthy mushroom, warm sage, and toasty pecan, plus all the grainy, crunchy goodness of a whole grain.  I highly recommend you use a rice blend with lots of whole grain crunchies mixed in with your rice, like wheat berries, barley, and my favorite, Daikon Radish Seeds.  I topped it all off with a bright, garlic-y lemon sauce for a balance but also a little extra decadence.  A drizzle on the top is just enough, but you'll get no judgment from me if you drown this dish in it instead.
Bonus: this dish is served in its own bowl!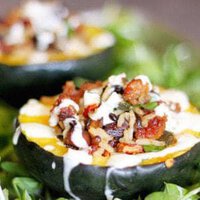 Ingredients
1

Acorn Squash

1

Tablespoon

Olive Oil

1

link of Pork Sausage

2

Tablespoons

Pecans

roughly chopped

¼

cup

Mushrooms

roughly chopped

2

Tablespoons

Fresh Parsley

chopped

2

Tablespoons

Fresh Sage

chopped

¼

cup

Brown or Wild Rice

I used Trader Joe's Brown Rice Medley

1 ¼

cup

Chicken Broth

1

Tablespoon

Lemon Juice

3

Tablespoons

Mayonnaise

1

teaspoon

Garlic

approx ½ large clove, minced

Salt

Pepper
Instructions
Preheat oven to 350 degrees.

Make Lemon Garlic Sauce: Mix mayonnaise, garlic, lemon juice, and a pinch of salt. Refrigerate while making the squash and stuffing.

Cook the rice as directed on the package, substituting the water for chicken broth. If you use the same rice as I do ( Trader Joe's Wild Rice Medley ), that will be 35 minutes.

Cut the acorn squash in half from stem to bottom, and remove all seeds and weird stringy stuff inside. Pierce the flesh with a fork four or five times for each half of squash.

Cook the squash, cut sides down, on a foil-lined or greased baking sheet for 20 minutes.

Remove the pork from its casing, and put in a medium sized pan with the olive oil over medium heat, breaking into crumbles as it cooks.

When the sausage has started to brown ( but is not necessarily completely cooked through ), add the chopped mushrooms and pecans, and cook over medium heat, stirring occasionally, until both the mushrooms and the sausage are cooked. Turn off the heat.

Add the cooked rice and fresh herbs to the pan with the mushrooms, nuts, and sausage, and stir to combine. Season with salt and pepper, to taste.

Fill each half of acorn squash with a mound of the rice mixture, and place on a baking sheet.

Bake at 350 for 20 minutes.

Remove from the oven, and drizzle with the Lemon Garlic Sauce.