Let's all pretend bathing suit season isn't right around the corner, and indulge in some Salted Nutella Brownies this weekend.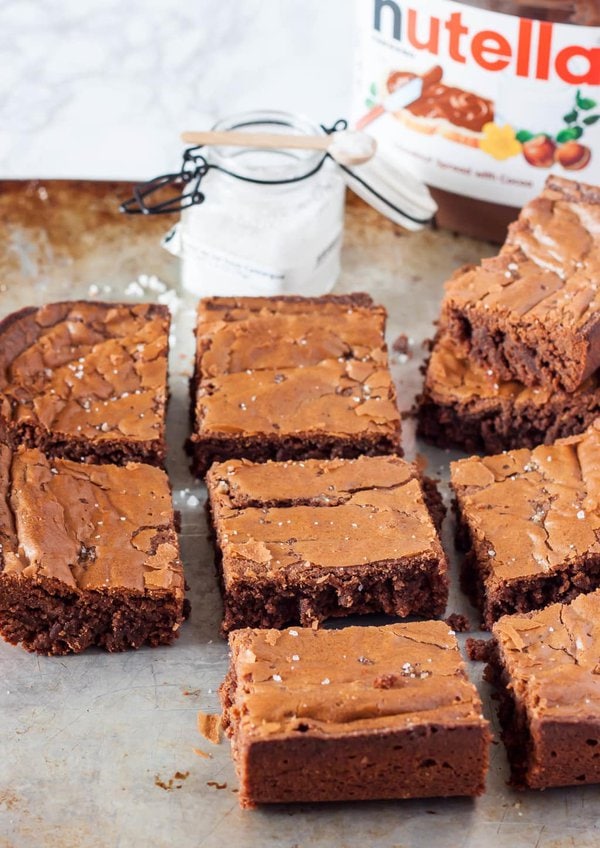 I recently hosted an event that, long story short, left me with two MASSIVE Costco-sized jars of Nutella sitting in my kitchen, staring me in the face every day.  On Day 1, this is a pretty cool thing -- "Look at all the Nutelllaaaaaaaa!", but by Day 25, you start wondering how much Nutella you've actually eaten, and was it really necessary to add a dollop to your morning smoothie ( Hint: It wasn't. )
I needed a game plan to get rid of all of it, so I defaulted to the best way I know how to get rid of food: take it into the office.
Now, I probably could have brought the random jars into the office and seen them quickly disappear, but I also wanted to use the opportunity to experiment a little ( and if experimenting with chocolate hazelnut brownies isn't a great way to spend your weekend, I don't know what is! )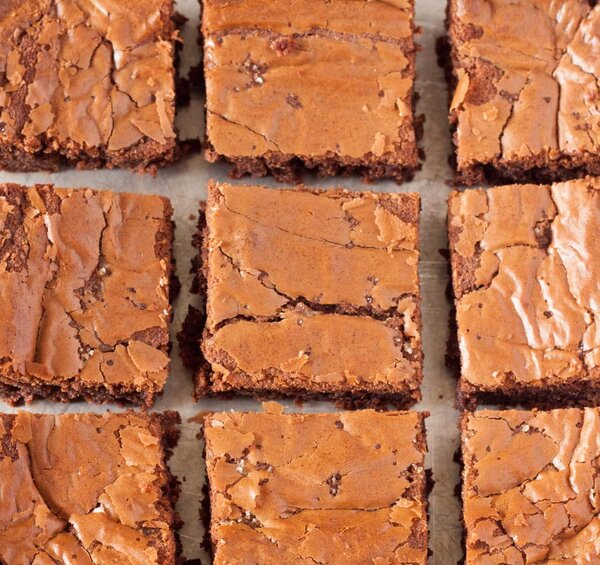 In my experience, the things people love the best in group settings are items that can be picked up and walked off with.  Brownies perfectly fit this bill.  Since I had roughly a billion cups of Nutella to work with, I figured I'd just skip the cocoa powder and slap some Nutella into my brownie recipe.  That didn't work out so well the first time, but never fear! I persisted and it payed off.
Are these gooey Nutella Brownies?
I played around with the cooking time a lot on this recipe, and finally came to the conclusion that you're just going to have to decide what kind of brownie you want, because I made them gooey / fudgy, and I made them cakey, and I really thought they were both excellent.  The brownies in the pictures are with the longer, "cakey" cooking time, in case you are looking for a direct replica!
If you like this Nutella Brownie Recipe, you might also like:
Salted Nutella Brownies
Nutella brownies that can be fudge-y or cake-y depending on your choice of cooking time!
Print
Pin
Rate
Ingredients
⅓

cup

softened butter

¼

cup

packed brown sugar

¼

cup

white sugar

2

eggs

2

teaspoons

vanilla extract

1

cup

Nutella

1

teaspoon

sea salt

¾

cup

flour
Instructions
Preheat your oven to 350 degrees and grease an 8x8 pan ( or spray with cooking spray).

With a mixer, mix together the butter and both sugars until completely combined.

Add eggs and vanilla, mix to combine.

Add the Nutella and ½ of the salt.

Add flour.

Pour into pan. Sprinkle top with remaining half of salt.

Bake at 350 degrees for 35 minutes for fudge-y brownies with crisp edges, or bake for 45 - 50 minutes for cakey brownies.