It's the most wonderful time of the year...
Charleston Restaurant week is here. The time of year when we, the peons, may get a sampling of foods from all the restaurants we meant to get to previously, but never quite made it to.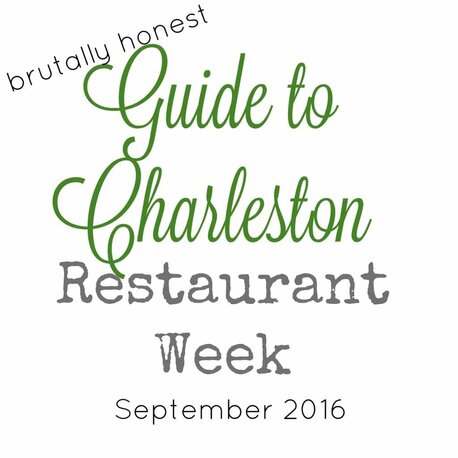 Check out the Greater Charleston Restaurant Association's Website for a full listing of what's being offered: here.
Keep reading for my breakdown of top three places to go, and two places to ... uh ... not go.
Where to go:
Hall's Steakhouse
Don't even think about going to another steakhouse. Hall's is where it's at. You'll get a three course meal ( including their 8 ounce filet mignon ) for the same price you'd usually pay to just get the filet mignon ( no sides ). Throw in the fabulous service and great wine list to pair with your steak, and it's a no-brainer: Hall's for restaurant week. Always.
What to get: She Crab Soup, Filet Mignon, Dessert selection of the night, and a glass of port nightcap.
Zero George
Yep, they were on my list last year, too. Do you know why? Because Zero George is expensive, and it's FANTASTIC. Restaurant Week is done right at Zero George, too: you're essentially getting a peek into the tasting menu experience for half the price. Even though this has been my favorite restaurant in Charleston for almost a year, even I must admit that the dining room/patio service can be ... slow, so just be prepared to settle in and have a leisurely meal.
What to get: ( Disclaimer: the menu changes regularly, so this is based off of the menu posted as of 8/30 ) Wood-grilled octopus, Dry-aged Pekin Duck, Tres Leches.
Al Di La
Give your wallet a break and try the 3 for $22 option at Al Di La in Avondale. The vibe has definitely been a little different with the change in owners over the last year, including the loss of housemade limoncello ( RIP Housemade Limoncello ) and the loss of any aperitivo as a dessert option, but they've still the best deal in town for Restaurant Week, even if it means I'll have to begrudgingly accept non-alcohol as dessert.
What to get: Farro Salad, Duck Tagliatelle, Fresh Fruit Cobbler.
Where to, uh, Not Go:
Oak
Look, Oak is great when it's not Restaurant Week. Go for a burger at the bar, go for a steak or the killer chopped salad when it's not Restaurant Week. But please, please don't go during Restaurant Week. I've been for the past two Restaurant Weeks and both experiences were ... lackluster ... to be SUPER polite about it. Our experiences included the waiter arguing with the table next to us, and then the table next to that. We watched a bartender stick her finger into a glass of sparking rosé to make the foam subside before topping it off and sending it out. There were actually even a few more issues with both nights, but I feel I've made my point.
Indaco
Look, I know I'm going to get all kinds of angry emails about this one, but I just can't with Indaco. People keep loving it. I keep going and having 'meh' meals that cost over $60 per person. There was the time we were seated at the bar high top for our anniversary dinner even though we had reservations, and they let people order pizzas and eat them standing up around us. Then there was the time we went and the waiter was visibly angry and short with us because we didn't get the tasting menu. Then there was the time that EXACT SAME THING happened again, with a different server. Then there was the dinner with my family where they left the anchovies off of the anchovy appetizer and acted like we must have already eaten them. Plus, there's the $9 Peroni. Look, I'll happily shell out $10+ for a perfectly crafted Megan Deschaine "Maximillian Affair" or a freshly-squeezed Belmont "Cielo", but $9 for a Peroni feels like a personal violation. Pass.
Where are your favorite ( and not-so-favorite ) places to go for Charleston Restaurant Week? Tell me in the comments!