If you've never braised lamb shanks before, here's your sign: Red Wine Braised Lamb Shanks are straight-forward to make, and you are rewarded with tender, fall-of-the-bone meat, and a rich, decadent sauce. This is my BEST lamb shank recipe!
what is lamb shank?
Lamb is such an underrepresented meat in the United States. Other countries like England and Australian have long been making this delicious meat, but for whatever reason it's never really caught on in the US.
So if you're in the US, you might not have encountered a lamb shank before! It's all good - I'll tell you exactly what you've been missing. ( Scroll past the photo to learn more)
A shank on any four legged animal is the upper leg shin portion between the knee and the shoulder, and lamb is no different in this regard. The connective tissue in the shank can make it tough, but when it breaks down, that same tissue makes it a particularly flavorful cut of meat.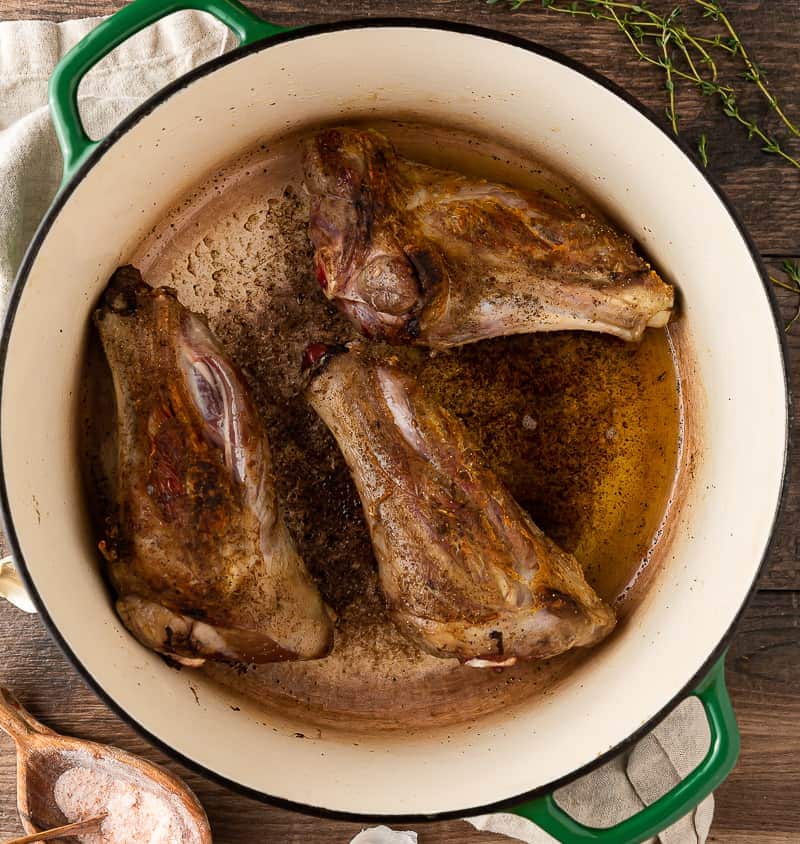 where to buy lamb shanks
For me, it's a usually a struggle to find lamb shanks year round, and I live in a major metropolis. The one place I can almost always find them is at Whole Foods, but when you can find them, the Costco lamb shanks are Australian lamb and are absolutely divine. Check for them around Easter in particular!
how to cook lamb shanks
Any sort of meat shank, but in particular lamb shanks, will benefit from some sort of slow cooking to break down the tough meat and connective tissue to create a tender, flavorful end product.
Braised lamb shanks are particularly good because a wet and slow method not only breaks down the meat, but creates a wonderful sauce and keeps the tender meat moist. In my opinion, it's really the best way to cook lamb shanks.
If you aren't a wine person, you can substitute the wine for beef broth plus two tablespoons of cider vinegar, ultimately meaning you'll use a mix of beef and chicken broth for the sauce in this braised lamb shank recipe.
I really do recommend the wine though - it gives a wonderfully rich flavor that just can't be quite replicated by substitutions.
If you like these braised lamb shanks in red wine, you might also like:
Red Wine Braised Lamb Shanks
An easy lamb shank recipe that slow cooks lamb shanks in a red wine and tomato sauce.
Print
Pin
Rate
Ingredients
3

lamb shanks

2.5 lbs

2

tsp

salt

1 ½

tsp

pepper

3

Tablespoons

olive oil

1

cup

chopped onion

1 medium onion

1

cup

carrot

2 medium-large carrots

1

cup

celery

2 stalks celery

5

cloves

minced garlic

3

cups

red wine

3

cups

chicken broth

4

bay leaves

7

stems fresh thyme

2

stems fresh rosemary

28

oz

crushed tomatoes

2

Tablespoons

tomato paste
Instructions
Season the lamb shanks with the salt and pepper. In a large dutch oven, or other heavy bottomed pot, over medium high heat, add 3 Tablespoons olive oil. Brown the shanks by cooking them on one side for 7 min, flipping and cook for them another 7 min on the other side.

Remove the lamb shanks from pot and set them aside.

Add the carrots, onions, celery to the pot you just browned the lamb in. Cook for 6 minutes, stirring frequently to break up any pieces remaining of lamb from the browning and so that the vegetables do not stick. Add the garlic and cook for another 2 minutes.

Add the red wine and broth, bay leaves, thyme, rosemary, tomatoes, tomato paste, stir to combine into the pot. Carefully lower shanks back into pot. The liquid should either cover the shanks entirely or cover them almost entirely. If you need more liquid, add equal parts chicken broth and red wine until they are covered.

Bring everything to a boil, reduce the heat to a simmer, cover, and simmer for 2.5 hours. To cook in the oven, cover the pot and bake at 350 F for 2.5 hours.

After cooking, remove shanks from pot. Strain the vegetables out of the sauce, discard the vegetabls, and return the sauce to pan. Crank the heat back up to medium high and cook uncovered to reduce the red wine sauce until it thickens to your liking, stirring occasionally. For me this was about 30 minutes but I'd start checking around 15 minutes.

Serve over mashed potatoes, rice, or pasta, with a generous helping of sauce poured over.
Notes
Serves 3 generously - one shank per person.  
This recipe definitely makes enough sauce for a fourth shank, and you can add one without changing the recipe in any other way. My pan simply can't fit a fourth!