Quick Pickled Red Onions are a STAPLE in my house. I always keep a jar or three in the fridge. You won't believe how easy pickled red onions are to make!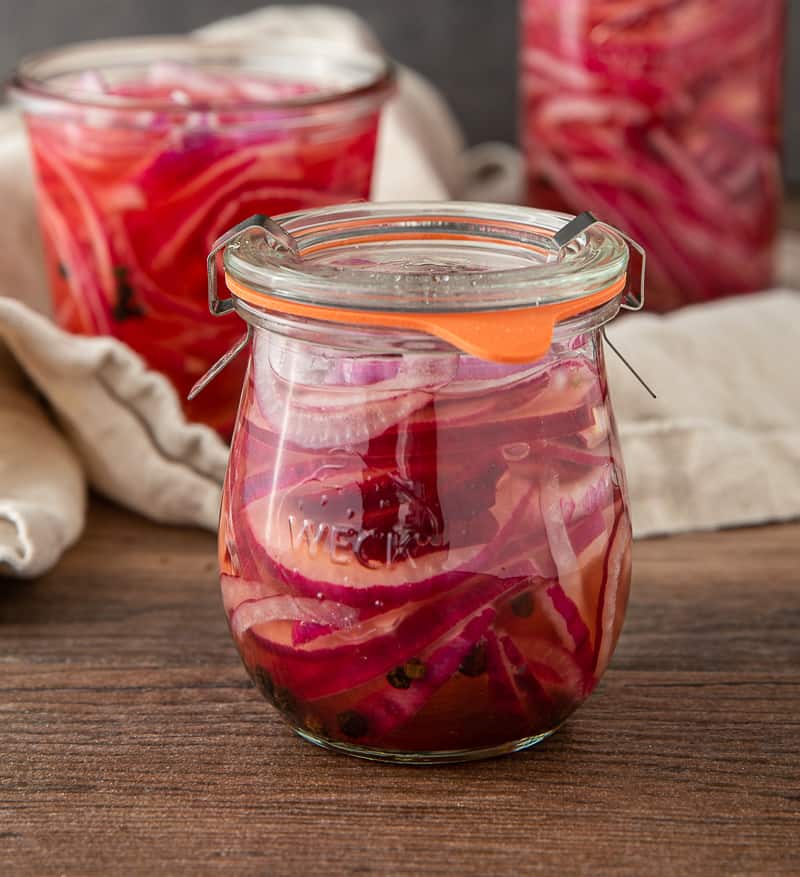 how to make pickled onions
It's super simple to make pickled onions - and there's really no difference in how to make pickled red onions vs how to make pickled sweet, white, or yellow onions.
The algorithm is simple any way:
heat vinegar, dissolve salt and sugar in it
stuff heatproof jars, like Ball or Weck, with thinly sliced raw onions and any other flavors you'd like to add ( I really love peppercorns and sometimes add garlic and thyme too )
let the jars sit for at least 30 minutes
serve or chill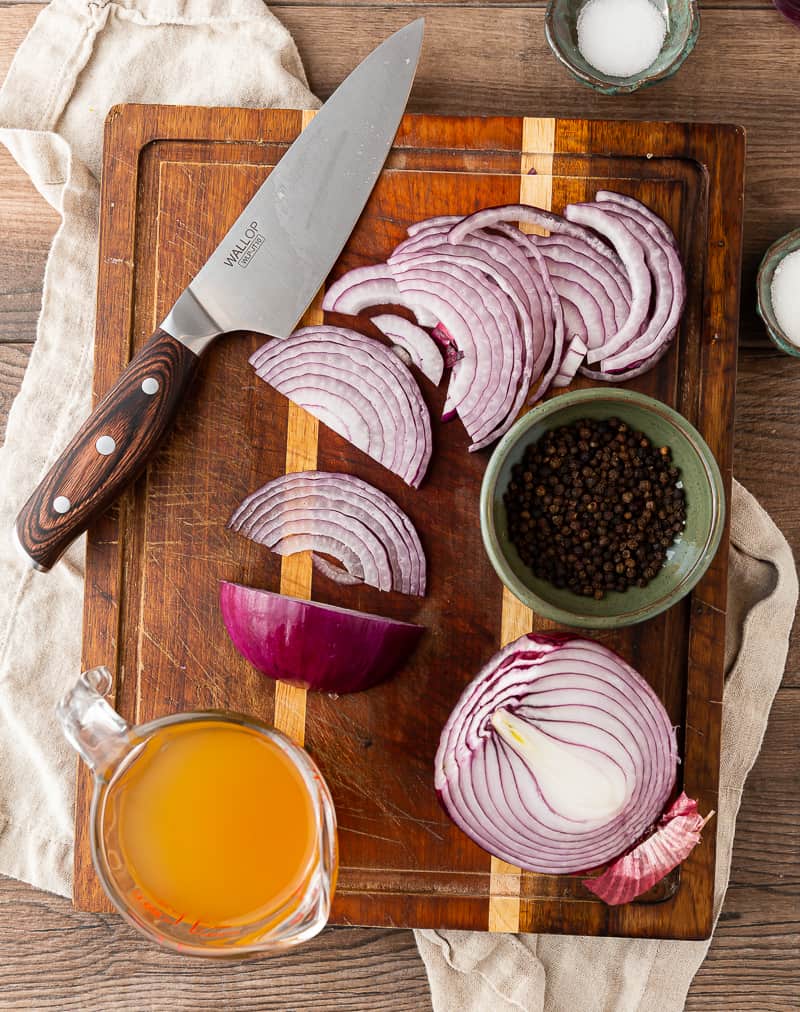 To be clear, this is not a standard "make it and can it to keep forever" type of recipe. It's a quick pickled red onion recipe, which means that you don't go through to canning process to seal the jars ( and that the pickles are ready to consume in a flash relative to normal pickling that takes time to build the flavors and break down the texture. )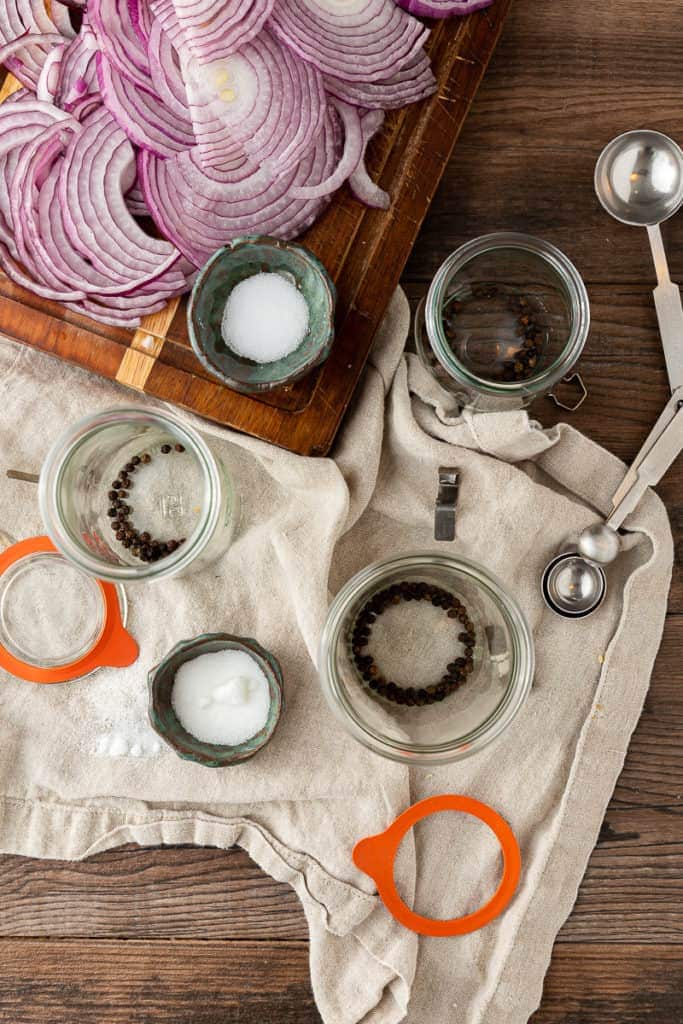 how long do pickled onions last
You can expect a quick pickled red onion recipe like this one to last between two and three weeks in the refrigerator. After that, it's probably best to toss them.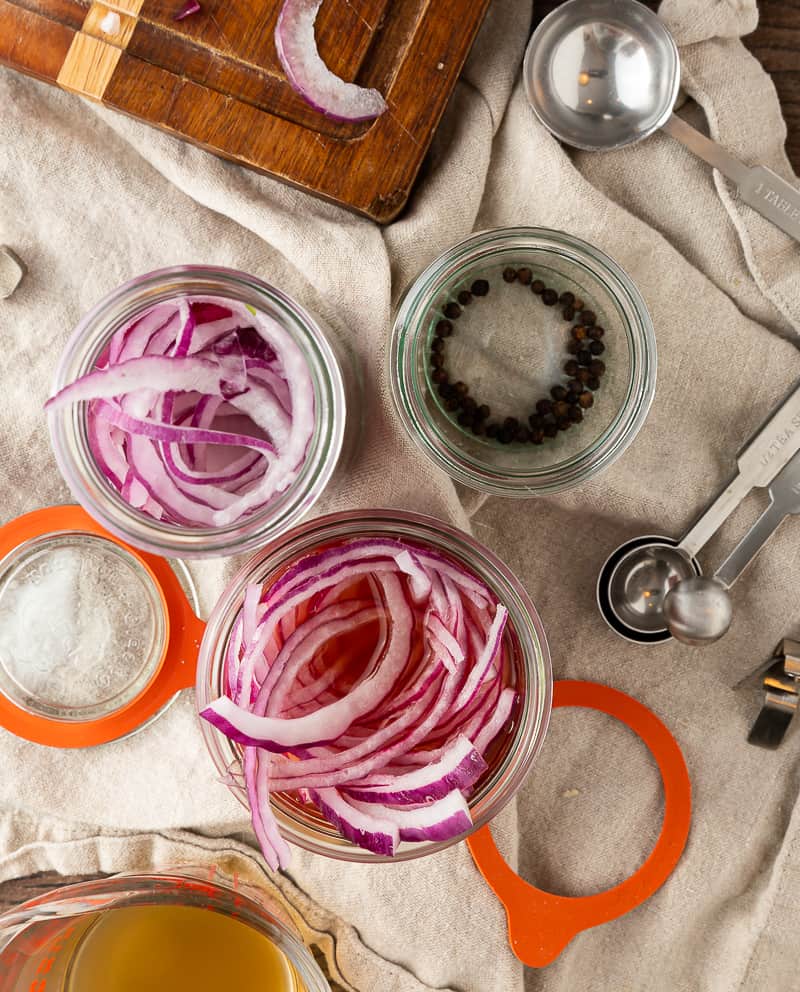 what to serve pickled onions with
If you've never had them, a great place to start is to make pickled onions for tacos. I serve them over my slow cooker pork carnitas all the time! Some other great options:
use quick pickled onions as a topping for avocado toast
with bagels and lox
in stir fry
garnish for deviled eggs
Are you convinced yet that you need these easy pickled onions in your life? Do you already keep a jar in your fridge? If so, I'd love to hear about it in the comments and tell me how you like to use them!
Quick Pickled Red Onions
This easy pickled onion recipe makes a delicious crunchy, salty-sweet, and tangy topping for everything from tacos to avocado toast and more
Print
Pin
Rate
Ingredients
1

large red onion

⅛" slices or thinner

2

cups

cider vinegar

2

Tablespoons

white sugar

2

teaspoons

salt

1

teaspoon

peppercorns
Instructions
Place the peppercorns in the bottom of a heat proof / canning jar. If you are using multiple jars, spread the peppercorns evenly across each jar.

Stuff the jar(s) with onion slices.

Heat the cider vinegar until simmering.

To heat it in the microwave, microwave in a microwave safe glass or Pyrex type container on high power for 1 - 2 minutes. To heat it on the stove, heat in a small sauce pan over medium high heat until simmering - about 5 minutes.

Once the vinegar is simmering, remove it from the heat and stir in the salt and sugar until it dissolves.

Immediately pour the hot vinegar mixture over the onions and peppercorns in the prepared jars. It is crucial that the vinegar is still very hot for this to work.

Let sit for 30 minutes, then either serve, or place a lid on the jar and refrigerate for up to 3 weeks.