Is there anything better than a warm pecan praline? Today we're revisiting my old fashioned pecan praline recipe, with some updated photos!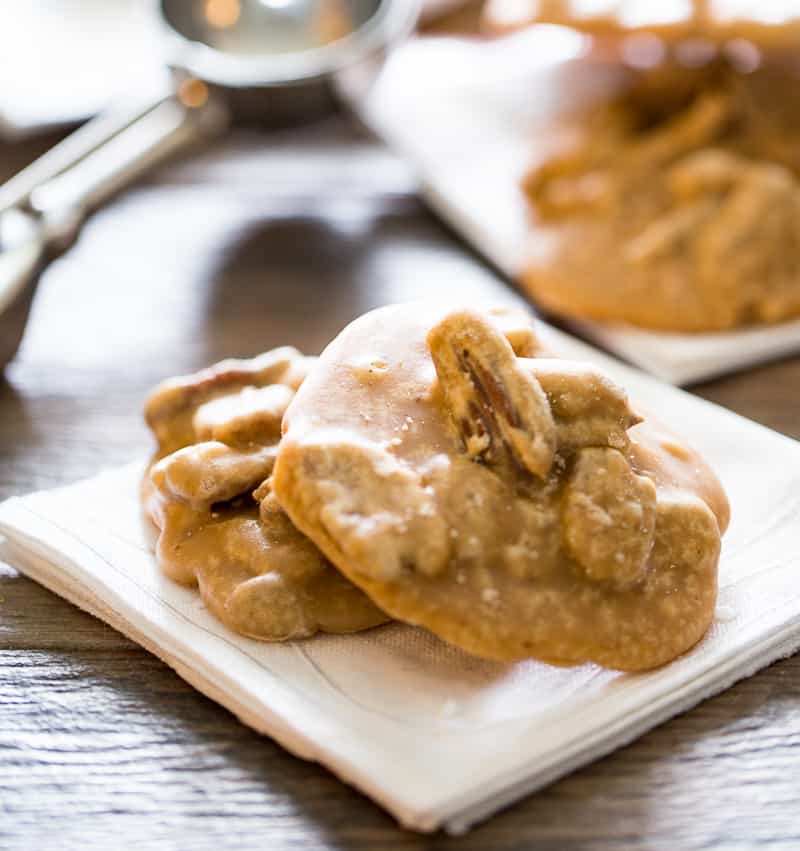 I like to tell myself that I don't like sweets. Most of the time, I even believe it when I say it. Then I find myself walking through downtown Charleston, head down while elbowing through the hordes of tourists, and it stops me dead in my tracks.
That smell.
Nothing beats that freshly made pecan praline smell.
A smell so sweet, so rich, that the purveyors thought to put their kitchen in the front of the building, and let the rest of the store push beyond it into the back.
All day long, they cook huge copper vats full of sugary goodness in front of open doors, pushing invisible waves of olfactory bliss throughout the crowded streets, drawing customers in to taste their treats:
Old Fashioned Pecan Pralines.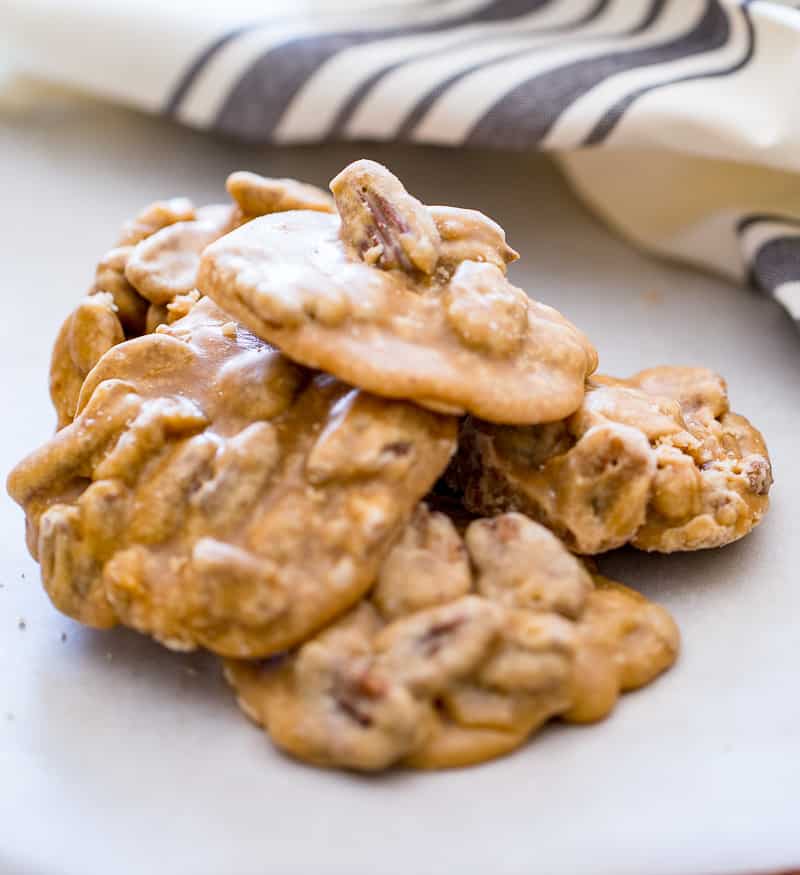 I tell you, if you have not had a pecan praline before, you have not lived.
I tell myself I don't like sweets, and maybe that's true. Maybe these are so good that even I, the self-proclaimed non-lover of sweets, must still love them.
Full of nutty pecans smothered in a butter and sugar bath, they are ready to be consumed when they have cooled just about to room temperature, and can be broken into pieces with a quick snap. Bite into one with a crunch, but that crunch will immediately be followed by the candy around the pecan melting back into a sugary, caramel-y sauce in your mouth.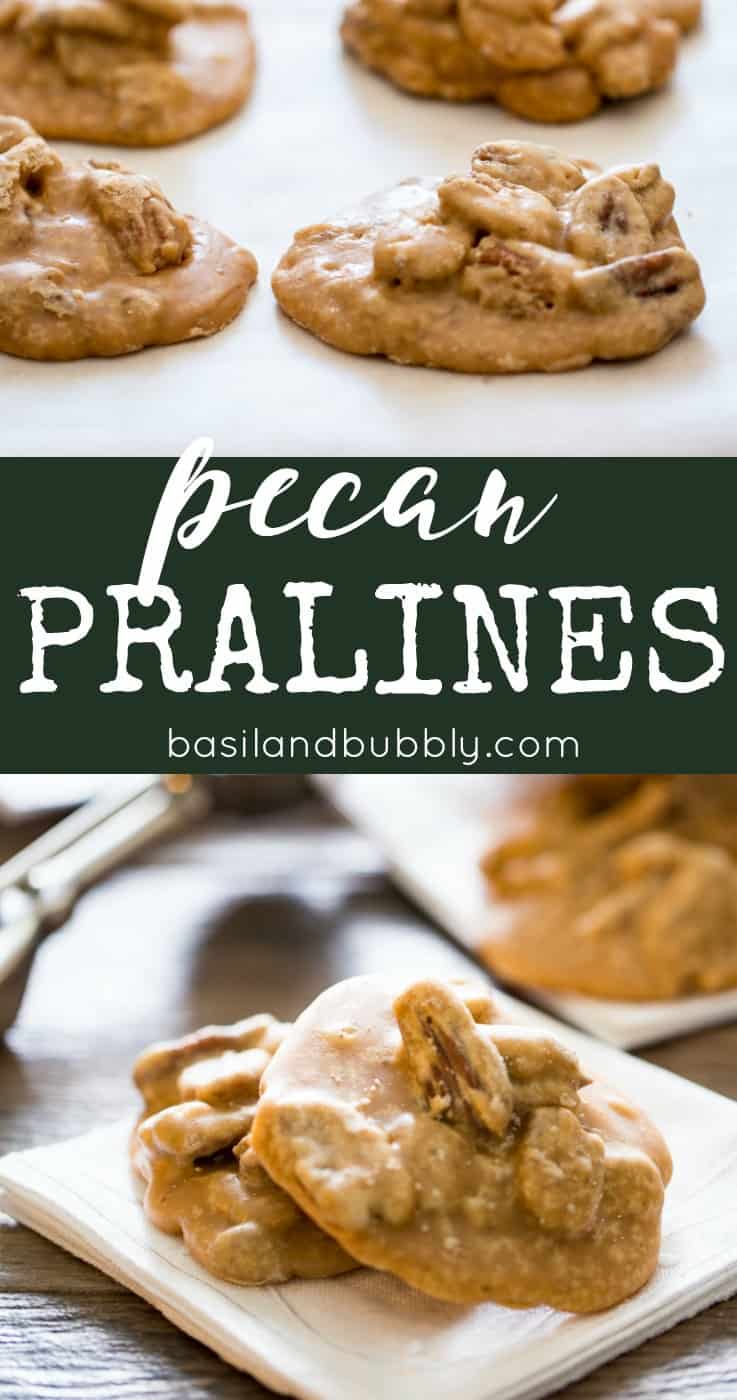 I used to think that the only way to have these little treats was to brave the crowds downtown and sneak into the touristy candy shop where they are made and sold, but recently I put some time into figuring out what I am sure is their recipe in my own kitchen.
You will need a candy thermometer to get that perfect snappy-melty texture, but they can be had for well under $10 anywhere cooking supplies are sold ( even the grocery store! ).
The best pecan praline recipe is below!
Pecan Praline Recipe
The much sought Classic Southern treat, the Pecan Praline Recipe that EVERYONE is dying to have.
Print
Pin
Rate
Ingredients
2

cups

whole pecans

6

Tablespoons

butter

1 ½

cups

white sugar

¾

cup

brown sugar

½

cup

evaporated milk

1

teaspoon

vanilla

candy thermometer
Instructions
Toast the pecans ( optional, but delicious ): Preheat the oven to 300 degrees. Place the pecans on a sheet pan and toast for 10 minutes. Remove the pecans and set aside.

Line two cookie sheets with parchment paper.

In a large saucepan with a heavy bottom over medium heat, add all of the ingredients ( including the pecans) and stir.

Continue slowing stirring the ingredients as they heat until they are all combined into one syrupy liquid. Resist the urge to scrape the sides of the pan down, as that will add large crystals to your pralines.

Stop stirring, and watch the candy thermometer. Once the liquid reaches somewhere between 235 and 240 degrees, remove it from the heat.

Immediately whisk the mixture for about 45 seconds, then let it rest for 2 minutes.

Using an ice cream scoop, quickly scoop out 15 - 20 pralines on the cookie sheets. They will be ready to eat as soon as they cool ( roughly 10 minutes ).
Nutrition Facts
Pecan Praline Recipe
Amount Per Serving
Calories 210
* Percent Daily Values are based on a 2000 calorie diet.